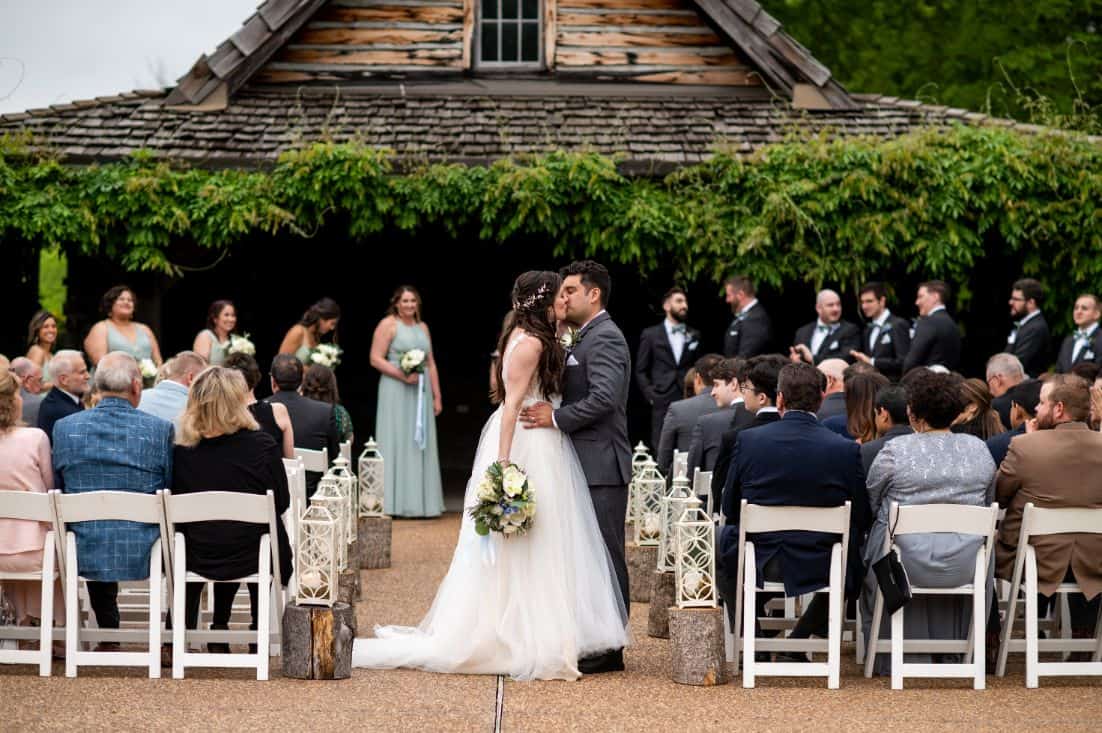 There's a misconception that all-inclusive Tennessee wedding packages can only provide cookie-cutter events.
But I'm here to tell you that that's farther from the truth. As someone who's managed, catered and been a part of hundreds of weddings in Tennessee in the past 25 years, I can certainly say that's not true.
Your love story and journey are important to us.
In this highly competitive market, it's impossible for any venue to survive if they provide substandard services or boring cookie-cutter events.
Our future wedding couples are evaluating what inclusive venues in Nashville, TN, will be their dream venue.
Sometimes DIY is the perfect fit; however, all-inclusive wedding venues in Tennessee, including Legacy Farms, create a lot of built-in value that is often overlooked.
Here are seven reasons all-inclusive wedding venues in Tennessee are the best option for you and how Legacy Farms goes above and beyond the term "all-inclusive."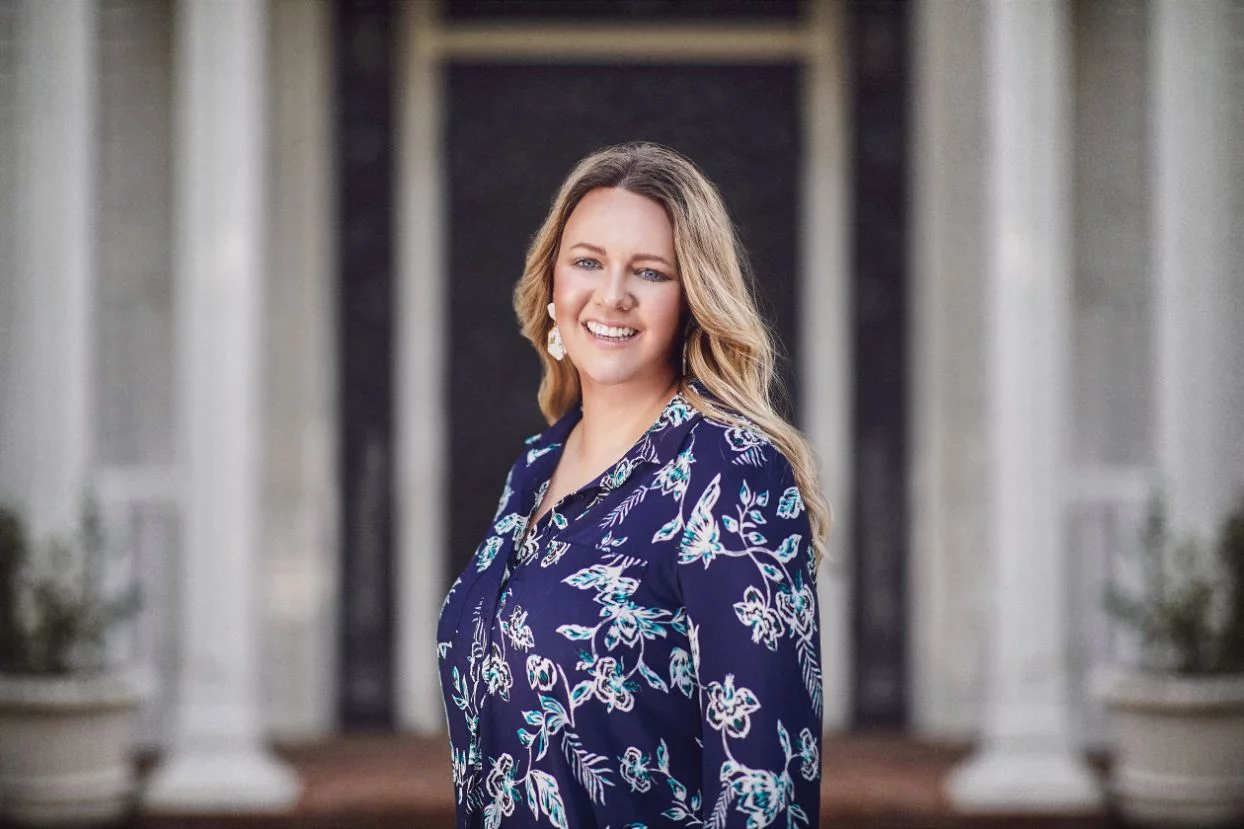 1. You have a dedicated professional wedding planner to assist with all wedding planning.
Yes, you actually do get a professional wedding planner here at Legacy Farms. Some inclusive venues only include a venue coordinator or wedding coordinator, so be sure to ask. This will help you eradicate the most common or unforeseen wedding day blunders because they're experienced.
Whether you choose an all-inclusive Nashville wedding venue or not, a wedding planner will save you time and money.
That's because this is what they do day in & day out, and they know the best way to get you the best bang for your buck. But having a wedding planner at a Tennessee wedding venue that is not all-inclusive doesn't entirely give you the full benefits of an all-inclusive wedding package.
Bonus: At Legacy Farms, our dedicated wedding planner comes with over a decade of experience planning weddings right here; so she knows what questions need to be asked and can foresee and anticipate your needs.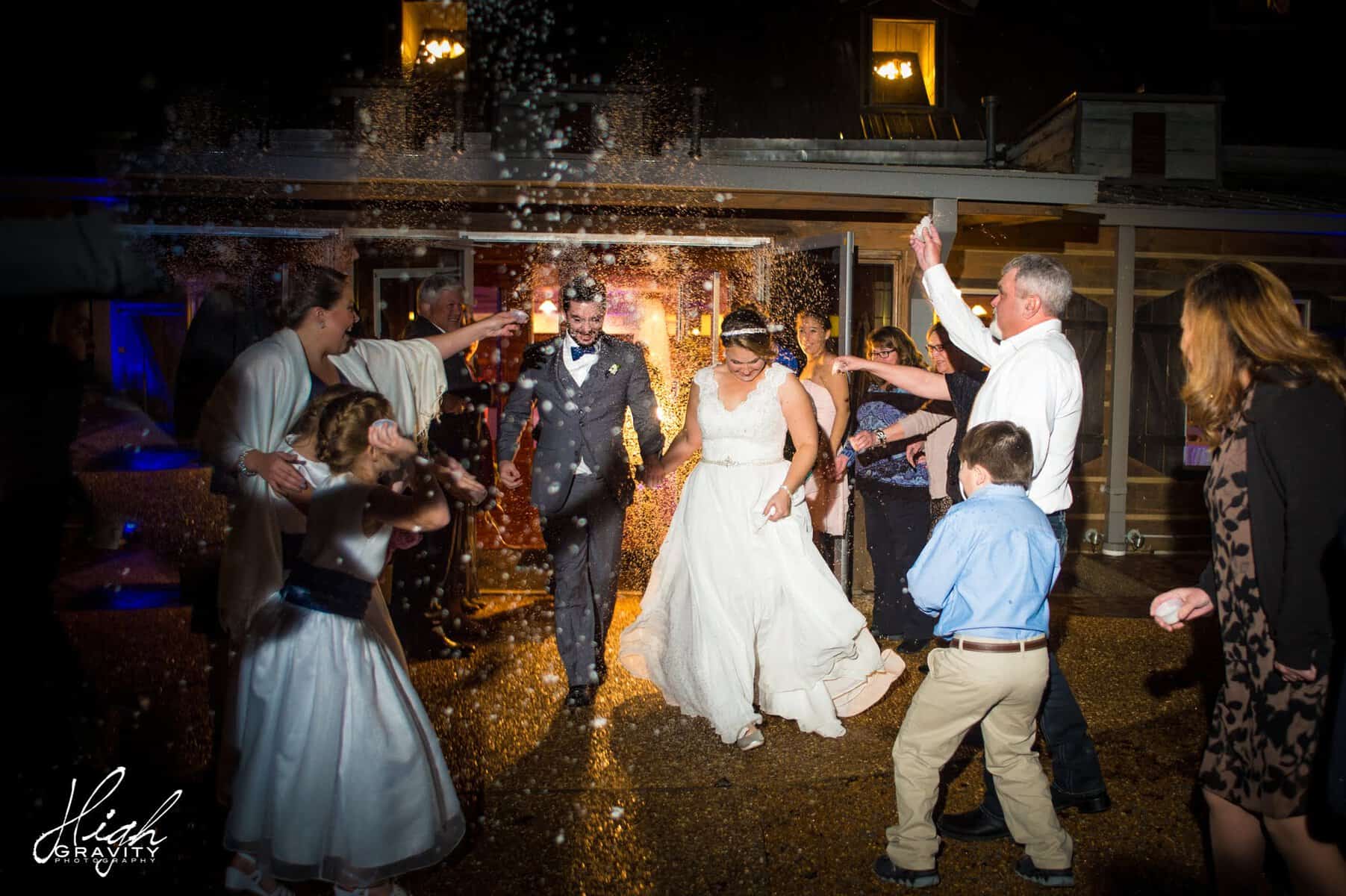 2. You can choose from several packages at Legacy Farms based on your budget for your wedding reception.
Start with figuring out your budget, which your guest count primarily factors. If you can reduce your guest count or choose a wedding date that doesn't fall on a Saturday, you can significantly reduce your wedding cost.
Once you know your budget, you can choose from various wedding packages offered by event venues in Nashville TN.
Depending on whether you wish to have a simple elopement or an all-weekend extravaganza, you may simply opt for the one that best suits your requirements.
BONUS: When you choose your package at Legacy Farms, it doesn't end there. When you opt for one of our packages, you can fully customize it to your taste and budget.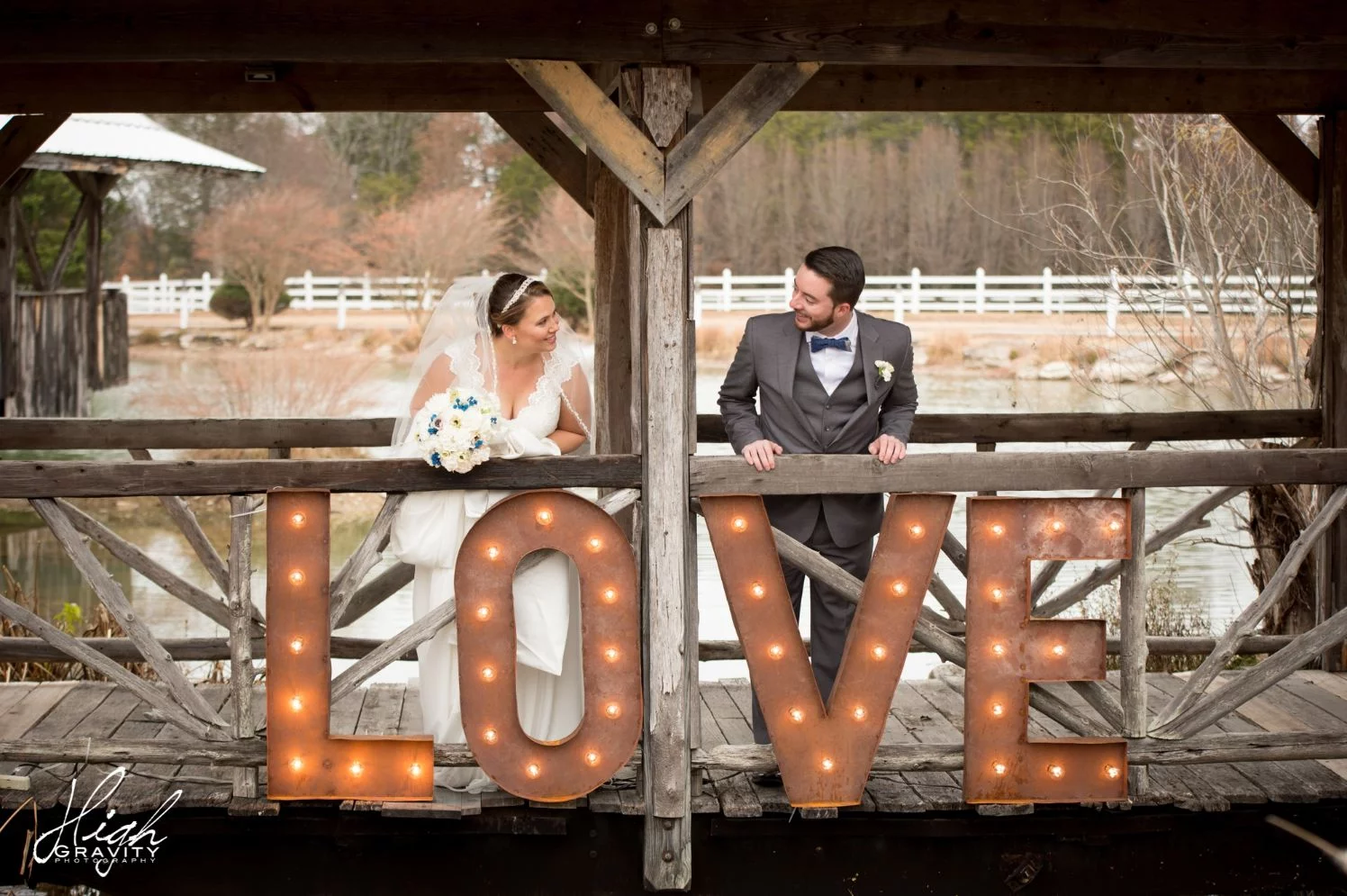 3. You'll save time and money with our wedding vendor options.
When it comes to researching event vendors, if you're not using the vendors provided or recommended by the wedding venue, you're probably spending a lot of time. That's because even if you asked a friend about her wedding vendors or spent hours on Yelp reading reviews, you won't truly know how they'll perform at your venue of choice.
And I hate to break it to you, but not all vendors get along. You definitely don't want this surprise on your wedding day.
Since all-inclusive venues in Nashville TN, like Legacy Farms with all-inclusive wedding packages, are particular about the quality and professionalism of the various wedding vendors, the vendors will make your experience seamless and stress-free.
BONUS: At Legacy Farms, because we provide work for our team, we receive a great discount. And we pass those discounts along to you when we factor in the price of your all-inclusive wedding package.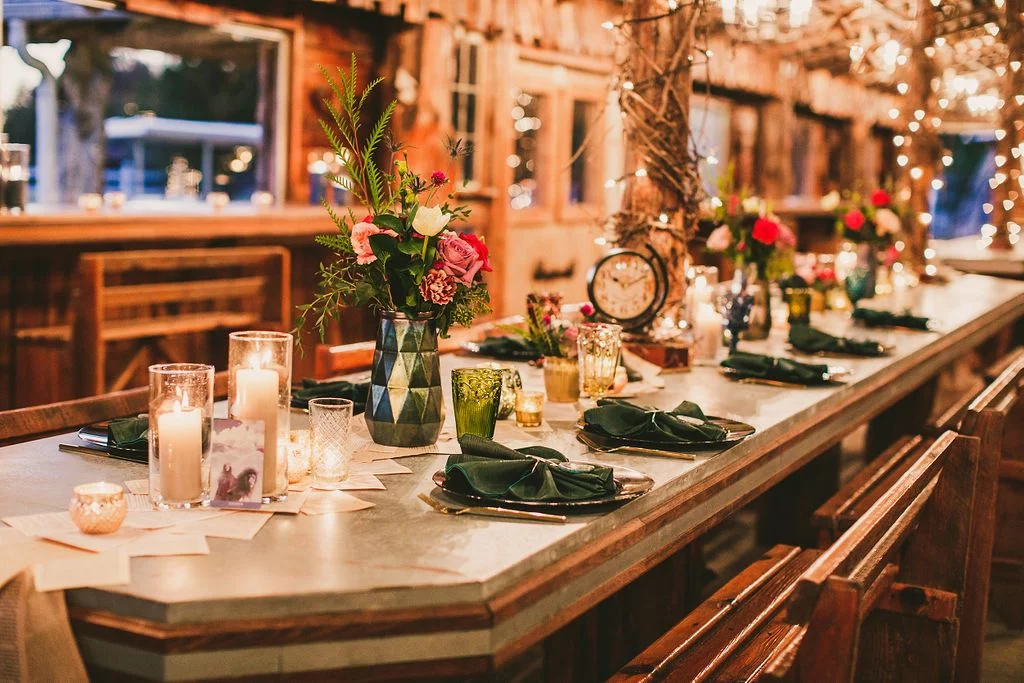 4. You'll deal with fewer contract negotiations and vendor meetings.
Everything is done under one roof when you opt for an inclusive wedding venue in Nashville, TN. So, you just have to choose the best all-inclusive wedding venue for your style and budget, and you are practically done!
That's because you don't need to research and stalk Yelp reviews of florists, caterers, makeup artists, photographers, DJs, officiants, rental companies, bakers, bartenders, etc.
Choosing all-inclusive wedding venues is more like getting a bulk deal for something where you just pay one lower price for several included services.
Do you ever read the Terms and Conditions on any website? I hardly do either, admittedly. And if you're not a fan of lengthy T&C or contracts, you'll love inclusive wedding venues in Nashville TN.
Because if you hire all of your vendors separately, you'll be reading through and signing dozens of contracts. And when it's time to pay, you won't have to scramble to find all the different payment methods and options your various vendors prefer.
BONUS: Legacy Farms' all-inclusive wedding packages include a dedicated planner, rehearsal dinner, catering, rentals, decor, flowers, waitstaff, a parking attendant, DJ & MC, a photo booth, your wedding cake, set up and clean up, and so much more…all in one contract.
This is helpful if you are planning a destination wedding and looking for an elopement venue or destination wedding package.
Many of our couples come from out of state to celebrate all that Nashville and Legacy Farms have to offer, especially from Texas (Dallas and Houston) and Florida.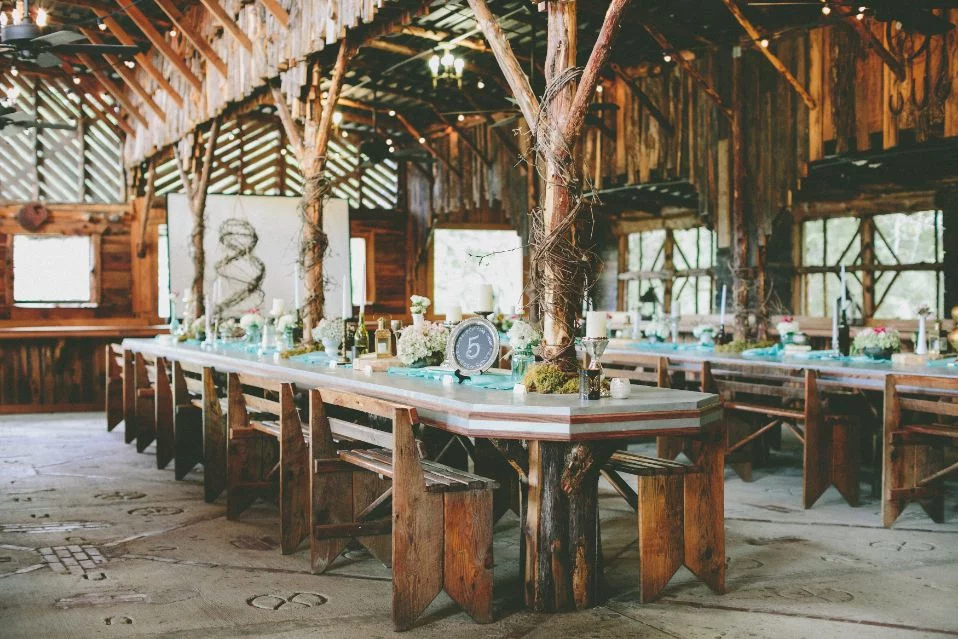 5. Your rental items are already on the property; it's the icing on the cake.
This is at least the case at Legacy Farms; not every "all-inclusive" wedding venue in Tennessee will have many rental items for you to choose from. With several styles and feels in our rental furniture, you'll never feel boxed into any type of theme or design.
But the best part about having rentals on the property is that you won't have to interview and research wedding rental companies in Tennessee, ensure they know and are familiar with the all-inclusive Tennessee wedding packages of your choice, read and negotiate lengthy and confusing contracts, and NO costly delivery fees.
Bonus: We've invested in many rental furniture at Legacy Farms to benefit you. When we see wedding couples choose our rental items repeatedly over any wedding rental companies, we know we've made stylish choices, and it's not just a fad.
We've also added string lighting all across our property so you can enjoy the property after sunset or later. And did we mention this is all included? No additional costs or surprises later on.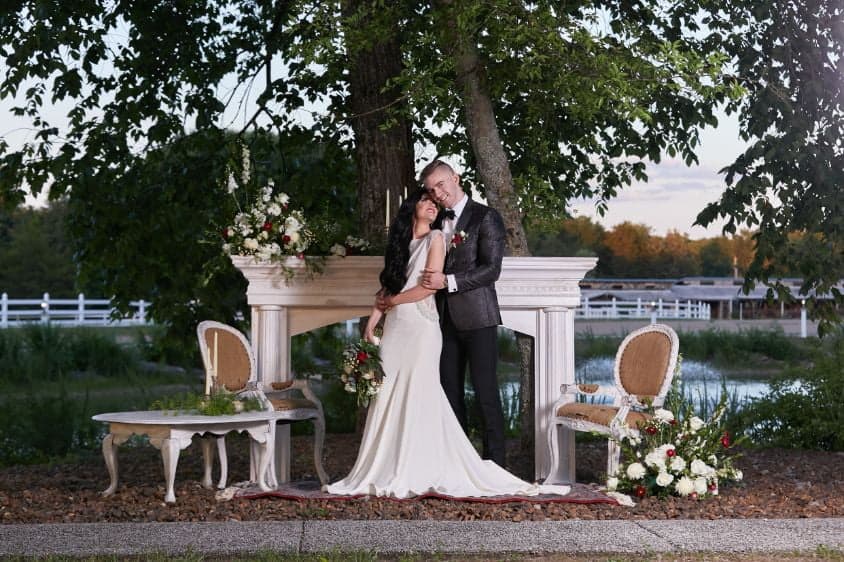 6. The vendors and team are familiar with the property.
Team members familiar with the property – by having a repeat vendor team – whether they are employees or just regularly scheduled vendors – they know the ins and outs of the venue and the property. The vendor team makes a big difference in determining how smoothly the event flows.
Bonus: Legacy Farms, we carefully curate our vendor team. We expect you to have the best of the best on your wedding day. You need the BEST DJ, not the cheapest.
You need the most attentive waitstaff, not the cheapest. Not many all-inclusive wedding venue owners in Nashville TN have this same mindset, so keep this in mind when factoring in price and overall vibe.

7. You can spend your time and energy focused on yourself & your relationship.
You've probably been dreaming of your ceremony and reception for your entire life. And if it's not the most crucial day in your life, it's definitely up there.
You don't want to spend time stressing over catering services, the planning process, vendors, their interpersonal relationships, contracts, payment options, coordination, and other minor matters, do you? You'd better prepare for your vows, walk down the aisle, and enjoy the celebration!
We make that possible at Legacy Farms since we have a professional planner right here on site. She steps in if any issues might arise on your big day.
Instead of spending months planning for your big day, we recommend getting prenuptial counseling to prepare yourself for married life. You can thank me later.
It's Ultimately Your Decision for Your Nashville Wedding Venue Package
If you're planning to get married anytime soon, you may consider inclusive packages for your big day in Nashville TN, after reading this. Not only will you save time and money and reduce stress, but you'll also get the most out of your budget and investment.
But more importantly, you'll have plenty of time to enjoy your wedding day and experience it to its fullest. At the same time, a professional and dedicated team takes care of every little detail.
And at the end of the day, after your ceremony, cocktail hour, reception, and dance floor moves, your guests only remember if they had a good or bad time at your wedding. They remember if the food tasted good but don't know the name of our catering division that produces the reception dinner you so carefully curated. Your guests only know the venue name, Legacy Farms.
But it's our vision to make sure that you and your guests don't just have a good time but rather have the best day of your lives.
FAQs & More
Where else can I search for all inclusive packages near Nashville?
Weddings in Nashville & Pricing Packages in Tennesse
If you're searching for "all-inclusive wedding venue near me", a destination wedding in Tennessee, all inclusive event venues, affordable all inclusive wedding venues, an all-inclusive venue, all-inclusive weddings, all inclusive wedding packages, or wedding venues in Tennessee, you'll find hundreds of search options, even if they aren't all-inclusive.
The question is – what matters most to you on your wedding day? 
Most of our wedding couples say that what matters most to them is to not stress out, waste time on wedding planning, spend countless hours sorting through vendors, or have unwanted surprises or fees later down the road.
That's why many wedding couples choose Legacy Farms after touring all-inclusive event venues.
We offer all-inclusive packages – from the catering to the decor – to make your life easier. If you don't want a beach vibe, such as a Cabo wedding, and your dream wedding is more along the lines of a Music City vibe, you'll love our events facility, accommodations, and bar package.
We've specialized in creating original weddings and giving attentive service for over 25 years, which means your experience is stress-free. Most Tennessee wedding venues can't say that they've specialized in both wedding planning and catering for over 25 years, let alone a decade. So don't leave the most important day of your life and your unique love story up to chance.
What does an all-inclusive wedding venue mean?
An all-inclusive wedding is a type of wedding that includes all the costs associated with an event. This can include everything from food and drink, to transportation and flowers.
Are all-inclusive weddings more affordable than planning one out piece by piece?
All-inclusive weddings are more affordable than planning one because all-inclusive venues have vendors they work with which saves you time and energy By opting for an all-inclusive package, you'll get a better deal on services like catering than hiring those vendors separately.
Elopements & Elopement Venues
An elopement is popular for many couples for a number of reasons. It is often seen as the perfect opportunity to have that special day without all of the stress and extra work involved with planning an elaborate wedding. There are certain things you should know about elopement before deciding to go this route.
Wedding Packages for Elopements in the US
There are hundreds of wedding packages for elopements in the US. Legacy Farms is one of the best all-inclusive choices of elopement packages in Nashville Tennessee.
Elopement Packages in Tennessee
Legacy Farms offers elopement packages in various sizes, from just you two to up to 50 guests. We're one of the best all-inclusive venues that offer elopement packages in Nashville Tennessee.
Nashville Wedding Venues: Consider Your Photography
Legacy Farms is consistently ranked as one of the top Nashville wedding venues in Tennessee. One of the reasons couples love us is because of our dozens of photo opportunities located around the property, making for gorgeous photos and memories later on.