5 Reasons Why Wedding Couples Choose Us Over Other Nashville Wedding Venues
Here's why couples chose us after touring other Nashville wedding venues
Once you're engaged, it's "go go go" for most wedding couples – and wedding planning is no easy undertaking. One of the first challenges for a wedding couple (after finding the perfect nail polish to go with your new bling) is searching for the perfect venue among a sea of Nashville wedding venues.
When you begin your search for Nashville wedding venues, you're probably going to feel overwhelmed with all of the different styles and considerations to take into account – indoor, outdoor, theme, style, all-inclusive plans, catering, you get it. 
There are so many Nashville wedding venues for you to tour and choose from. Here at Legacy Farms, we know that everyone has different needs and unique wedding visions. We want to create the perfect wedding for you by combining our decades of experience with our affinity for bringing each unique wedding vision to life – including yours. What do wedding couples love the most about us? We think it boils down to five reasons why you'll find us to be the best Nashville wedding venue.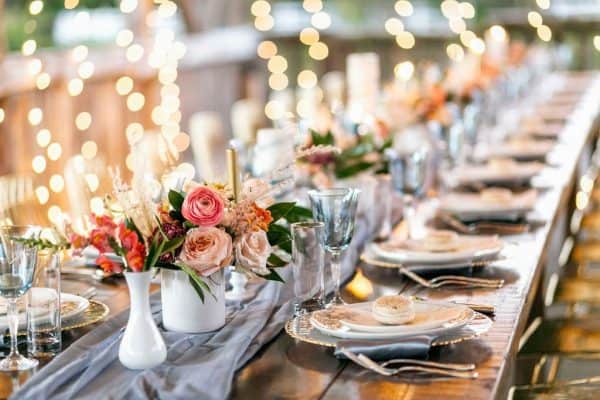 1. Our all-inclusive plans take the headache out of planning– and no, they're not cookie-cutter.
When I ask wedding couples like you why they want an all-inclusive wedding venue, I always hear this:
I am busy and I need help

I am busy and don't have unlimited time

I am busy and need to stay within budget (and I need help!)
Sound familiar? You're not alone. Planning a wedding is a massive undertaking. Even if you are a Plan A-type personality and want to have control over all the details, you still need an experienced wedding planner by your side to make sure that every detail is accounted for and things run smoothly. You can read all the planning articles in the world and download planning apps, but it pales in comparison to a real human wedding planner. We may live in the age of DIY, but your wedding is not something you want to leave up to chance – save it for the home improvements.
By the way, did we mention that when you book your wedding at Legacy Farms, you have access to our wedding planner, Amy? Read all about Amy here and why we provide you with a wedding planner.
So what exactly do Legacy Farms' all-inclusive packages include?
In a nutshell
Venue rental, rentals & decor, catering, a wedding planner/coordinator, and set-up & clean up. But we have other packages that also include florals, your DJ, parking attendant, photo booth, a delectable wedding cake and so much more. It really is dependent on your budget.
In detail
Privacy at our Nashville wedding venue – no strangers, no interruptions. You have the whole venue for yourself.
Experienced team of wedding specialists – And you only have to talk to one of them to liaison with all of your different vendors in our all-inclusive package! Amy, our on-site wedding planner, will help you with menu planning, floorplans, decor, timelines, ceremony flow, and anything else we can do to make your dreams come true. Amy will stand by your side and be a familiar face on the day of your wedding.
Rentals & decor – You name it, we got it. We have hundreds of rental & decor items for you to choose from. And we update our stock all the time to meet your needs. 
Set up & clean up – No "flip" (your ceremony and reception are in different locations, so no waiting around), and no work for you on your wedding. Our staff takes care of everything.
Dinner & dessert – Our sweet and savory options will have your guests raving for years.
Photo opportunities – All around our property, we have dozens of unique locations for you to include in your photo shoot.
We have different price points based on your guest count, day of the week and time of the year, and other factors. Our three main packages are:
We even have packages for just two (you and your partner). As a matter of fact, you can even start customizing your package on our website. If you have about two minutes, you can click here and answer a few questions to get custom package and pricing information. What's great is that even though you can customize this on our website, the customizations don't end there. We're always excited to customize a package for you and make it truly ours.
Our all-inclusive packages are a good fit for you if you:
Want to map out your exact wedding vision with a professional

Want to know what your all-in price is and stay within your budget

Don't want to worry about hidden fees or surprise fees from other Nashville wedding venues or vendors down the road

Want access to hundreds of different styles of rentals & decor

Want amazing vendors with years of experience that know the property in and out (without spending countless days researching!)

Don't want to sign and deal with multiple vendor contracts (a typical wedding has 10+ vendors, that's a lot of contract reading, negotiating, and signing!)

Want to work with a trusted caterer that has been in business for 25+ years and can create your perfect menu (and signature cocktails!)

Want to reduce the overall amount of stress in your life

Want a fully planned wedding that matches your dreams and desires

Want to work with a venue that has access to all sorts of additional services you can add to your package– photo booths, photography, on-site massages, or maybe even a hot air balloon ride.

Want to spend more time bonding with your fiance doing less stressful activities than the wedding planning
Our team has a very organized written plan to share with you so that you can stay on the schedule you want. And that applies to your wedding day, planning meetings, and beyond. Some of our wedding couples are very hands-on while others want to let us take the wheel completely – we're happy to do whatever makes you most happy & comfortable.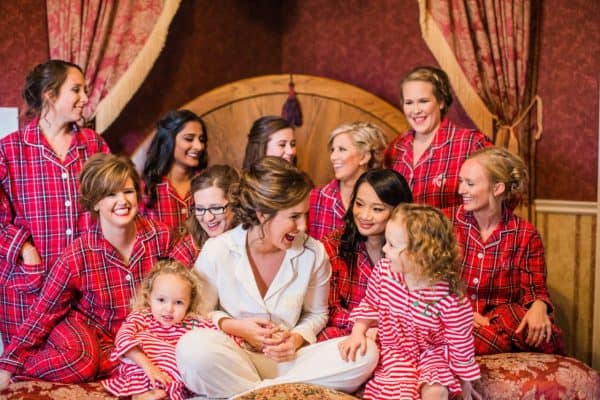 2. You & your closest guests can stay overnight – a great way to pamper the most important people in your life and make lasting memories.
Something we offer that many Nashville wedding venues don't is our overnight option at our Bed and Breakfast. And yes, breakfast is included!
Picture this: it's the day of your wedding and you're rushing to get out of bed. After making a few calls and texts to make sure everything is running smoothly, you start heading over to the wedding venue and hit traffic. Or your hired transportation runs late. Or your maid of honor is running late to pick you up. Or your hair and makeup, done offsite, takes too long, and you're running late to your ceremony. And the list goes on. There are tons of ways you can end up running late to your wedding because there are so many variables on the day of. Hair, makeup, bridesmaids, groomsmen, last minute to do tasks. So why add any more potential stress to the best day of your life? Wouldn't you rather wake up and enjoy a warm breakfast than have to scramble 🍳 to coordinate a breakfast or brunch at a separate location? Not to mention, if you are booking a breakfast or brunch at a separate location, even if you did reserve your time and number of guests, they could be backed up, have kitchen staff not show up, etc., and cause you to run late to your wedding as well.
You can get a good night's rest, wake up, walk downstairs to the first floor common area, eat a delicious breakfast, and then walk right over the Getting Ready Suite to start your hair and makeup. Doesn't that sound more enjoyable? We think so!
After the ceremony, photoshoot, cocktail hour, reception, and dancing all night is over, wouldn't you like to be able to walk right back to your room without having to wait for transportation back to a hotel room or other destination? With so much excitement, anticipation, dancing, guest greeting, (and maybe a little drinking) on your wedding day and night, you'll probably be more tired than you'd expect. Being able to walk right over to your room is one of the best benefits of staying at Legacy Farms.
Speaking of rooms, The Manor has 8 rooms currently, expanding to 10 in May 2021. And did we mention each room is tastefully decorated and has its own private restroom? No waiting or lines at the door! The Manor retains many of its historic style and aesthetic, but we have many modern upgrades to make your stay more relaxing and comfortable.
And maybe you're considering room blocks at a hotel if you're looking at Nashville wedding venues that don't offer accommodations. The best part is that when you get married at Legacy Farms, you have the entire property to yourself –– no strangers, public, or unwanted wedding crashers. There's something that makes your wedding more of a magical experience when you get to experience it exclusively with your loved ones, instead of sharing a hotel or other accommodations with non-wedding guests.
P.S. if you need more reasons to hang out in PJs with your best girlfriends and drink mimosas during your wedding weekend, we touched on all the benefits of staying overnight in this blog.
P.P.S. Sweet Dreams (are made of this) – literally! Have you checked out our Sweet Dreams all-inclusive package?
3. You don't have to worry about working with an outside catering team or vendors.
Our catering is done on the property by our expert team, and we've catered weddings in Nashville for 25+ years. Your food is handled with love and care. Because our catering is done on-site, you don't have to work with Nashville wedding venues that require you to bring in a catering staff at an additional cost. Some of these costs include the cost of catering itself, transporting the food, and keeping it warm once on the property. 
And other vendors can be a total gamble. If you're lucky, you may have friends who have had weddings and can recommend vendors to you. But ultimately, if you're planning a wedding, you'll have to spend hours, even days, researching, vetting, interviewing, and planning with other vendors. And like we mentioned above, this also means that you have to negotiate, amend, read, sign, and manage multiple different contracts and coordinate vendors. It's a lot of work!
4. Our Nashville wedding venue is "event only," meaning that we put all of our undivided attention into your special day.
Many Nashville wedding venues are operating secondly as a wedding venue: museums, galleries, restaurants, bars, etc. It might seem trendy or unique, but the problem is that their space was not planned out for weddings and you'll have to work around their decor, colors, set up, and more. Do you want your wedding to be an afterthought at a place that is just trying to make more money from weddings on top of their primary business? 
When we say "event only," we're talking about Nashville wedding venues that are just that – built, designed, and operate exclusively as wedding venues. We're one of the few wedding venues in Nashville that offers a multitude of truly all-inclusive packages and makes your wedding experience as seamless and stress-free as possible. 
And to reiterate our privacy, we are "event only," which means no unwanted guests or wedding crashers. We've heard tons of stories from venues across the country (and yes, even Nashville wedding venues), such as wineries, and hotels that have had wedding crashers unexpectedly ruin a ceremony.
Something else we want to touch back in is because most Nashville wedding venues are not "event only," your wedding isn't their first priority. Weddings and events are a way for that space to make additional income, instead of a wedding venue like Legacy Farms with decades of loving experience.
5. We respect your wedding budget and will keep you within it.
Nowadays because so many wedding couples are searching for all-inclusive packages and upfront pricing, a lot of Nashville wedding venues are trying to scamper to answer that need by offering packages that aren't truly all-inclusive. So what does this mean for your wedding? It means that you're probably going to have to shell out some extra cash for those things you want that aren't included. We don't want that for you.
We're more than happy to help you stay within your budget. Some wedding couples have wiggle room and others simply don't. Whatever your situation is, we have different options to meet your needs. Our promise to you is to make the wedding plan that you want – your vision, an outstanding experience, and exceed your goals. And it goes beyond your expectations – we want your wedding guests talking about your wedding for years to come. Our couples tell us each and every week, "We want to enjoy and be in the moment. We want stress-free planning," not "we want to spend more money." 
So here's what we promise you:
No constant stream of questions asking you to buy more

No forcing you into a corner or asking you to upgrade your options

No going over your budget unless you decide that you want to add more enhancements later on.
We've designed, redesigned, and re-redesigned our packages over the years to really hone in on what gives you the best value and the best experience. Our all-inclusive packages are truly all-inclusive. But if you want that hot air balloon ride, we can definitely accommodate you.
A wedding at Legacy Farms is the best way to have a gorgeous, one-of-a-kind wedding without any stress or compromises.
We promise that you will both be happy and your guests will be more than satisfied. When you host your wedding at Legacy Farms, you're sure to walk away with a lifetime of memories. And that's why we don't use hard sales tactics, hidden fees down the road from you, or other desperate measures that some Nashville wedding venues use to lure you in
Don't leave your wedding up to chance with variables such as lack of parking, bad catering, hidden fees, and other surprises that can happen at other Nashville wedding venues. Come take a private, uninterrupted tour of Legacy Farms, enjoy some fresh air, take in the views, and let us show you how to have the wedding of your dreams.
All the Hidden Costs to Look Out For at Nashville Wedding Venues
It's never too early to start planning for your big day, but before you get set on a wedding reception venue, make sure you know about all the potential hidden costs that come with some Nashville venues.
Nashville has many wedding venues, from hotel ballrooms to country barns. Some come along with a list of associated rental costs you might have anticipated—but others may surprise you! Take vineyards as an example: Unless you want your guests getting bug bites alongside their hors d'oeuvres, then they'll need citronella candles, and lots of them too. 
There are many hidden costs associated with wedding venues that you need to know if you want your day to be perfect. To avoid any surprises, look at the following guide outlining what sort of fees may come up when booking different Nashville wedding venues.
Hidden Costs of Nashville Barn Wedding Venues
Barns are an ideal backdrop for your rustic, romantic affair. But whipping them into shape for your wedding often requires some work – which means you'll be spending more than what was initially planned on.
If there's no restroom nearby in that barn of yours, then prepare to spend money (a lot) on something better like luxury portable toilets instead of basic port-potties! You'd be surprised at how expensive these can get at some Nashville wedding venues.
For a winter wedding, you'll want to keep your guests cozy and warm with space heaters and blankets. And if you're having a summer event, it may require fans or air conditioning for those hot days to beat the heat! Not all Nashville wedding venues are climate-controlled, so be sure to ask before you book.
Generators can be a big lifesaver when you're hosting an event or party. But if you're looking at Nashville wedding venues and they don't have the proper equipment, you could be forking out some serious cash from your wallet. Make sure to talk with your caterer, band, and DJ about their electrical needs before deciding whether or not you need a rental.
Insects, pests, dust, and dirt are the last things you want to deal with on your wedding day. If you're genuinely going rustic, a commercial cleaning service may cost you extra to keep these pests and dirt at bay.
Planning a wedding can be stressful, but it doesn't have to be! Imagine your perfect day – the service is flawless and beautiful. The food is delicious, and all of your guests are having a fantastic time. Now picture one negative detail: it's a very cloudy afternoon, and your rustic barn is dark and sad on the inside. That's not how you want your day or wedding photography to turn out! Some venues don't have extra lighting options such as string lights, lamps, chandeliers, candles. These are both a practical necessity and a mood-setter for your event.
PS Legacy Farms doesn't have any hidden costs! We also have lots of rustic decor to set the mood at your event. Even though many couples call our venue "rustic," our venue has state-of-the-art upgrades, climate control, and sufficient energy and lighting for your big day.
Hidden Costs of Nashville Outdoor Wedding Venues
Sure, an outdoor wedding is a beautiful option. But you should be prepared for the extra costs of being exposed to nature's elements!
Your wedding day must go on, rain and shine. If your venue doesn't have a Plan B, you may be in for a damp surprise. Some Nashville wedding venues might ask you to fork out extra for an outdoor tented area. But the costs don't stop there – you're going to need lighting, electricity, and maybe some decor to cover those white walls.
If you decide to forgo Nashville wedding venues and look instead for a public park or area, the process may be more costly than you imagine. Getting married in a public place often requires buying permits as well as paying location fees. You may also need insurance and sound amplification equipment if your event has music playing at it- all of which will require even more money!
If looking into getting married outside sounds like an excellent idea but not so much when there are extra expenses that come with it- let us help out! 
You've got a big dance planned for your wedding night, right? And you want to make sure it goes off without any problems. And you don't want your bridesmaids getting their heels stuck in the mud, do you? To prevent these issues, you'll need to buy some outdoor flooring and deliver it to your site! 
You'd be surprised how much harder it is to hear your vows, the DJ, and everything else at an outdoor wedding venue (especially if cars are whizzing by!). This means you'll need to fork out extra cash for a high-powered sound system so you and everyone else can hear the festivities. 
PS Legacy Farms doesn't have any hidden costs! We have a great Plan B — if it rains, our team will move everything inside to our Event Center without missing a beat. 
Hidden Costs of Nashville Hotel Wedding Venues
The convenience of preset wedding packages at many hotels is excellent, but they may not cover everything you need.
You'll need to pay extra for power drop charges if your party goes all night. For instance, if you have a DJ booth with subwoofers that are so good, they shake the ground and colored lights programmed to match every beat of the music.
If you're not using the hotel's set liquor selection, that'll cost extra. You should be prepared to pay a corkage fee– it's pretty substantial! Are you bringing your beer or wine? Prepare for an expensive headache: The price of bringing in outside booze is almost always high.
You know the corkage fee we just discussed? The same may apply if you choose to bring in cake, food, a DJ, or flowers rather than using the in-house vendors. Talk about limiting!
You'll be having so much fun at the end of the night that you might just beg to hear one more song. Most hotels will charge by the hour for running over your allotted time, but a full-service venue typically includes clean-up and garbage removal in their contract. If your event goes past midnight, though, then you could wind up with an expensive bill!
Bonus: Hidden Costs of a Destination Wedding Outside of the US.
It doesn't get more fun than traveling to an exotic location to tie the knot and say, "I do." These weddings have other benefits as well, such as beautiful photos or memorable experiences from your honeymoon. However, there are also some disadvantages like having less time before and after your big day because of travel arrangements, which can pressure budgets. There are some either hidden costs you want to look out for.
You'll be making one or two visits to your destination wedding location before the actual event. Factor in transportation, hotel, and food costs into your budget for these trips too! You will also have to pay for all of those extra expenses during the journey itself. These can add up and hurt your wallet.
If you're planning to import any decorations, be prepared for the fees and extra charges that come with it. Flying in your makeup artist, wedding planner hairstylist, or photographer may also make sense depending on your wedding vision. Still, the cost of flying everyone in and getting them accommodations during your wedding can add up!
Your wedding day is one of the most memorable days in your life. We suggest that you research and budget for regional marriage requirements in advance to avoid any surprises or added expenses. For example, many countries require couples to have a minimum amount of time spent on their home turf before they can get married there – which means those two to five extra nights at a hotel may be necessary!
Exchange rates and taxes could potentially make every single expense pricier than you expect. On the other side, depending on where you go, it might save money, so this is a toss-up!
Sadly, many guests will not be able to make your destination wedding. If you want to include them, you'll want to have a second reception when you return home.
Do your homework before you book at any Nashville wedding venues or have a destination wedding!
We wish you the best of luck in your search for Nashville wedding venues! If you have any questions, don't hesitate to reach out to us.
All-Inclusive Packages Wedding Venues in Tennessee
We do have all-inclusive packages, but we encourage you to customize them to match your wedding vision. You'll never be boxed into a package here. Contact us to discuss pricing and package details.
Late Night Wedding Venues in Tennessee
We do offer late-night hours, and whenever you're ready for bedtime, you can sneak away to your master suite.
Wedding Venues in Tennessee that Specialize in Elopements
If you want a smaller, more intimate wedding, you should consider eloping at our venue. We host elopements on weekdays.
Wedding Venues in Tennessee that Specialize in Small Weddings
For those who want to be safe and have a lower guest count, consider a small wedding at our Tennessee wedding venue. We have packages ranging from two guests to 300.
Wedding Venues in Tennessee with Outdoor Ceremony and Reception Options / Outdoor Nashville Wedding Venues / Outdoor Ceremony Wedding Venues in Tennessee / Outdoor Reception Wedding Venues in Tennessee
Right now, especially, it's essential to look into outdoor options for your ceremony, reception, and other wedding day events. This is because outdoor Nashville wedding venues are the safest way to celebrate. Legacy Farms offers you a private estate (no public, no strangers), allowing you to choose where you want to have your ceremony, drinks, dinner, dancing, and other reception elements.
Barn Wedding Venues in Tennessee
Although some might classify Legacy Farms as a "barn wedding venue," we're not a warn-out old barn. Our property is refined, elegant, and classy, with rustic vibes.
Private Estate Nashville Wedding Venues
Our private, gated estate doesn't allow the public in – just your wedding guests.
Garden Wedding Venues in Tennessee
Our gorgeous property is the perfect backdrop for your wedding day photographs.
LGBTQ+ Wedding Venues in Tennessee
We welcome everyone to get married at our Nashville wedding venue.
Ranch and Farm Wedding Venues in Tennessee
Although we aren't technically a farm or ranch, many wedding couples pick us when searching for a rustic vibe. That's because you want rustic elegance, not an old, warn-out barn with porta-potties.