Our wedding venue is the perfect getaway for your Nashville wedding
Whether coming from Chicago, New York, Atlanta, Dallas, Miami, or elsewhere, a Nashville wedding is a terrific and unforgettable experience. If you love live music, history, southern comfort food, spas and wellness treatments, art exhibits, public art displays, and eclectic backgrounds, then you won't find a better place than Nashville.
And you'll get to benefit from all that Nashville has to offer!
If you're looking for an experience in Nashville, check out this article for some ideas to plan around your Nashville destination wedding at Legacy Farms. Even if you're not a music lover and fan, Nashville should be on your bucket list, especially for a Nashville destination wedding.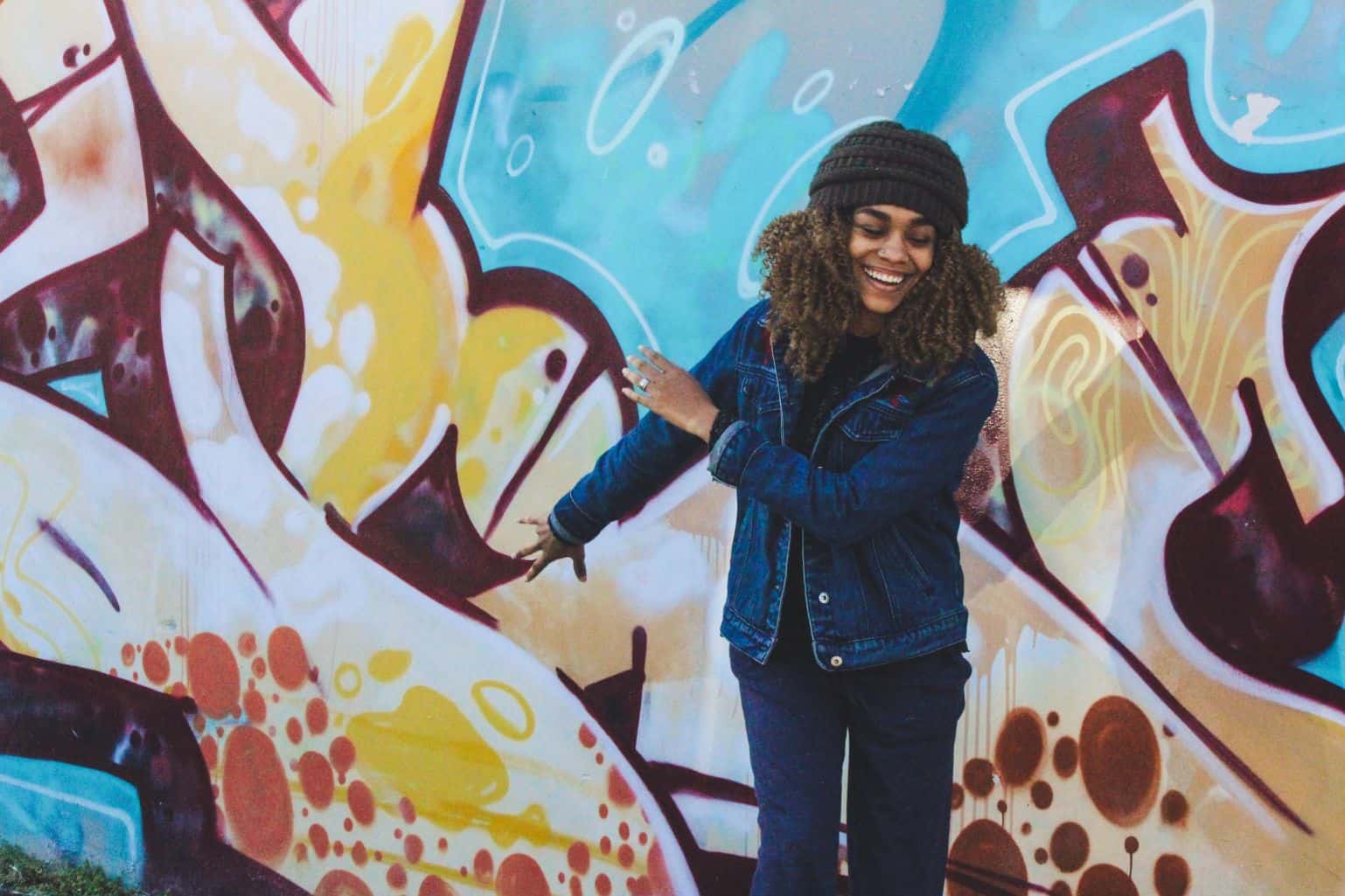 Pick up the Nashville Sightseeing Pass
If you want to visit two or more top attractions in Nashville, you should look into purchasing a Nashville Sightseeing Pass. Essentially, you pay for one pass, and it grants you entrance to several of Nashville's top attractions (making it cheaper than paying for them separately). There are two different types of Nashville Sightseeing passes:
The Flex Pass allows you to visit 2-7 attractions within 30 days.
The Sightseeing Pass allows you to visit an unlimited number of attractions for 1-3 days.
Attractions on the pass include the Country Music Hall of Fame and Studio B Tour, The Hatch Show Print Tour, and Andrew Jackson's Hermitage tour.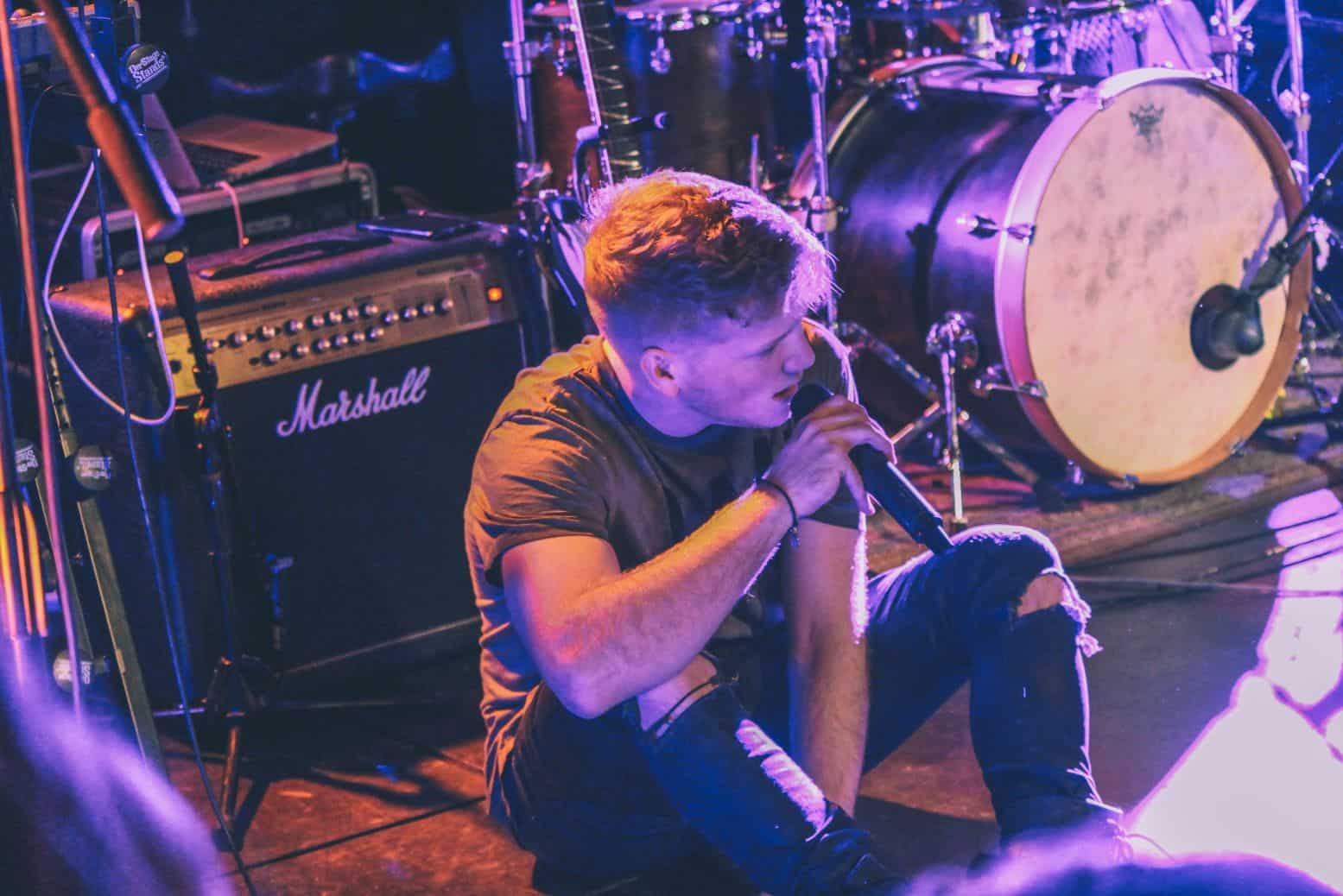 Live Country Music
Nashville has been renowned as the global home of country music ever since the Grand Ole Opry radio show began broadcasting folk tunes in the 1920s. Iconic studios, concert halls and venues, and museums offer great insights (and sounds) into local country heritage.
Hang out with locals at the weekly Music Row Freakshow at Winners Bar and Grille
Address: 1913 Division St, Nashville, TN 37203
If you stop by Winners Bar and Grille on any Wednesday from 7-10 PM, you'll get to hear the Music Row Freakshow – a weekly event where local performers perform recently written and unheard, unrecorded music. It seems like everyone in the bar is friends, songwriters, singers, and performers, so it's an authentic experience in Nashville. If you want to check out some hidden talent or meet people who have performed on The Voice, definitely stop by.
If you're near Music Row, check out the public art display, "Microphone" by Franne Lee, Keith Harmon, and Mac Hill, Northeast corner of Demonbreun Street and Music Row. It's an excellent place for a photo op and, if you're on a bike, a savvy place to lock up.
Listen to a concert at the Grand Ole Opry House.

The Grand Ole Opry House hosts thousands of famous country music artists – it's an iconic stage in its own right. Their lineups are usually robust and include some acts you haven't heard of yet. You'll appreciate this even more, including the small circular section of wood in the center of the stage, after taking a tour of the Ryman Theater. 
Enjoy an intimate music performance at the legendary Bluebird Cafe.

Located in a small strip outside of downtown Nashville, this 90 seat venue looks to be unassuming. Still, some of the most significant artists have been discovered here, including Garth Brooks and Taylor Swift. It also served as the set for the famous hit drama Nashville on ABC, so if you're planning your Nashville destination wedding trip a few months or a year from now, it might be fun to catch up on a few episodes and then bring it to life when you visit.
Other mention-worthy live music scenes:
Belcourt Theater

Nashville Palace

The Station Inn

Nudie's Honky Tonk

Tootsie's Orchid Lounge

Honky Tonk Central
Take a Line Dancing Lesson (or show the locals up) at the Wildhorse Saloon
Address: 120 2nd Ave N, Nashville, TN 37201
The Wildhorse Saloon in downtown Nashville is the perfect place to learn how to line dance or show the locals how it's done. Their 15-minute line dancing lessons are relatively simple and worth experiencing. The instructor will teach the most straightforward version first, breaking down each section, then showing how a few more steps can make it more complicated and fancy. After your lesson, stick around to listen to some acoustic or full bands they have scheduled for evening entertainment.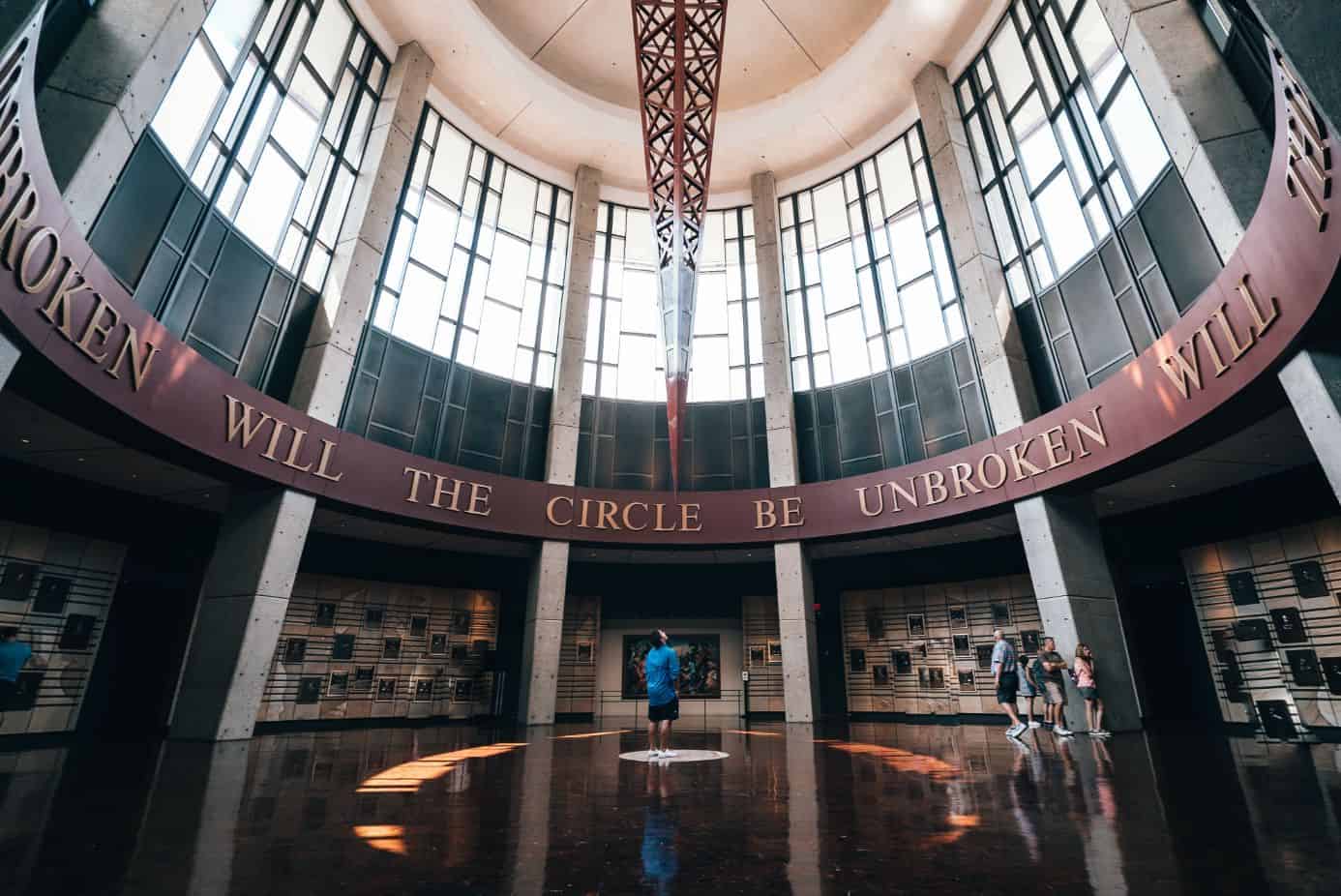 History & Museums
Learn about your favorite musicians at the Country Music Hall of Fame and Museum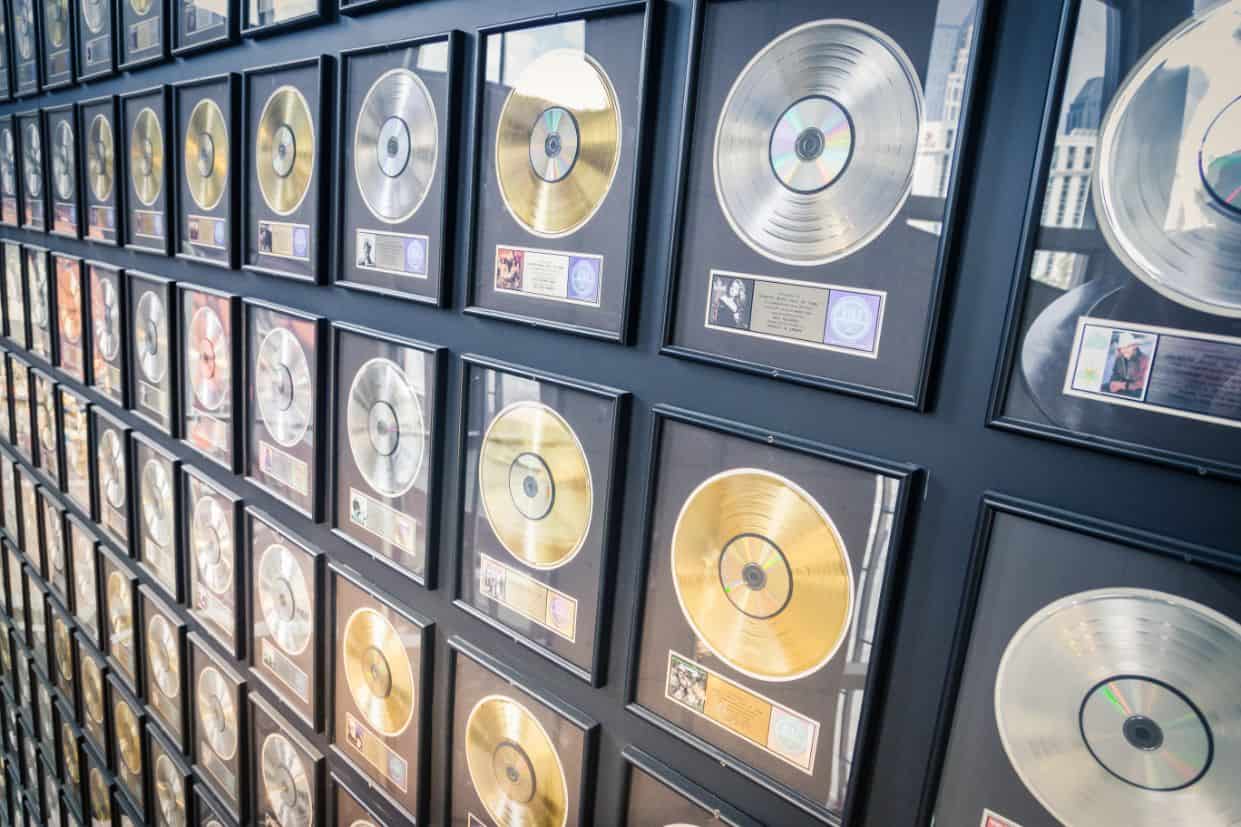 Address: 222 5th Ave S, Nashville, TN, TN 37203
There's no better way to commemorate and kick off your Nashville exploration. The Country Music Hall of Fame has three floors in total. Two of these floors contain vast exhibits and over 2.5 million country music artifacts. It displays everything from the early stages of country music to music as recent as 2020.
The Country Music Association announced its 2020 inductees for the Country Music Hall of Fame earlier in 2020: Dean Dillon, Marty Stuart, and Hank Williams Jr.
The third floor covers the early country music showcasing personal items of country music artists that your parents and maybe even grandparents listened to on their radio. There's something for everyone to enjoy at the Country Music Hall of Fame, from eclectic artifacts to interactive displays. Often, the museum will bring in a particular feature, so be sure to check the website to see what's new. 
Pro Tip: There's so much to see and do at the Country Music Hall of Fame – if you have a few extra bucks, get a guided tour from a professional.
Sit at Elvis' Favorite Piano at the RCA Studio B Tour
Address: 1611 Roy Acuff Pl. Nashville, TN 37203
RCA Studio B is arguably the most famous music recording studio in Nashville. It's historic because it established Nashville as a globally recognized recording center and revived country music's popularity. Some artists recorded here include Elvis Presley, Dolly Parton, Willie Nelson, Carrie Underwood, Martina McBride, and more.
The guided tour puts you in mindset and place, which we love. You can sit at the piano where Elvis sat and played and listen to unedited versions of his recording sets, meaning you get to hear all of the discussions and everything else going on during the sessions.
Create Your Woodblock at Hatch Show Print
Address: 224 Rep. John Lewis Way S, Nashville, TN 37203
The Hatch Show Print is a legendary graphic design shop famous for its woodblock prints of classic country music stars and offers an interactive tour.
During the tour, they'll show you the woodblocks that had been carved and eventually turned into some of the most famous posters – such as historic presidential campaigns. The precision, skill, and artistry of these carvings make this tour awe-inspiring. You'll also get to see how they applied the different layers to create the final version of the poster. And the tour ends on an interactive note, allowing you to make your woodblock print poster. 
Visit Andrew Jackson's Hermitage
Address: 4580 Rachel's LaneNashville, TN 37076
Here you can check out the beautiful home of president Andrew Jackson and learn about his life, legacy, and some unknown facts regarding his presidency. If it's been a while (or maybe over a decade) since you opened a history book in high school, the audio tour will refresh your memory and go further in-depth than anything you learned in school. We also recommend checking out the duel reenactment, discussing how duels were conducted, not how Hollywood portrays them.
Take a tour of the Ryman Theater and record your very own song.
Address: 116 Rep. John Lewis Way N, Nashville, TN 37219
The Ryman Theater served as the Grand Ole Opry (we'll talk about the Grand Ole Opry later in this blog) before moving to the Grand Ole Opry House. But the Grand Ole Opry still holds its shows at the Ryman (instead of the Opry House) in November, December, and January.
Performances happen at nighttime, but you can take a self-guided walking tour through the Ryman seating area and check out the exhibits on the back walls during the day. For an upgraded ticket, you can get a guided tour of the backstage. 
Before your tour starts, you'll watch a short video that introduces the history of the Ryman Theater. The video is interesting because the screen is set in church windows. This is because the Ryman was originally a church, and lights and shadows on the wall create a 3D effect that makes you feel like you're right there. 
If you have a few extra dollars to spend and love to sing, you can make a record as a souvenir. You'll enter the recording room and have a CD made from your singings. You have the option to choose from a list of songs or perform your original piece – which makes for a great takeaway.
Check out never before seen cars and more at the Lane Motor Museum
Address: 702 Murfreesboro Pike, Nashville, TN 37210
If you're into cars, you cannot miss this exhibit. The collection is relatively offbeat and features the most extensive collection of European cars, planes, and motorcycles in the US. The exhibition focuses on about 50% micro collections and 50% experimental and one-off creations. This museum will make you wonder how a designer thought of such a modern design in the '50s and is truly interesting to see. You can spend a couple or a few hours exploring this museum, so make sure you plan for a full afternoon here. 
Other museums worth mentioning: 
International Rock-A-Billy Hall of Fame

The Buchanan House
Take a picture with your favorite musician at Madame Tussauds in Nashville.
Address: Opry Mills, 515 Opry Mills Dr, Nashville, TN 37214
There are 22 Madam Tussaud locations around the world, but the one in Nashville is pretty impressive. Some of the wax figures include Minnie Pearl, Little Jimmy Dickens, Patsy Cline, Luke Bryan, Blake Shelton, Darius Rucker, Billie Holiday, Carrie Underwood, Johnny Cash, Kenny Rogers, Louis Armstrong, Stevie Wonder, Rihanna, Miley Cyrus, Beyonce, Ella Fitzgerald, Waylon Jennings, Katy Perry, Jimi Hendrix, Bob Dylan, and Reba McIntire. And if you watch the TV show Nashville, a few fictitious characters make a debut, Rayna James and Deacon Claybourne. The self-guided tour is about 60-90 minutes long. 
Walk the Line at the Johnny Cash Museum 
If you're a Johnny Cash fan, you simply can't miss this museum. The Johnny Cash museum contains the most extensive collection of memorabilia, artifacts, pictures from his life, and legacy.
Admire the architecture of the Union Station Hotel
Address: 1001 Broadway, Nashville, TN 37203
When you book your Nashville destination wedding at Legacy Farms, you'll get to stay on our gorgeous property at the Manor. But when touring Nashville, we recommend stopping to explore and admire the stunning architecture and decor of the Union Station Hotel. Historically, it was built as a railroad station in 1900 and served as a passenger rail service to transport mail and other goods.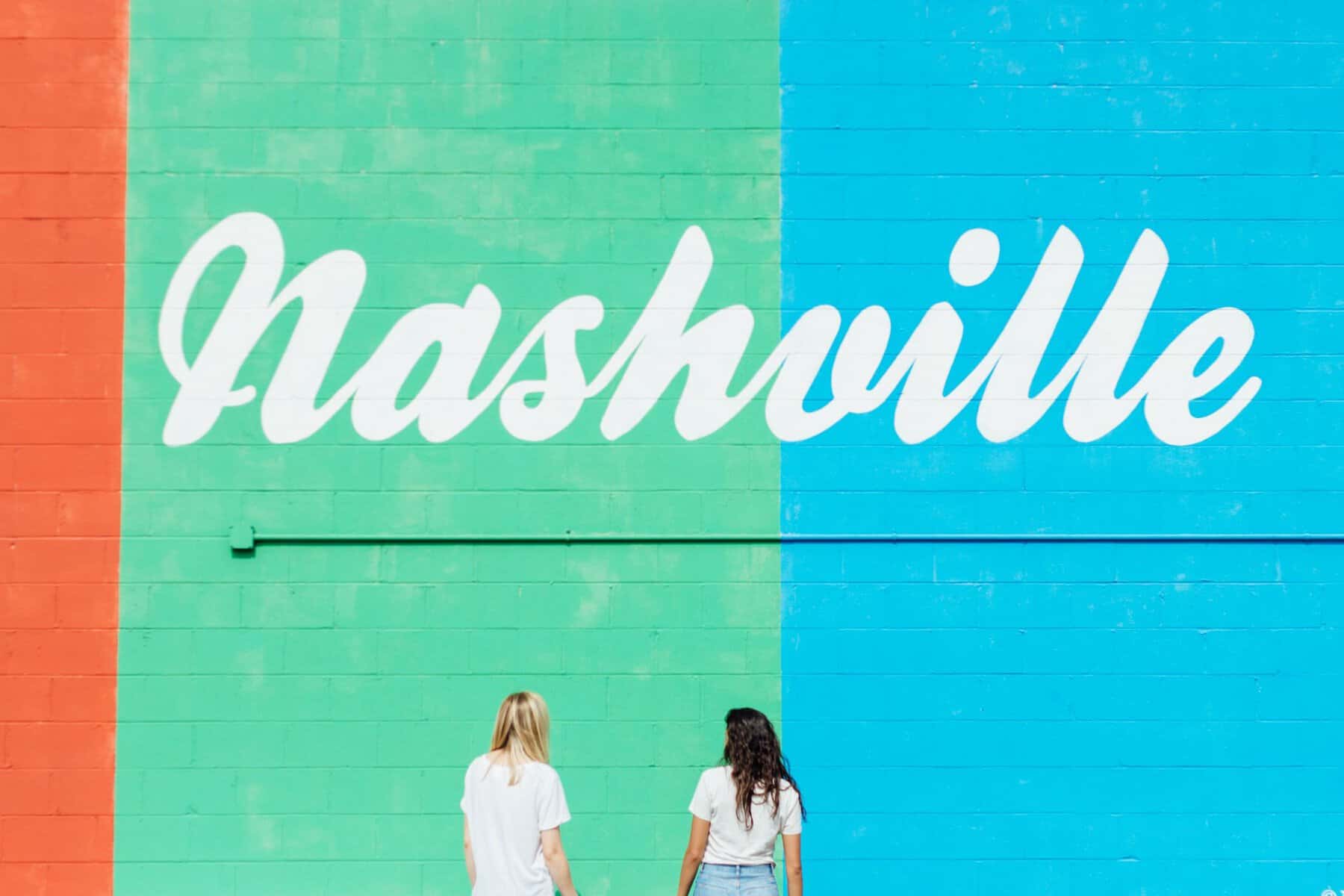 Art Museums
& Public Art
Enjoy a surprise exhibit at the Frist Art Museum.
Address: 919 Broadway, Nashville, TN 37203
This classical art deco building houses some of the most visual exhibitions and outstanding educational programs around. The building was initially designed and built in the 1930s to house Nashville's main post office, but as the city center moved and grew, it was no longer a good location. In 2001, it was reintroduced as The Frist Center of the Visual Arts (now known as The Frist Art Museum). 
What sets the First Art Museum apart from other museums across the US is no permanent collection is housed here. Instead, the museum focuses on creating its exhibitions and securing traveling exhibits worldwide, so there's always something new. Check the website before visiting to know what collections will be there when you arrive.
The Rymer Gallery

White Rose Gallery

White Rose Gallery is a new gallery in Brentwood, TN. Located just south of Nashville and it is a must-visit gallery for art lovers visiting Nashville and Williamson County and two minutes off I-65 at the Old Hickory Blvd Brentwood exit.  It features current landscapes, cityscapes, and more.
The Gulch Murals
Address: 302 11th Ave S, Nashville, TN 37203
 There is an abundance of gorgeous murals in Nashville that are perfectly Instagram-worthy. One of our favorite mural locations is the Gulch Murals. The "WhatLiftsYou" (the wings) mural is located on the parking garage's side located at 302 11th Ave S., which is a fan favorite. Murals are updated, painted over, and sometimes removed, so there's always something new to see and take photographs of.
12 Ave Murals
Address: 2702 12th Ave S, Nashville, TN 37204
The murals on 12th Ave aren't as famous as the Gulch Murals, but some photo-worthy murals, including the "I Believe in Nashville" mural. It's got a more suburban and contemporary feel than the Gulch Murals and gives you a chance to drive around explore some Nashville neighborhoods.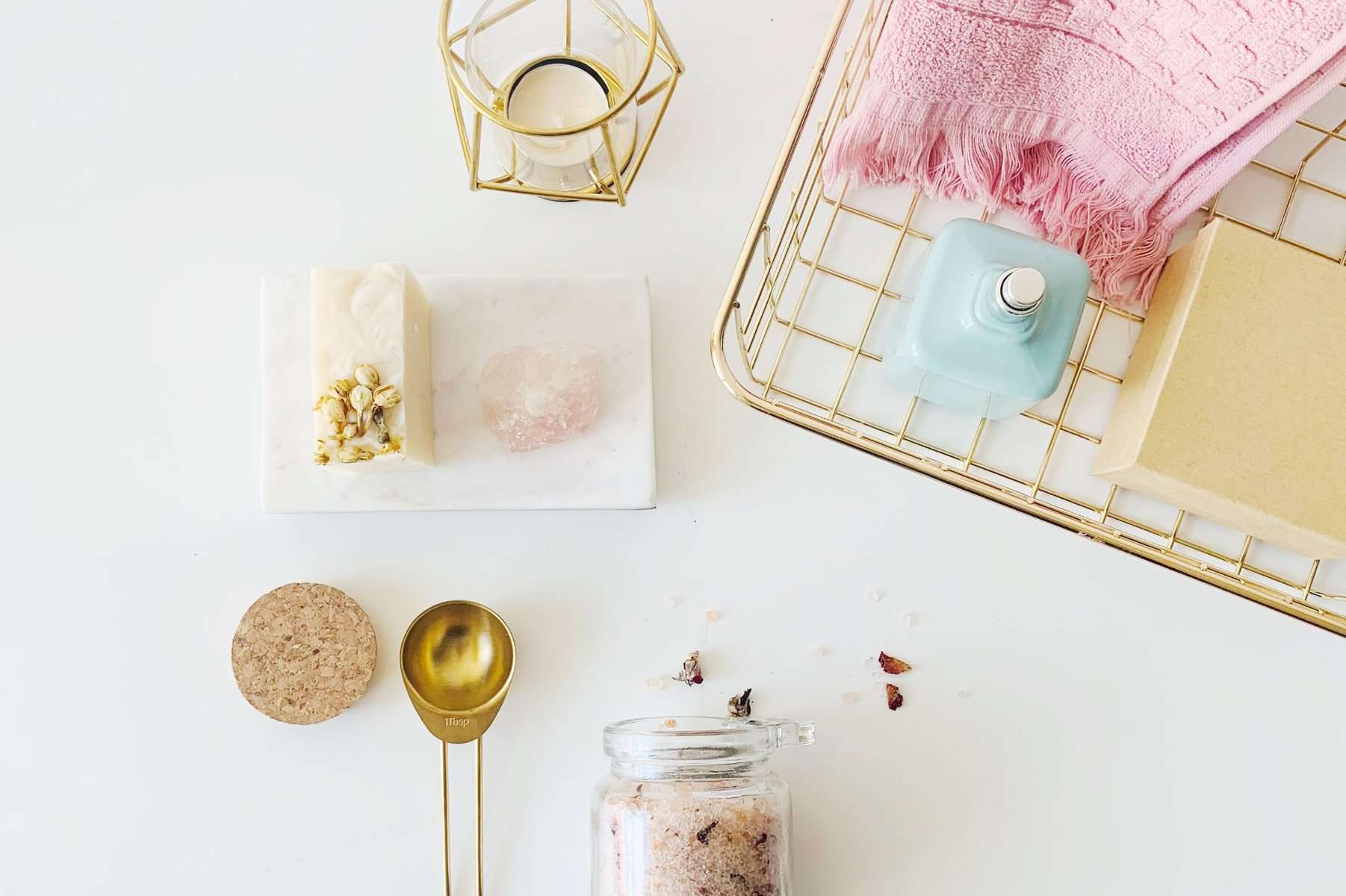 Wellness, Spas, and Rejuvenation (for a healthier marriage!)
Welcome your marriage with a refreshed mind and body. Here are some holistic (whole-body) approaches to detoxifying and having a self-care rejuvenation experience in Nashville during your Nashville elopement. 
Sweat it Out at the CYL Sauna Studio

Experience the serenity of sweating your way to better health in a luxury infrared sauna suite. They offer a room for couples if you want to do a "tandem sweat." Don't you think sweating sounds romantic? Consider this: sweating in an infrared sauna has countless health benefits, including reducing stress (like that wedding planning you did), speeding up your workout recovery, improving circulation, skin rejuvenation, weight loss, healing wounds, lowering blood pressure, pain relief, and help with chronic diseases. 
Take the Restore Class Together at Yoga Harmony
Yoga is a fantastic way to get closer to your partner, detox, destress, and boost your endorphins. Yoga Harmony uses the ingrained heart to provide more detoxification, which benefits cellulite reduction and joint flexibility. The Restore class is 75 or 90 minutes and helps you connect your physical, mental, and emotional bodies. The Restore class is particularly great for couples because it will help you open your heart and feel a sense of comfort, which is a great bonding experience. And when you're feeling more confident in your yoga poses, head out to Percy Priest Lake and try your yoga on a paddleboard!
Get an individually customized treatment plan at the Nashville Center for Alternative Therapy.
Address: 1402 Russell St, Nashville, TN 37206
Pay a visit to the Nashville Center for Alternative Therapy (NCAT) to discuss your physical history, psychological, spiritual, and emotional patterns, an overview of your personality type, and your approach to holistic health. After your first session, you'll receive a customized alternative therapy treatment plan that can include the following: massage, Acupuncture, mei zen acupuncture, healing reiki, intuitive enneagram coaching, relationship coaching, emotional freedom technique, tapping, a spiritual medium, and yoga.
Soothe Your Soles in a Salt Cave
Address: 1216 Wedgewood Ave, Nashville, TN 37212
Salt and Soles is a salt therapy and reflexology space with over 15,000 pounds of pink salt blocks. The salt cave is the ultimate zen (chill out) environment with calming meditation music and zero gravity chairs. A generator pumps powder-powder-sized pharmaceutical grade salt into the room where you are resting, which you'll feel throughout your body. Dry salt therapy can treat sinus infections, eczema, allergies, stress, and anxiety.
The best part? No devices are allowed – so no cell phones or any technology will interrupt your zen. Salt and Soles also offers yoga, wellness classes, and detoxifying foot soaks. 
Reflexology puts pressure on specific reflex points on the foot that correspond with organs and other parts of the body. It can help with healing and clear blocked channels in the body. 
Float Away Your Stress at Pure Sweat + Float Studio
Address: 6021 TN-100, Nashville, TN 37205
Floating is one of the most progressive ways to reduce stress and achieve deep relaxation. 1,000 lbs of Epsom salt in your water tank allows you to feel still and weightless. For many individuals, floating is an excellent path to meditation, aid in physical recovery, helps problem-solving, creative thinking, and is a perfect tool for self-care whether you participate individually or as a couple (you can't float in a pod together).
Floating is also a path to meditation and a nurturing context for physical recovery, problem-solving, creative thinking, and self-care. Here are some other benefits you'll reap from float therapy:
Lowers Blood Pressure + Heart Rate 

Reduces Stress on Spine, Hips + Joints 

Relieves Pain + Muscle Soreness 

Boosts Hair + Skin Health 

Restores Magnesium + Sulfate 

Lowers Cortisol, Acth, Lactic Acid + Adrenaline 

Improves Circulation 

Distributes Oxygen + Nutrients 

Increases Endorphins 

Visualization + Creativity 

Relieves Insomnia, Fatigue + Jet Lag
To name a few. The physical, emotional, and mental health benefits can positively impact your marriage, so we are all for float therapy.
Indulge in an Ayurveda Massage at The Lotus Room
Address: 1907 21st Ave S, Nashville, TN 37212
The Lotus Room is a studio in Nashville that specializes in Ayurvedic healing. Ayurvedic healing, or medicine, is one of the world's oldest holistic healing systems, originated in India and developed more than 3,000 years ago.
The Ayurveda massages they offer are:

Ayurvedic Dry Massage

Full Body Relaxation Massage

Vedic Head Massage

Marma Hand + Foot Massage
You can book a massage in the same room together, and you may also book a "Couples Sweat" in their infrared sauna. It's a great way to relax together and partake in a tried and true method of holistic healing.
If you're feeling 'on pins and needles,' try Modern Acupuncture.

Acupuncture is widely recognized as an ancient healing practice of traditional Eastern medicine. In this practice, skinny needles are placed at specific points in the body (you can hardly feel them). It's primarily used to relieve pain, skin issues, stress, and inflammation and has been used to treat other conditions.
Modern Acupuncture offers quick 30-minute sessions so you can get back to your day, but it's best to do at least several treatments to receive the full benefit.
Take A Relaxation Retreat at the Mokara Salon and Spa
Address: 250 Rep. John Lewis Way S, Nashville, TN 37203
Mokara Salon and Spa is located in downtown Nashville and offers a full-service spa experience. Relax in comfort as you're pampered with an ultimate spa experience. Services include soothing facials, body treatments, massages, salon services, manicures, and pedicures.
Their state-of-the-art relaxation rooms and sauna are great to reset in between treatments if you make a full day out of it. 
Step into an urban oasis for a pedicure at Rhapsody Spa
Address: 807 Clark Pl, Nashville, TN 37203
Rhapsody Place has a warm, nearly silent atmosphere. In addition to pedicures, they also offer a Detoxifying Body Experience and a Vital Body CBD massage that are a favorite among visitors. Their steam showers use a digital screen to control the shower pressure, hand wand, multiple wall showers, and steam. And if you're with your partner, they have a large dry sauna that can be accessed by the men's and women's side of the spa.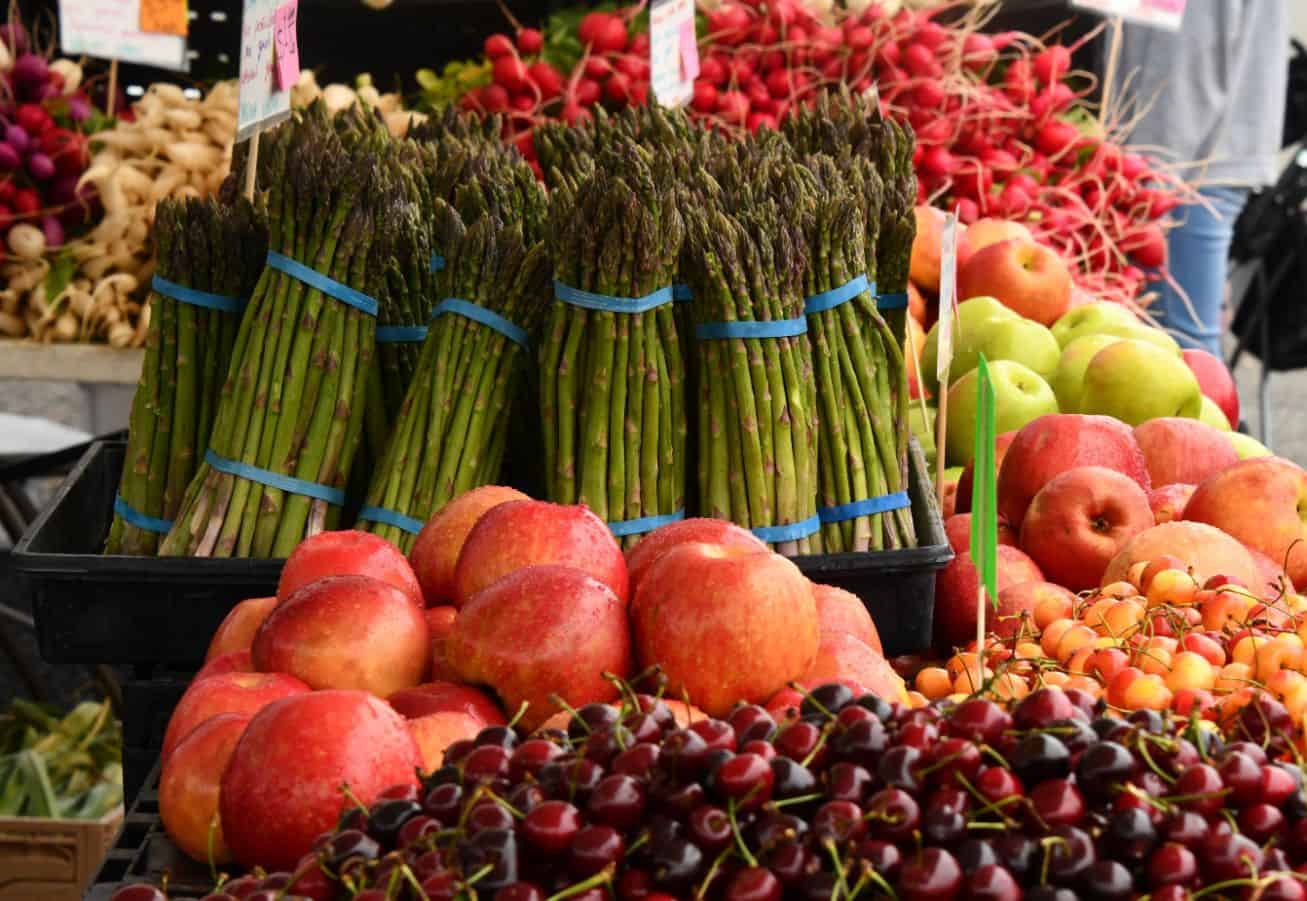 Eat and drink your heart away at Nashville Farmers Market (and take something home with you!)

Address: 900 Rosa L Parks Blvd, Nashville, TN 37208
Located adjacent to the Tennessee State Museum and Bicentennial Mall State Park, this year-round market provides a space for farmers, artisans, non-profits, and small businesses to showcase the best foods, produce, crafts, classes & chefs demos. The facility includes: 
two covered open-air sheds

container farm

greenhouse

microgreens farm

24,000 sq. ft. garden center

culinary incubation center

international food court that houses two dozens of restaurants and shops
If you're on the prowl for fresh veggies, fruit, flowers, jellies, cheese, beer, and international foods, you need to visit while you're here.
PRO TIPS:
Stop by Swafford Farms booth for ripe tomatoes and pick out your blueberries at Souther Roots Produce

If you're feeling peachy, The Peach Truck has local, sweet, and juicy peaches you'll want to take home with you.

White Creek Flower Farm is a great place to handpick some flowers to turn into a beautiful bouquet. And if you're a fan of pastries, you can't miss the Brightside Bakeshop. To make jams or jellies back home with you, stop by the Nashville Jam Company. And for those who love cheese, Noble Springs Dairy offers the best local cheese. 

Our favorite place to eat lunch at the Nashville Farmers Market is Bowl and Roil – their Korean-style sushi is a musty try. And if you're still hungry after reading this, crepes from Music City Crepes are a great way to end on a sweet note. 

If you need to walk off all that food, walk over to the public art display, "Capital" by Luke Tidwell, Bicentennial Mall, on the east side of Farmers' Market.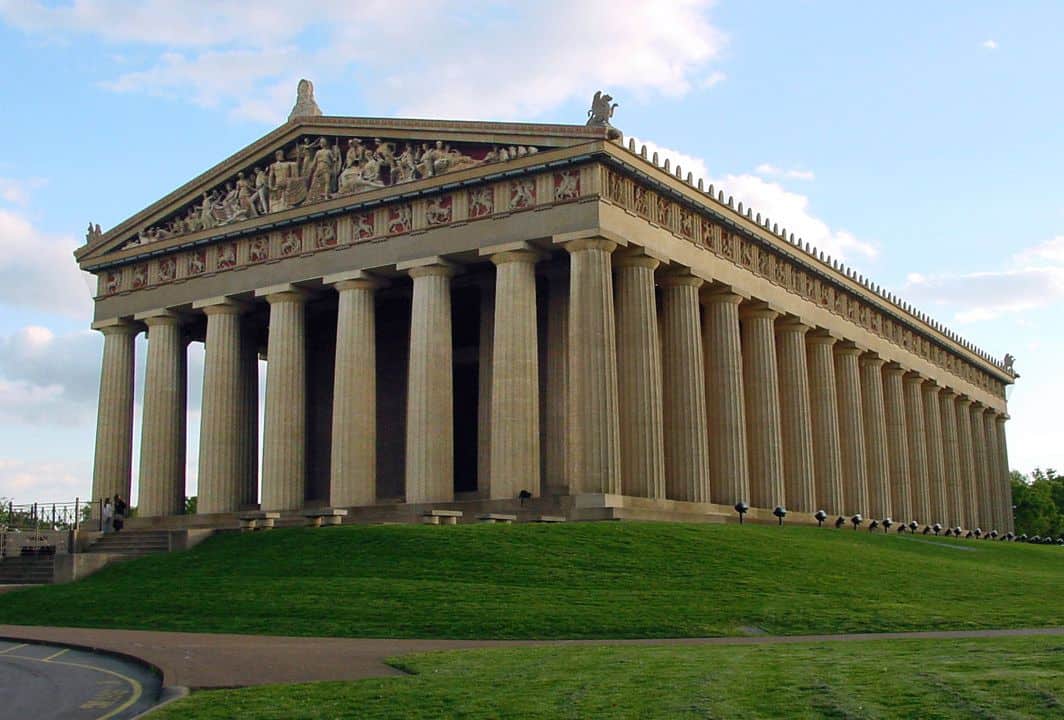 Nature Trails, Parks, and Sightseeing
Walk Among Legends at the Music City Walk of Fame
Address: 121 4th Ave. S., Nashville, TN 37203
The Music City Walk of Fame Park is a short but sweet star-studded pavement honoring the Nashville music legends. The park sits alongside the Nashville Music Garden and is located right across the street from the Country Music Hall of Fame. If you've walked on the Hollywood Walk of Fame in Los Angeles, you'll notice that the one in Nashville is much smaller, but it's much more meaningful to those country music lovers. 
Stroll at Centennial Park and View the Parthenon
Address: 2500 West End Ave, Nashville, TN 37203
Centennial Park is a vast public park that is near downtown and famous for its replica of Greece's Parthenon. And the Parthenon is there for more than photos – you can step inside for a unique experience. The first floor is a museum with pictures from when it was built along with other artwork. But the second floor is where you find yourself standing inside the Parthenon along with a massive gold and ivory 31 ft. tall statue of Athena.
Centennial Park is the perfect spot to walk off your lunch, have a charcuterie-style picnic, people watch, or simply relax. There are a few historically significant statues, along with some pristine, well-maintained gardens, a few sports fields, and playgrounds.
Catch the downtown skyline at John Seigenthaler Pedestrian Bridge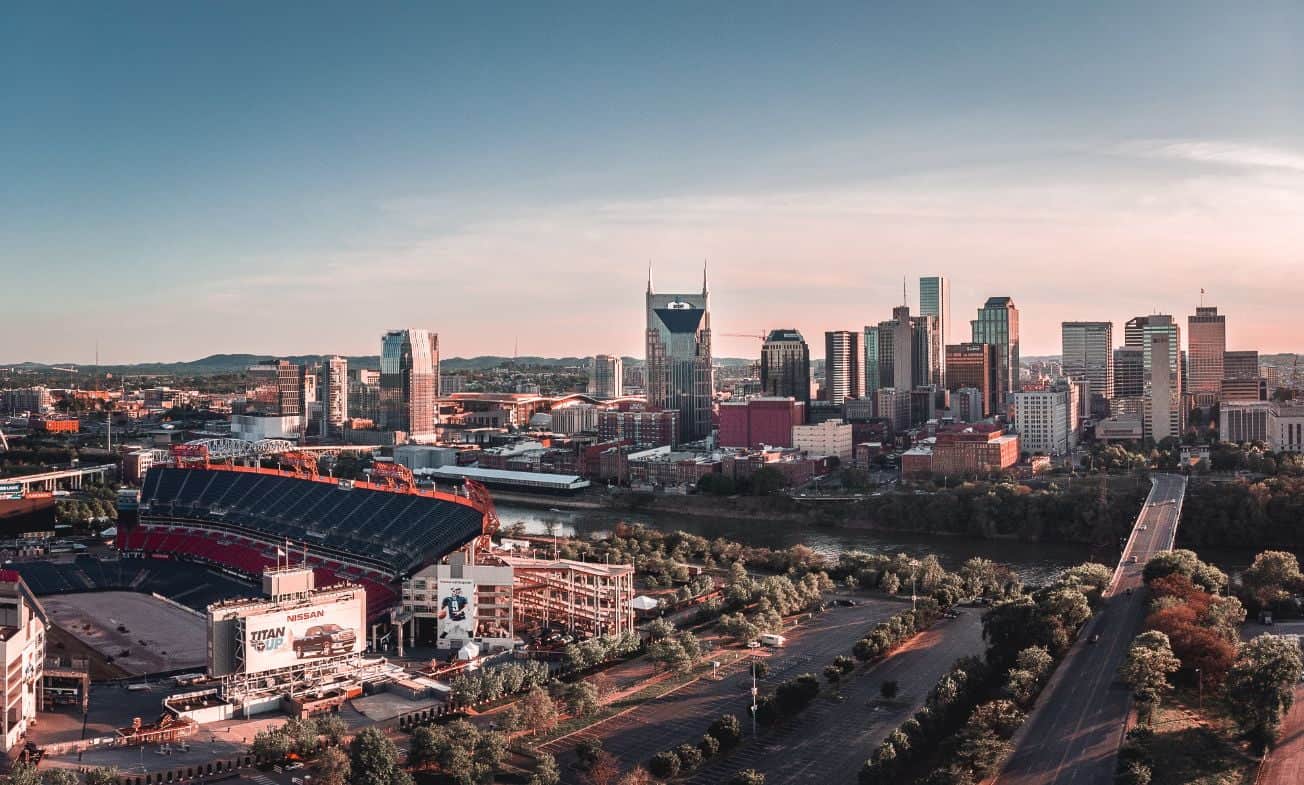 Suppose you want a sunset view of the skyline and the river, head over to the John Seigenthaler Pedestrian Bridge for a panoramic view. This pedestrian bridge was closed to cars in 1998 to make room for visitors to stand and gaze in awe at the views. 
There are also nearby art walks, including the Ghost Ballet for the East Bay Machineworks sculpture, the Reflection sculpture, Acme Farm Supply, Riverfront Park, Historic Front Street Warehouse, and The Riders. 
Nearby shopping includes Trail West, Silver Dollar Rock Shop Retail Store, Nashville Limited, and Wildhorse Saloon Gift Shop. 
Nearby entertainment includes Gray Lines Tennessee, Ascend Amphitheater, Glen Campbell Museum, and Old Town Trolley Tours.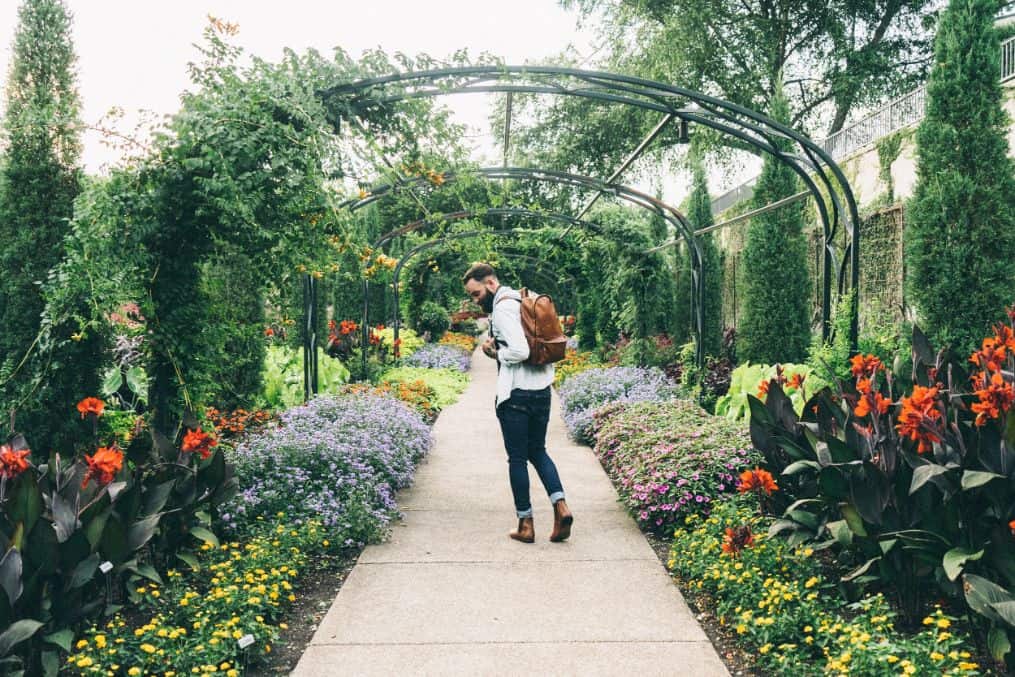 Other nature parks and trails worth visiting are:
Percy Priest Lake – home to one of the best Nashville beaches

Cheekwood Art & Gardens

Radnor Lake State Park

Percy Warner Park

Long Hunter State Park

Beaman Park

Deerwood Arboretum
Stroll Bicentennial Park and admire the Capitol building
Address: 600 James Robertson Pkwy, Nashville, TN 37243
This park isn't as massive as Centennial Park (and doesn't have any Greek architecture), but it does feature some very cool memorials and views of the Capitol building. On one end of the park, you can get a great picture of the park in its entirety with the Capitol building in the background.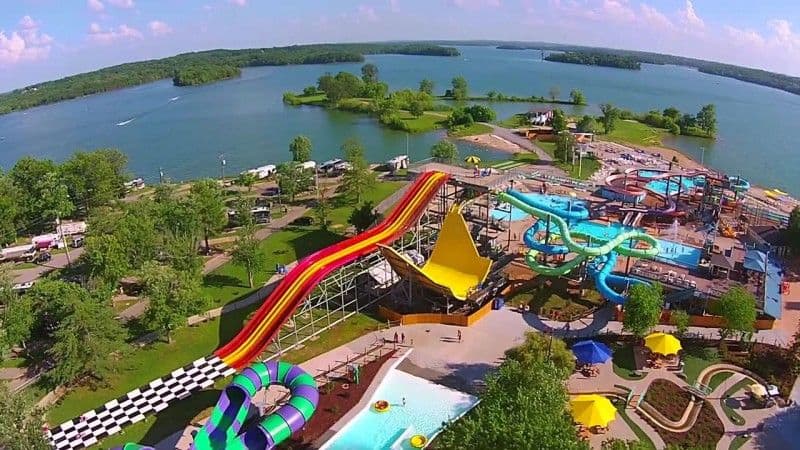 Adventure Parks and Activities
Nashville Shores Waterpark
Address: 4001 Bell Road, Hermitage, TN 37076
Nashville Shores offers something for everyone: thrilling water slides, a gigantic wave pool to put your surfing skills to the test, a massive water treehouse, a playground, a lazy river, and a beach to rest on. 
Treetop Adventure Park
Address: Nashville Shores, Hermitage, TN 37076
Treetop Adventure Park is also on the Nashville Shores set in the beautiful woods featuring 1,000 obstacles, including suspended bridges, zip lines, climbable cargo nets, Tarzan swings, and other elements thrill-seekers. 
Hamilton Creek Mountain Bike Trail
Address: 2975 Bell Road, Nashville, TN, 37217
This mountain bike trail is a rocky, technical XC trail with some big drops not for the faint of heart. With 11.1 miles of single-track, this trail features enough limestone rock and exposed gnarly roots to satisfy even the most thrill-seeking of technical riders. Trail features include mossy creek beds, narrow passages, multiple rock drops, log crossings, and steep downhill sections. If you didn't BYOB (bring your bike), we recommend renting at Trace Bikes located at 8080B TN-100, Nashville, TN 37221.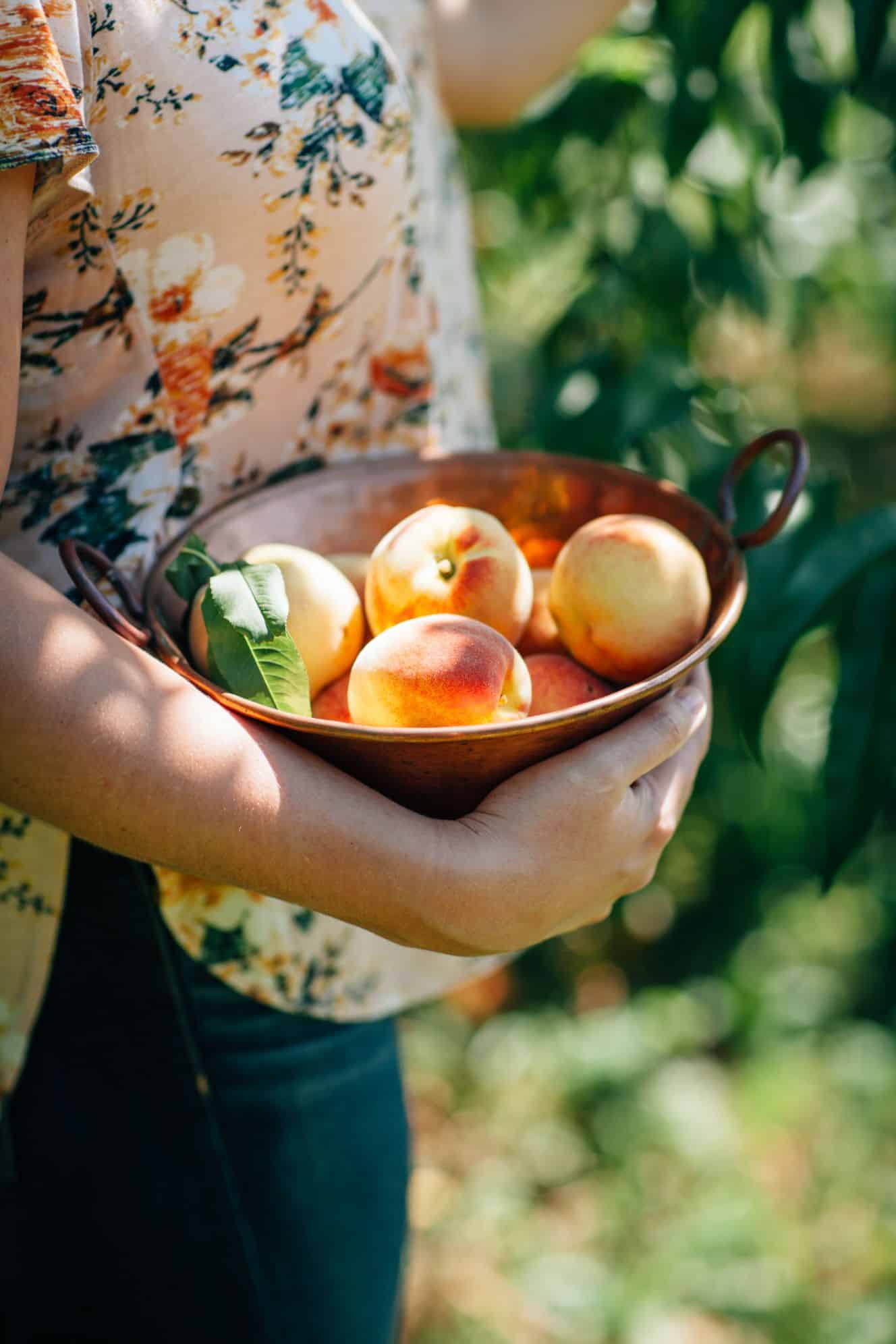 Fruit Picking near Nashville
Strawberry, blueberry, and blackberry picking:
Circle S Farms

1445 Old Laguardo Rd E, Lebanon, TN 37087
Blueberry, Blackberry, and Raspberry picking:
Kelley's Berry Farm

Address: 50 Riverview Estates Lane, Castalian Springs, TN 37031

During berry-picking season, part of the farm is open for you to pick your fruits from 7 AM-6 PM. You can pick these fruits during these months:

Strawberries: May-June

Blackberries: June-July

Blueberries: July-August

Peaches: July

Raspberries: August-September
Peaches & apple picking:
Pratt's Orchard

Address: 4944 Trousdale Ferry Pike, Lebanon, TN 37087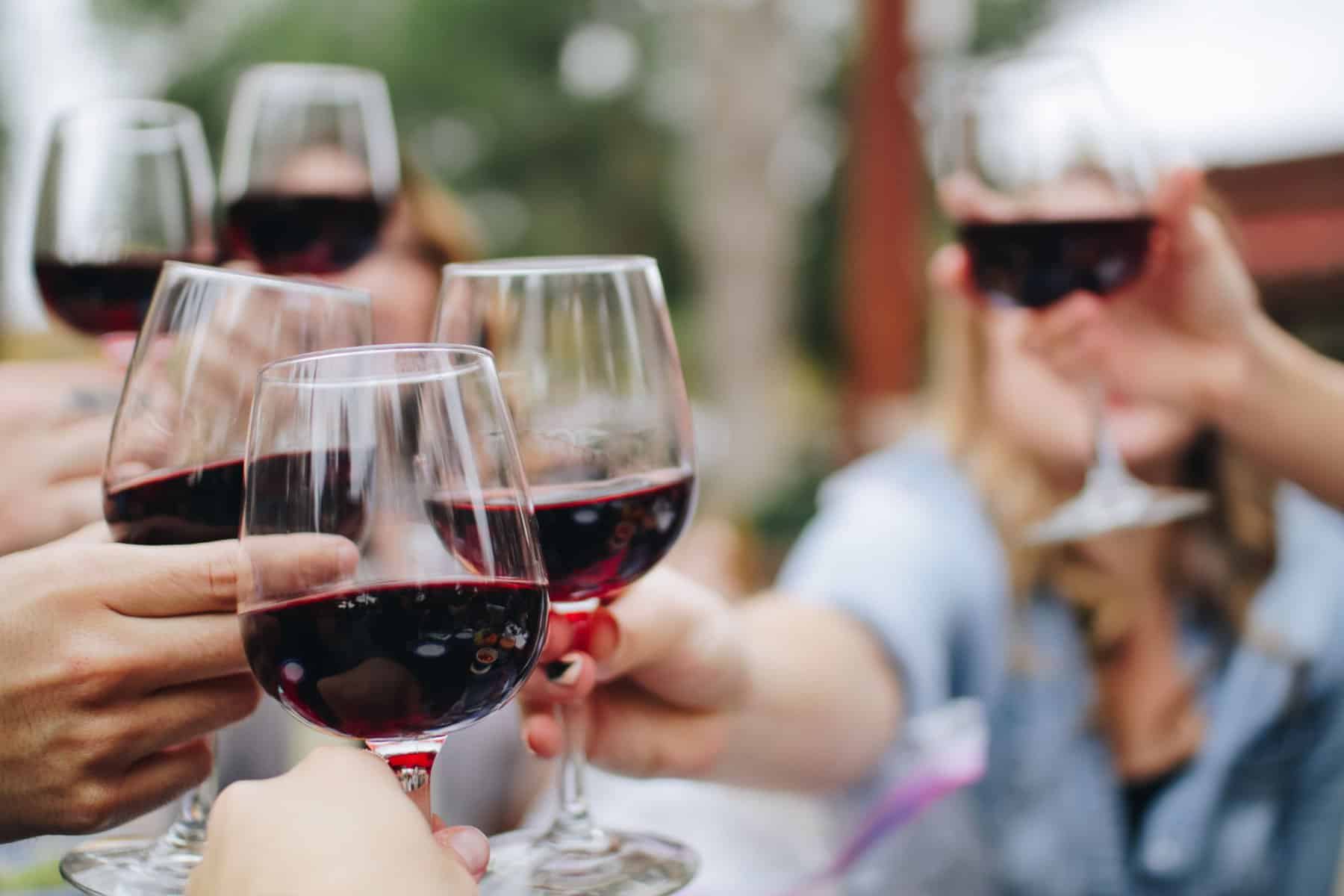 Wine Tasting in Middle Tennessee
The Best Way to Taste Wine Near Nashville – Natchez Trace Wine Trail
Tennessee is not just for whiskey lovers – it's for wine lovers too! Over the past decade, Tennessee has become famous for more than whiskey and moonshine. It's now become sought-after for its wine. Currently, Tennessee has over 150 family-owned vineyards and 40 wineries. The state produces award-winning wines from locally grown grapes.
Whether you're a wine lover or have never been on a wine tour, you don't have to go to California wine country to experience a wine tasting. From vineyard tours to learning about harvests and watching wine production to actual wine tasting, middle Tennessee's Natchez Trace Wine Trail is a fantastic place to explore wine and is just one hour outside Nashville. Our favorite family-owned wineries include: 
Amber Falls Winery

Natchez Hills Vineyard

Keg Springs Winery

Grinder's Switch Winery

Cellar 53 Winery
If you haven't taken a wine tour before, here are some tips from us to look like a wine pro:
When you receive a glass of wine, hold it up gently and observe it in the light because brightness signifies higher quality. 

Bring your glass back down to your nose and smell your wine. You can even write down your notes about what you sense on a notepad to cherish later on.

As you taste your wine, think about what flavors and senses you are experiencing. You can write these notes down as well.

You don't have to swallow every wine sample, and most wineries give you a silver bucket to "spit" your wine back. Spitting out your wine prevents you from getting too intoxicated.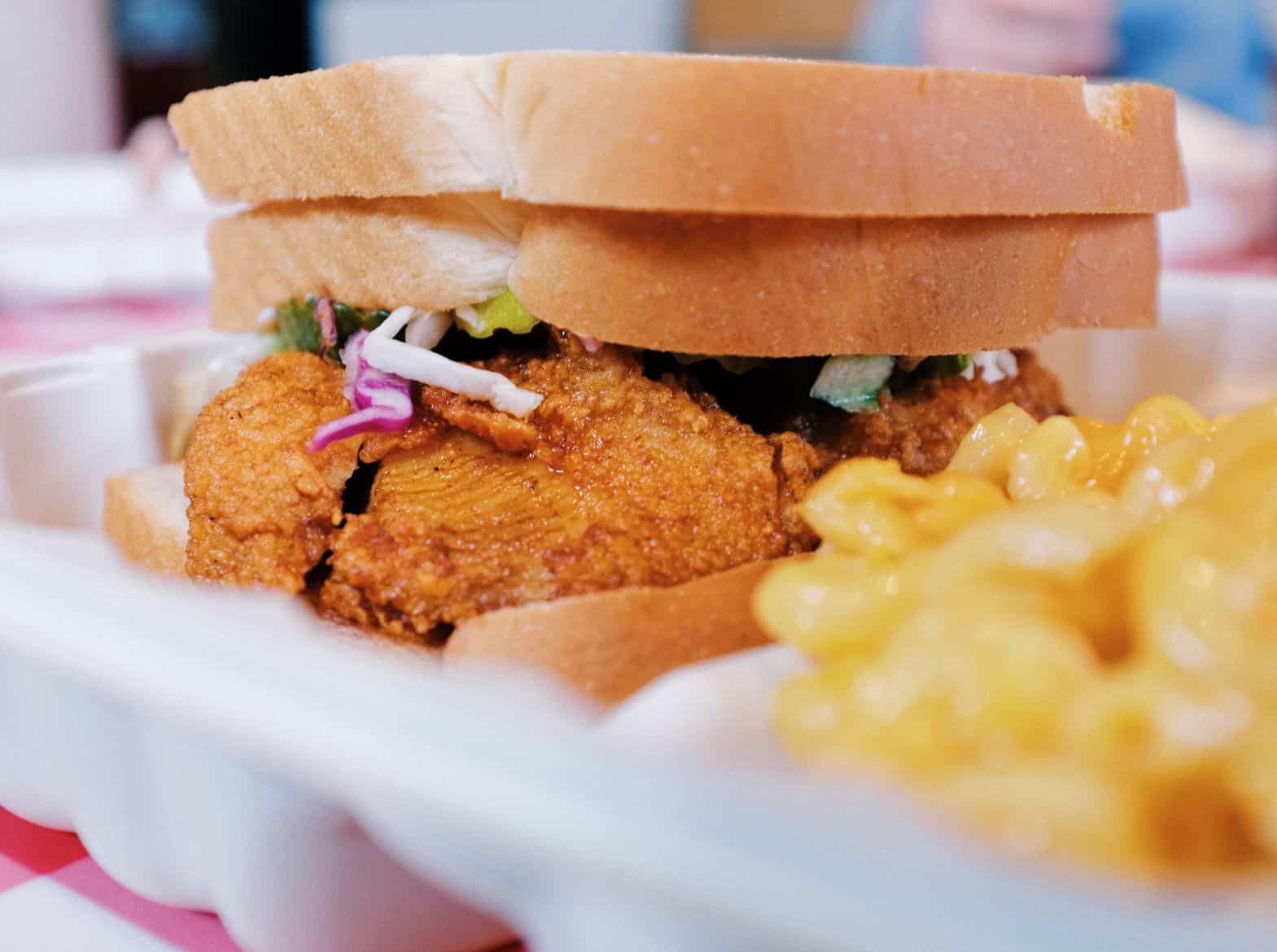 Hot chicken & Tennessee whiskey tasting
Hot chicken is the official unofficial dish of Nashville. This spicy, fried chicken dish doused in cayenne pepper sauce was invented here in the 1930s. As the story goes, a local woman created this fiery recipe to punish her cheating lover – but he ended up loving it! Today, you'll find it in some laidback joints across the city. It's usually served with white bread and pickles, and side dishes include Mac and cheese, baked beans, and potato salad. Our favorite places to get hot chicken are at:
Prince's Hot Chicken Shack South

Hattie B's Hot Chicken Midtown Nashville, TN

Bolton's Spicy Chicken and Fish

Party Fowl Donelson

400 Degrees

Helen's Hot Chicken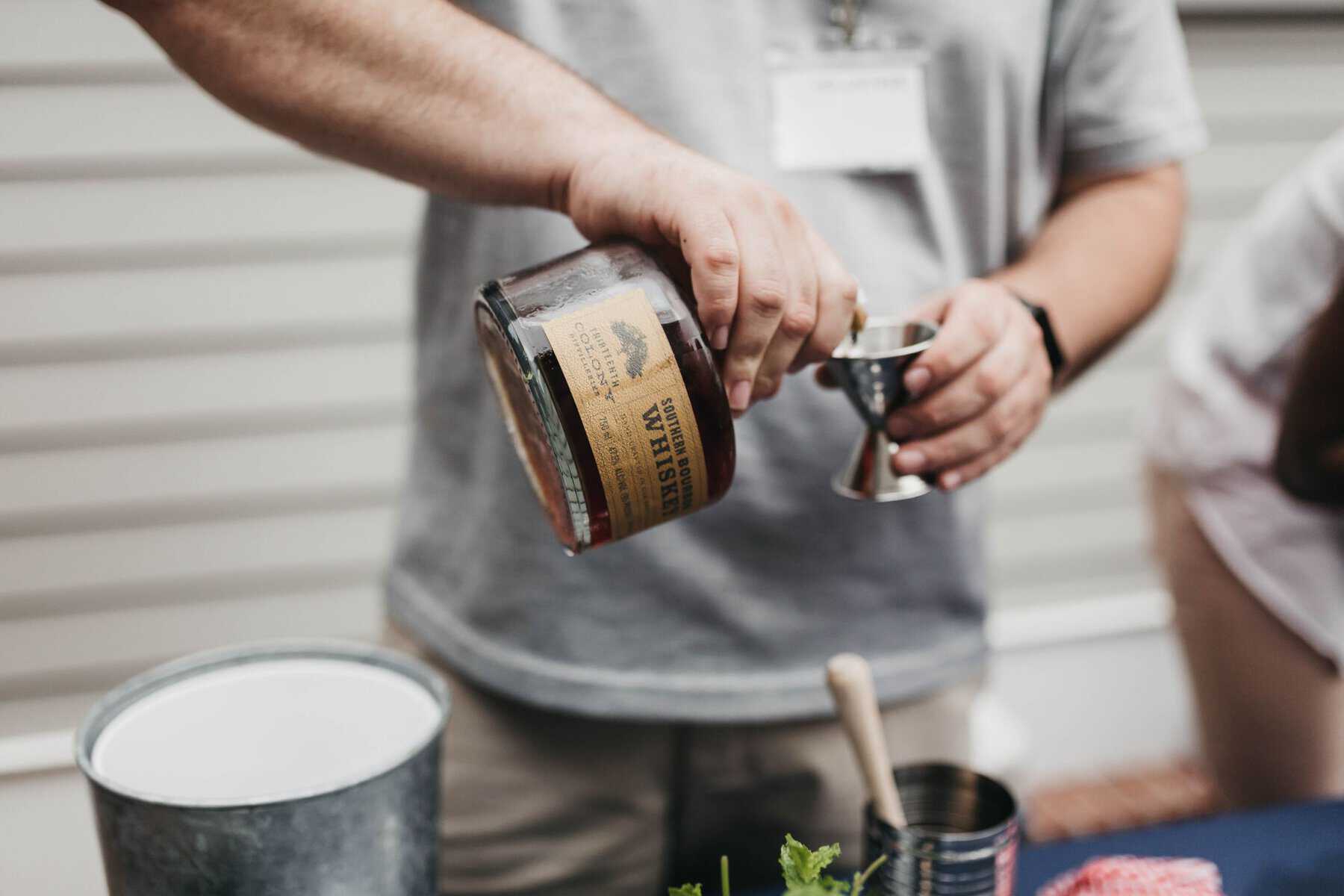 Tennessee whiskey tasting
Since the 1800s, Nashville has made the finest whiskey. Our signature drink has a high corn content and is filtered through charcoal before being aged in charred oak barrels. Tennessee whiskeys mellow flavor that you can experience at artisanal distilleries or tasting rooms. Our favorite places to taste whiskey are:
 Nelson's Green Brier Distillery

Corsair Distillery & Taproom

The 404 Kitchen

No. 308

Jack Daniels

Whiskey Kitchen

Nashville Craft Distillery

Big Machine Distillery & Tavern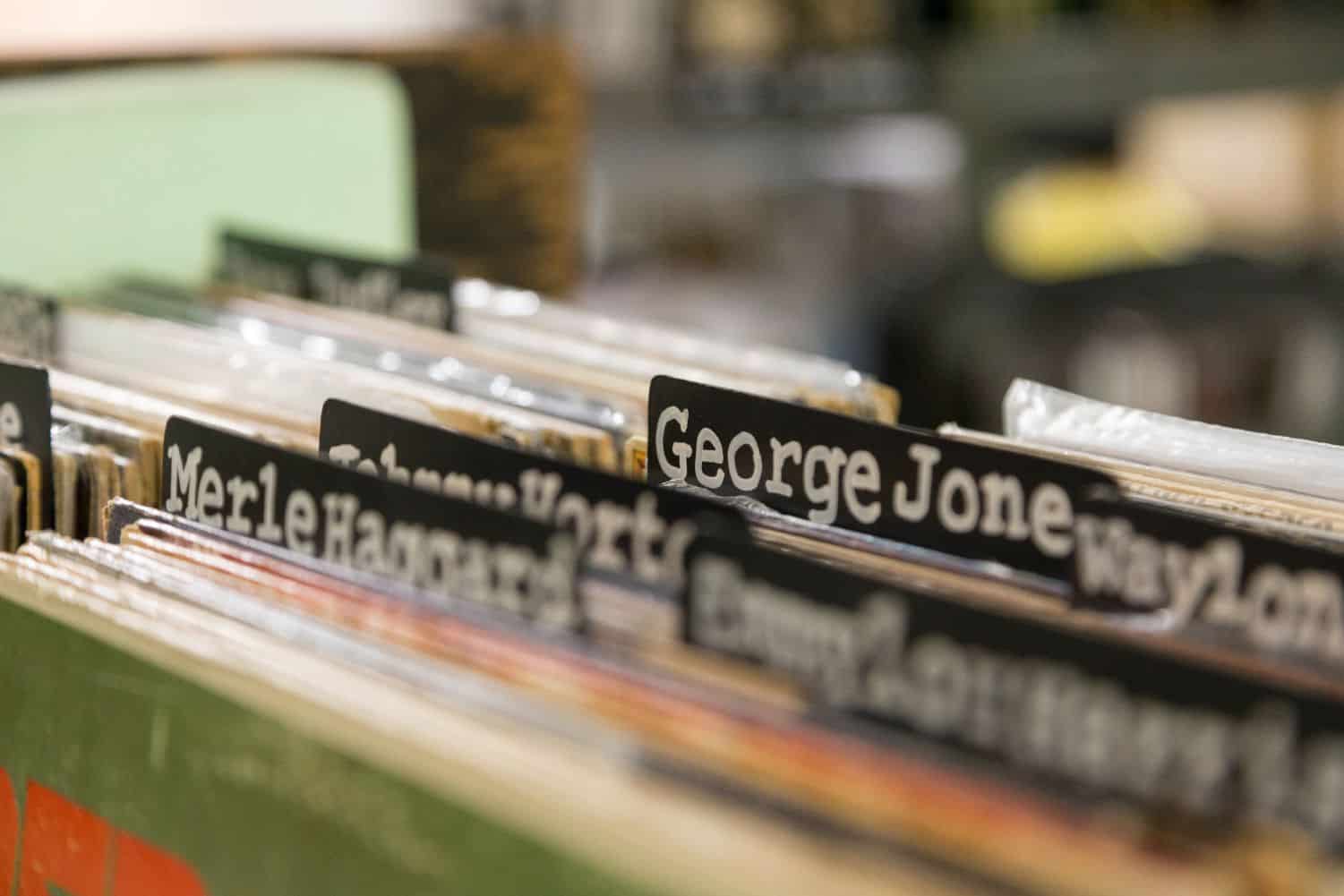 Record store shopping
Third Man Records

Grimey's New and Preloved Music

Ernest Tubb Record Shop

The Groove

Alison's Record Shop

Phonoluxe Records Music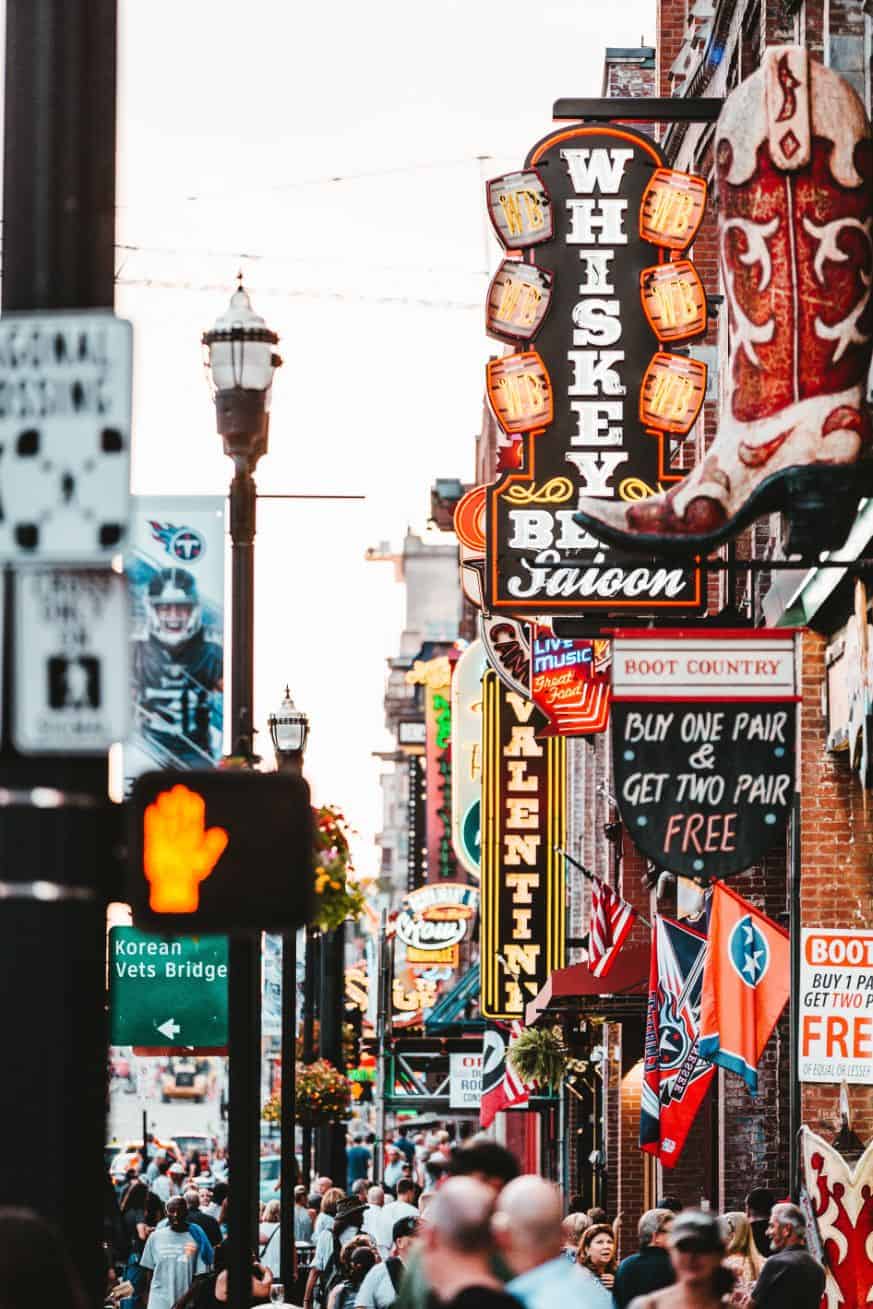 Western wear shopping
Shop at Opry Mills and Float the Indoor River at the Gaylord Opryland Resort & Convention Center
Opry Mills Address: 433 Opry Mills Dr, Nashville, TN 37214
Gaylord Opryland Address: 2800 Opryland Dr, Nashville, TN 37214
If you're looking for world-class shopping, visit Opry Mills, a super-regional shopping mall located on the outskirts of Nashville.
And right next door to Opry Mills is the Gaylord Opryland Resort & Convention Center. It's one of the 35 largest non-gaming hotels in the US. It's so large that it has an indoor river complete with waterfalls, botanical gardens, and other sites to gawk at. You can take a boat tour on the indoor river, which is an experience you just can't get anywhere else. Next to the Gaylord Opryland Hotel is the most famous country music stage in the world, the Grand Ole Opry House.
Check out the rest of Downtown Nashville.
No Nashville trip would be complete without an evening out in downtown Nashville Downtown has lots of restaurants and shopping to explore. We recommend checking out Broadway and 2nd Ave.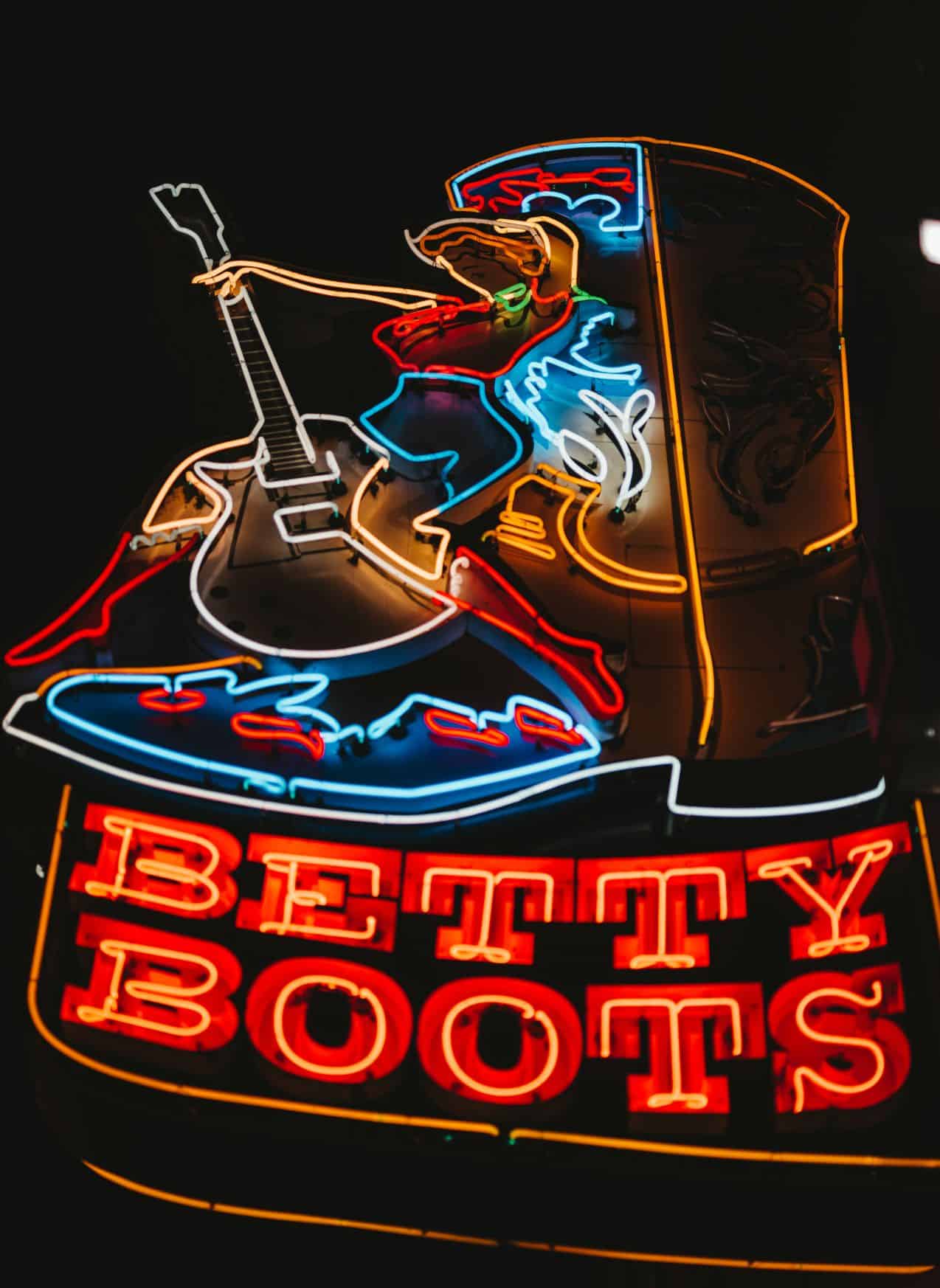 Some of our favorite Western Wear shopping spots include:
Betty Boots

Roberts Western World

Nashville Cowboy

Two Old Hippies

Goodbye Girls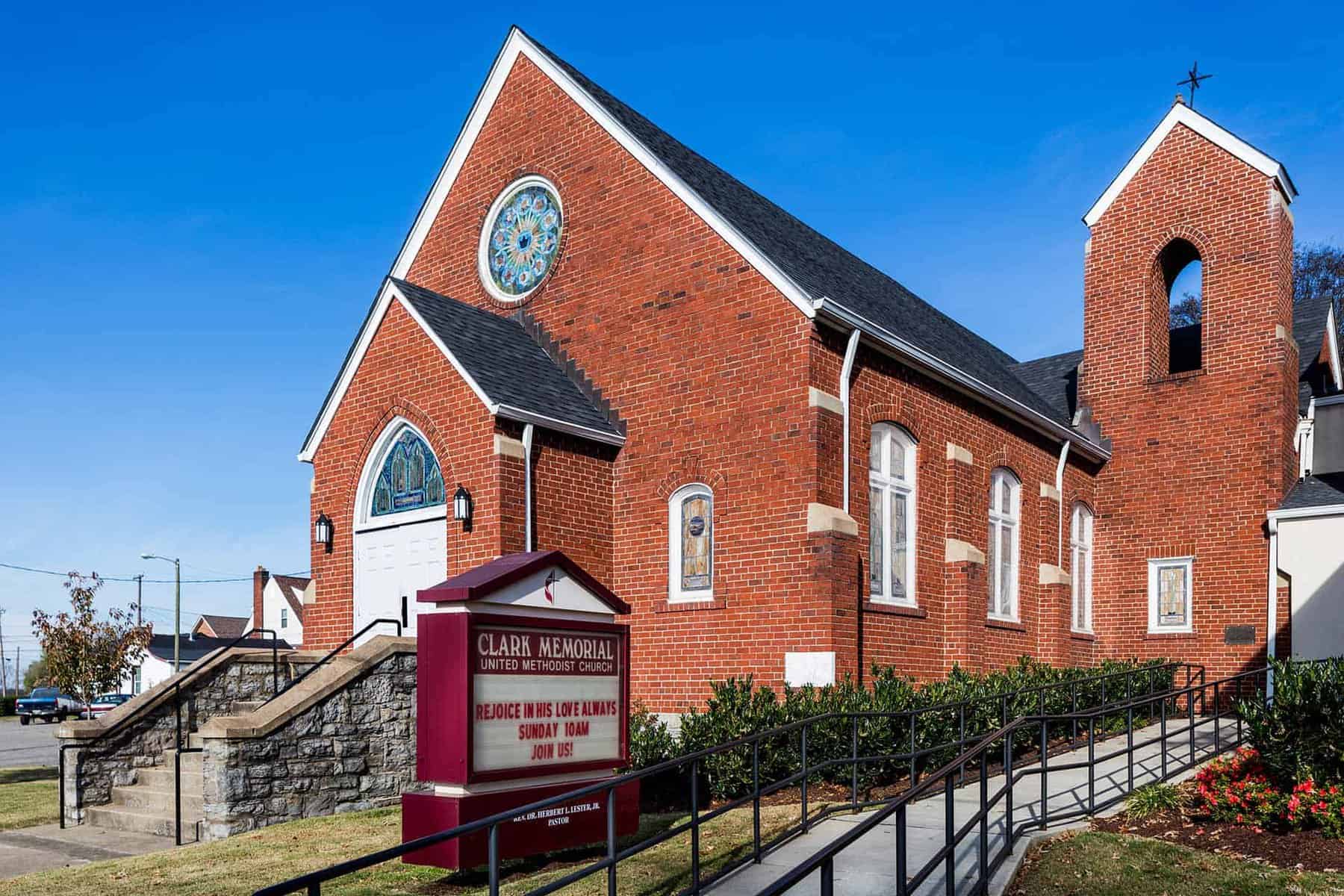 Civil Rights Movement History 
In the mid 20th century, Nashville played a vital role in the Civil Rights Movement, where activists engaged in peaceful protests against racial discrimination. Memorials, historic sites, exhibitions, and murals commemorate their legacy. Several Nashville locations are part of the US Civil Rights Trail.
The Civil Rights Room at the Nashville Public Library tells the sit-in movement's story and is a great place to visit.
You may also visit the Clark Memorial United Methodist Church, wherein 1961, Dr. King held his yearly conference – the Southern Christian Leadership Conference.
If you want something more photo-worthy, the Davidson County Courthouse and Witness Walls artistically display period images to tell a story. As you walk among the walls, you'll encounter people taking action through desegregation, lunch sit-ins, boycotts, marches, meetings, and Freedom Rides.
Woolworth on 5th, located inside a restored department store-turned-restaurant, is home to a famous lunch counter that was the site of some of the first Civil Rights Movement sit-ins. This place will set you back in time, almost like a museum exhibit. The menu is centered around some favorite Southern classics: deviled eggs, fried green tomatoes, and shrimp and grits. After lunch or dinner, you can head downstairs to the Palladium to listen to some live jazz, funk, and soul music.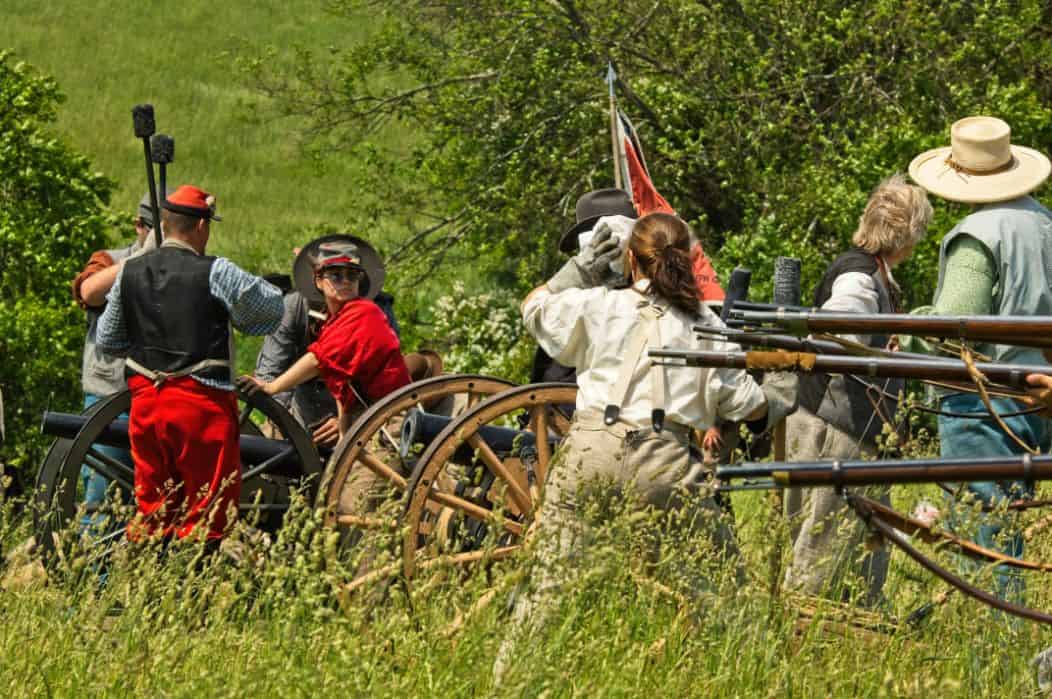 Civil War History
The American Civil War was in large part defined by the 1864 Battle of Nashville. Today, museums, historical sites, and some pre-war mansions can tell the story of Nashville's important role in the conflict. 
Shy's Hill
Address: Benton Smith Rd, Nashville, TN 37215
Shy's Hill is where the Union charge caused the Confederate left flank to fall apart during the Battle of Nashville. You can visit this site today and read the memorials to understand their importance in the Civil War. It's located on Benton Smith Road south of Harding Place.
Battle of Nashville Monument Park
Address: Granny White Pike, Nashville, TN 37215
This park is on the part of the battle of Nashville where Confederate forces failed to retake Nashville. The Battle of Nashville Monument is a granite and bronze monument. It honors both Confederate and Union soldiers who fought in the Battle of Nashville and soldiers who fought in WWI.
Fort Negley Park
Address: 1100 Fort Negley Blvd, Nashville, TN 37203
Fort Negley – the largest inland stone fortification built during the Civil War– was created by Union troops after they took the city in 1862 (after the charge at Shy's Hill). The fort never played a role in the battle, but it was the base of Union troops in Nashville for years. The historic site offers interpretive panels, films, and accessible walkways.
Stones River Battlefield
Address: 3501 Old Nashville Hwy, Murfreesboro, TN 37129
Located not far from Legacy Farms near Murfreesboro, the Stones River Battlefield is the site of one of the most tragic and horrifying battles in the Civil War. Fought in the harsh winter of 1862/1863, 81,000 soldiers clashed in battle. Ultimately, it gave the Union the foothold it needed to take over middle Tennessee.
Those are all the Nashville trips we have now for your romantic elopement or wedding. If you'd like to talk about having your all-inclusive wedding at Legacy Farms, reach out to our wedding planner, Amy, or owner Kellie.