Rustic wedding ideas for wedding decor are extremely popular and show no signs of going out of style
If you're looking for rustic wedding ideas and wedding inspiration to take your rustic wedding to the next level, you're in the right place.
We've put together six of our favorite rustic wedding ideas along with photo examples from our rustic wedding venue to help inspire you for your beautiful wedding day. If you have any questions or want help figuring out some more unique rustic wedding ideas, don't hesitate to reach out to our planning team.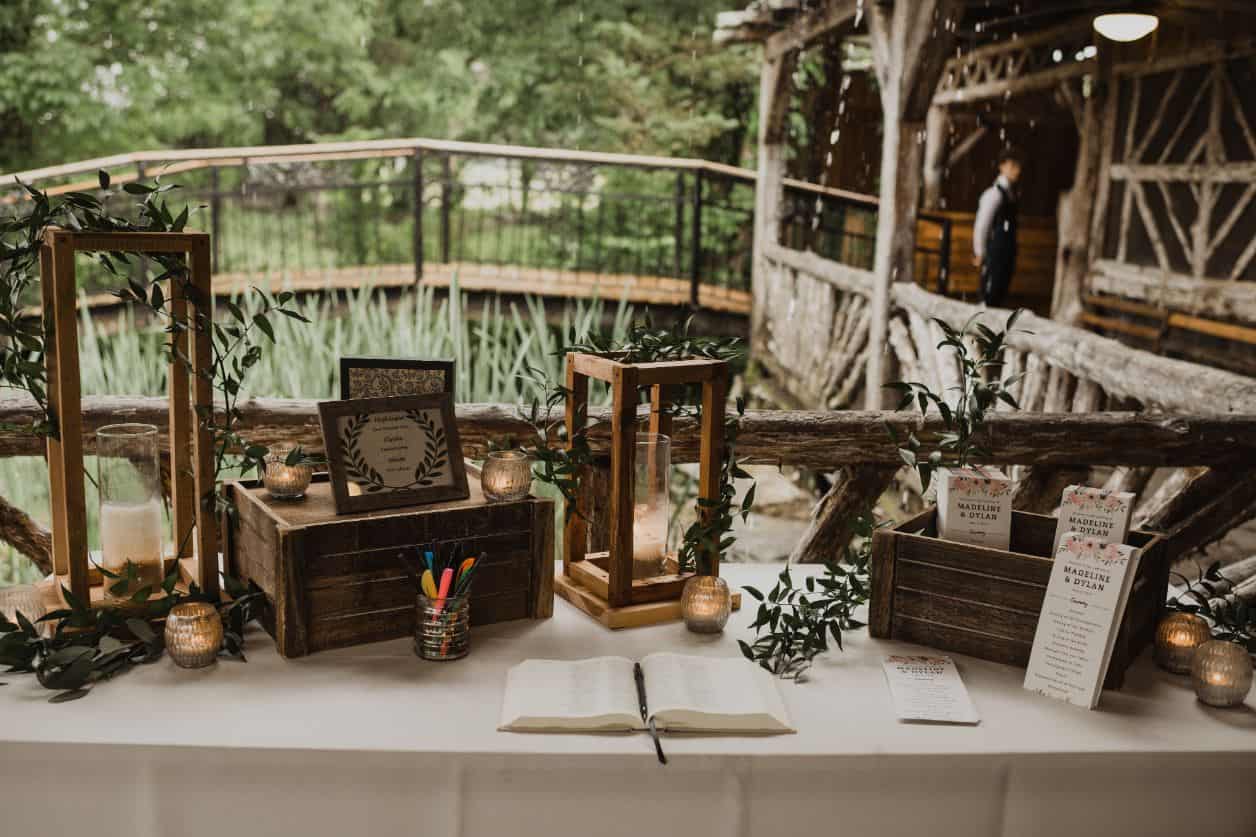 A rustic wedding theme is one of the most popular for today's couples. It's not hard to see why, either! The look and feel of a rustic or country wedding can have such an intimate and personal touch that many people find irresistible.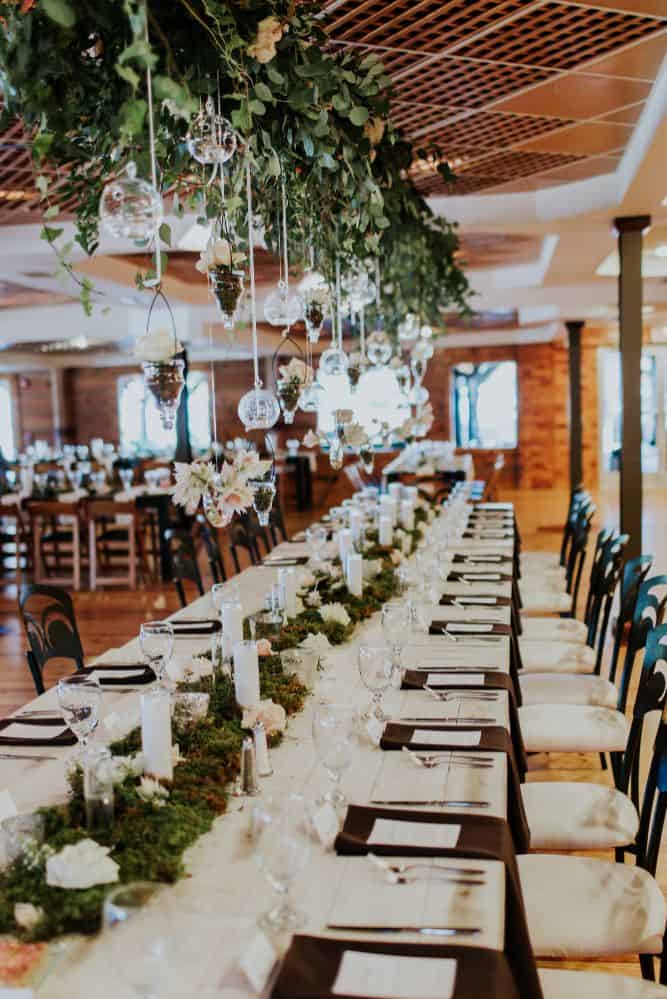 If you're someone who wants to create a truly unique celebration with this special style, here are six beautiful rustic wedding ideas.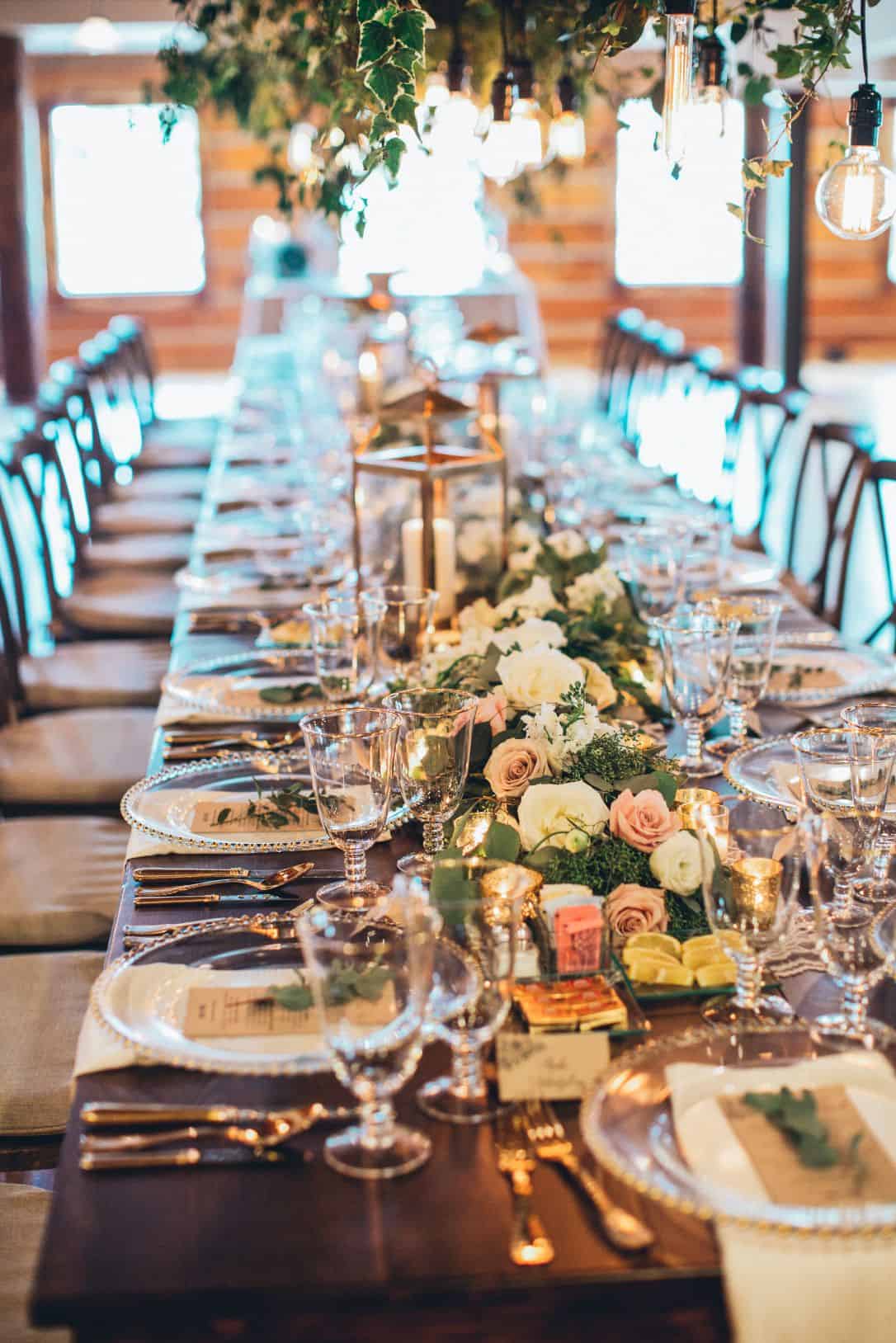 And the best part? All the rustic wedding ideas' photos were taken at our venue and include our rustic wedding decorations – so no need to shop for rustic wedding decor if you pick our venue!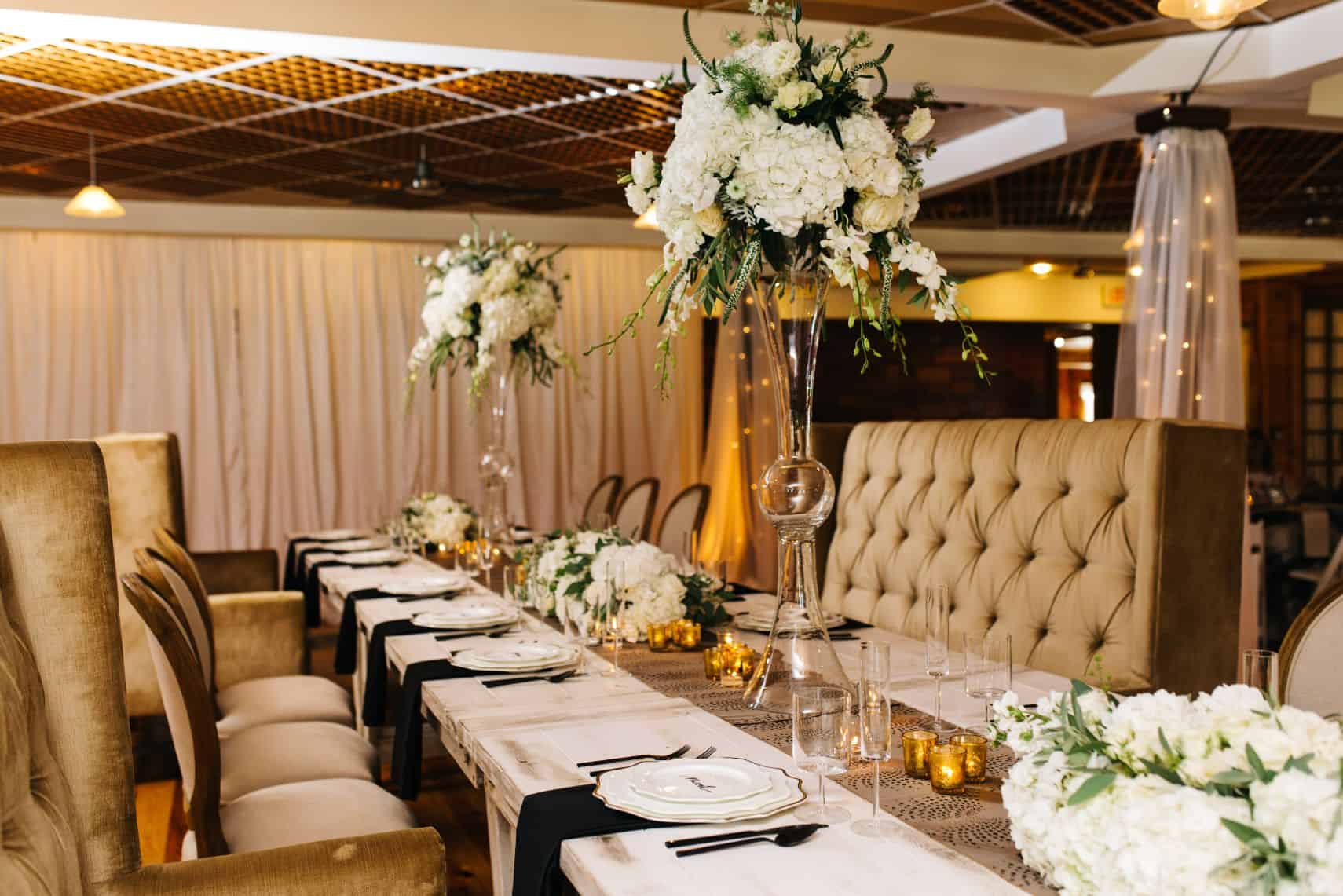 1. Try a relaxed, rustic bride hairdo.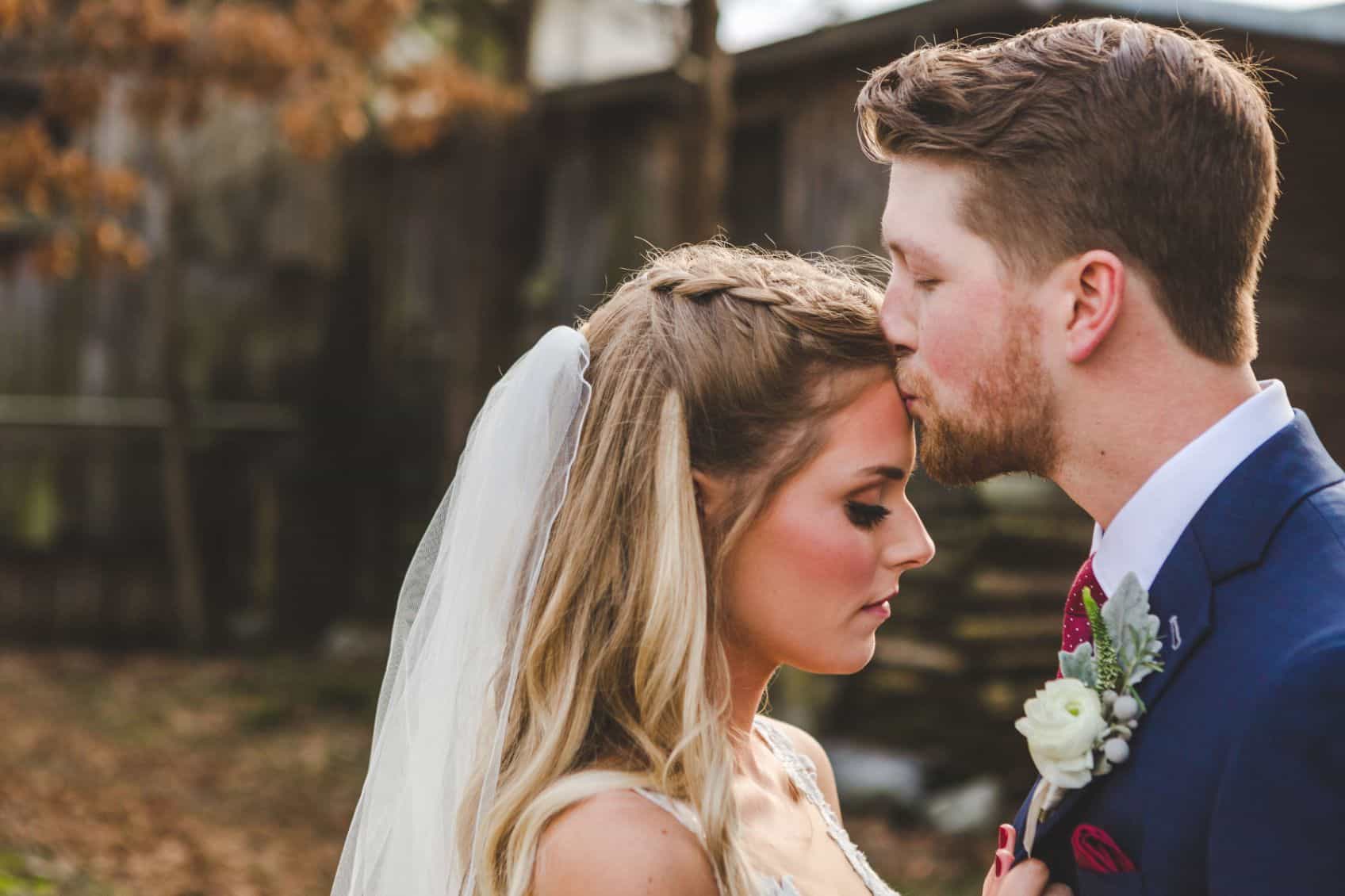 One of the best rustic wedding ideas is to bring natural beauty into your wedding as well as your hair and makeup. Here are a few ideas:
Add flowers to your updo
We've seen some beautiful rustic hairstyles in our 25+ years of wedding planning. If you want to enhance your look and match the theme of your wedding, a few simple flowers are placed in your up-do to create a stunning visual effect to go perfectly with your wedding theme!
Go for loose braids or a bun
Or, you can also choose a relaxed, rustic style, such as braids or buns for an outdoor wedding.
A soft updo with some loose curls is elegant and perfect for the bride who wants her hair up but doesn't want it too tight. This hairstyle will frame your beautiful face!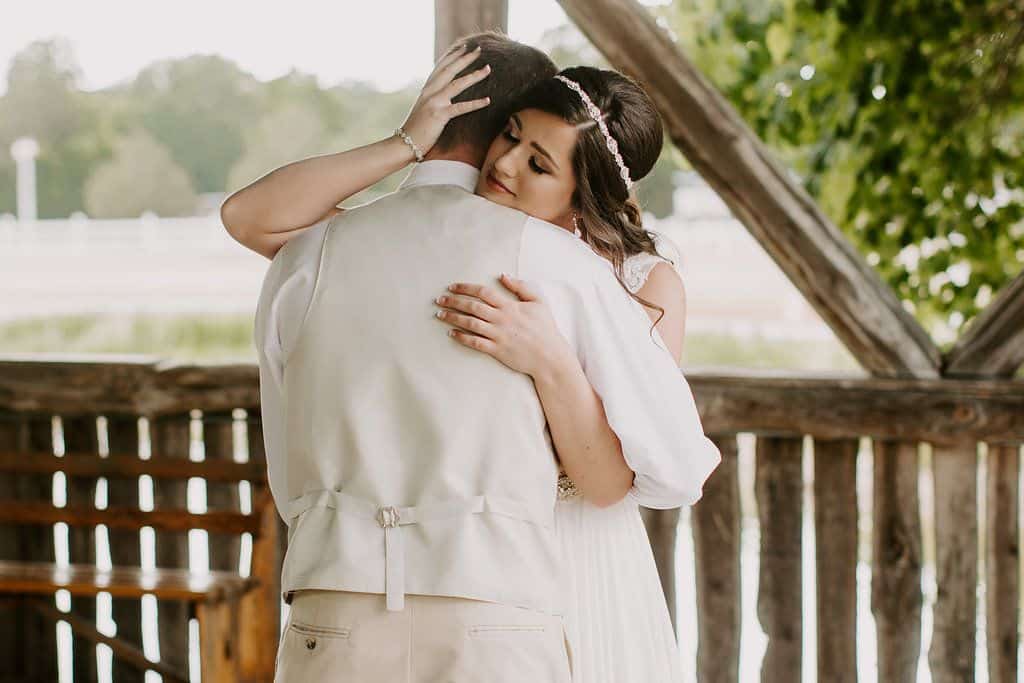 Add a sprig of leaves
And there's nothing more stunning than a bride with an unruly, messy bun and fresh flowers in her hair.
The perfect rustic-chic accessory? A sprig of green leaves, baby's breath, or butterfly wings tucked into the tresses framing your face.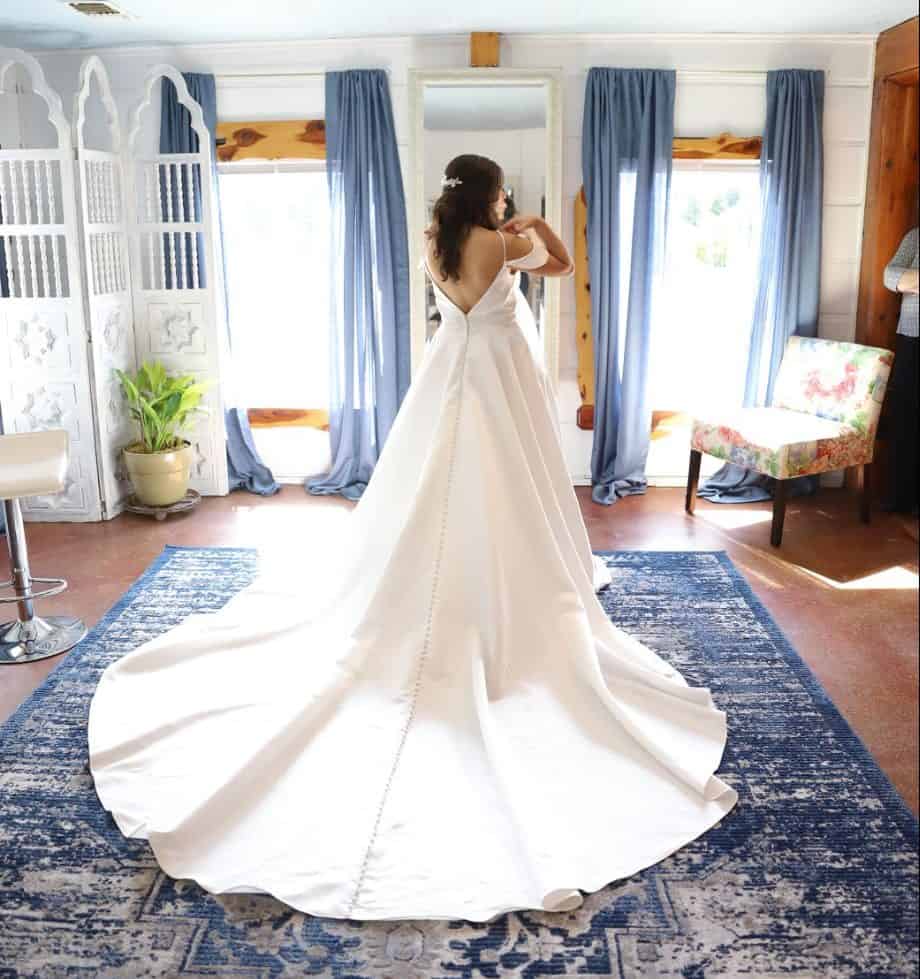 2. Add some rustic decor to your reception to enhance your wedding style.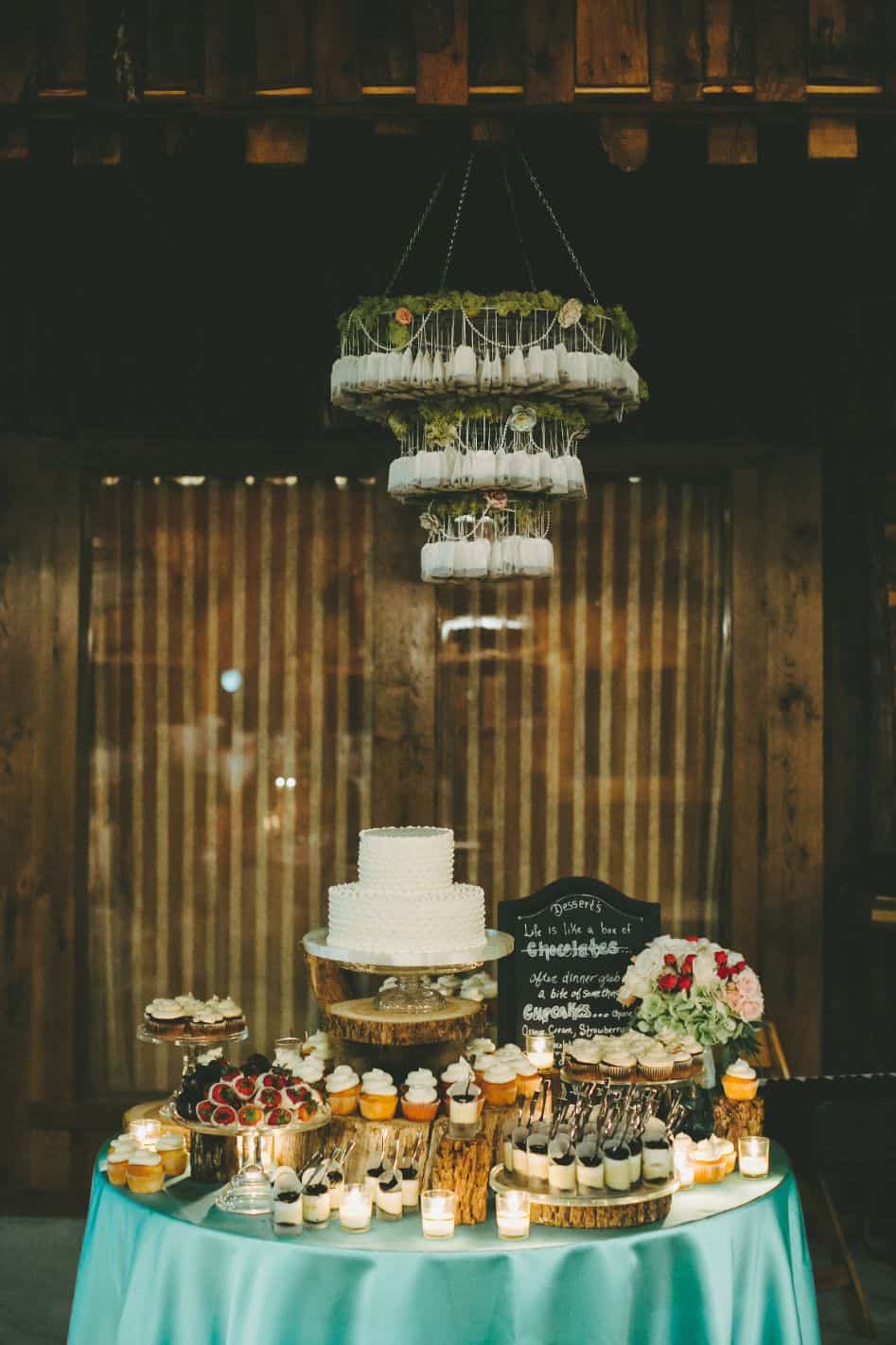 Here are a few rustic wedding ideas to add style to your table decor at your wedding reception and cocktail hour.
Barrels are perfect for your cocktail hour (or ceremony).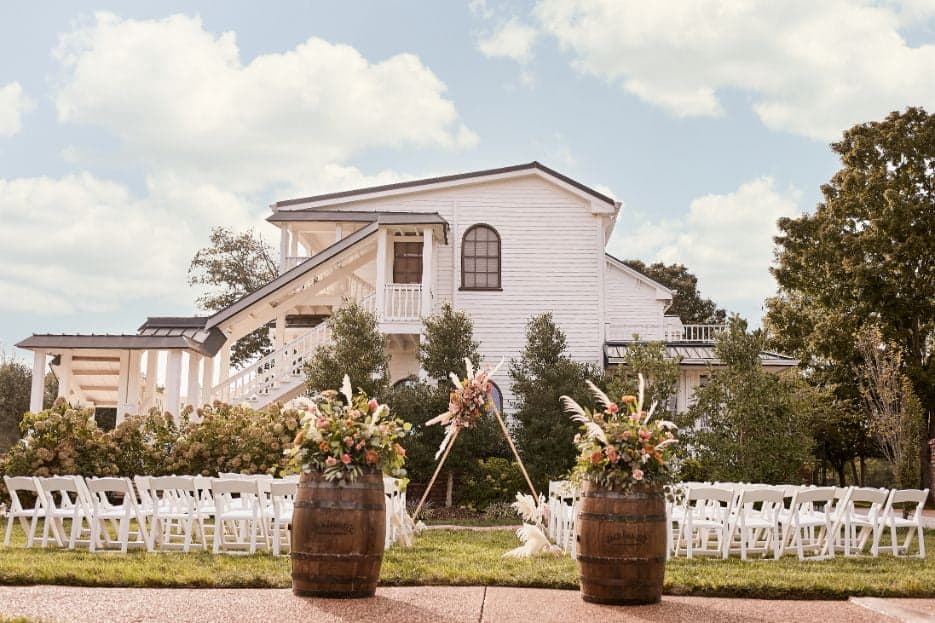 Create a focal point for your cocktail hour by creating an outdoor bar out of wine barrels, topped with a wooden board. Add some dried flowers and you have the perfect display to serve drinks!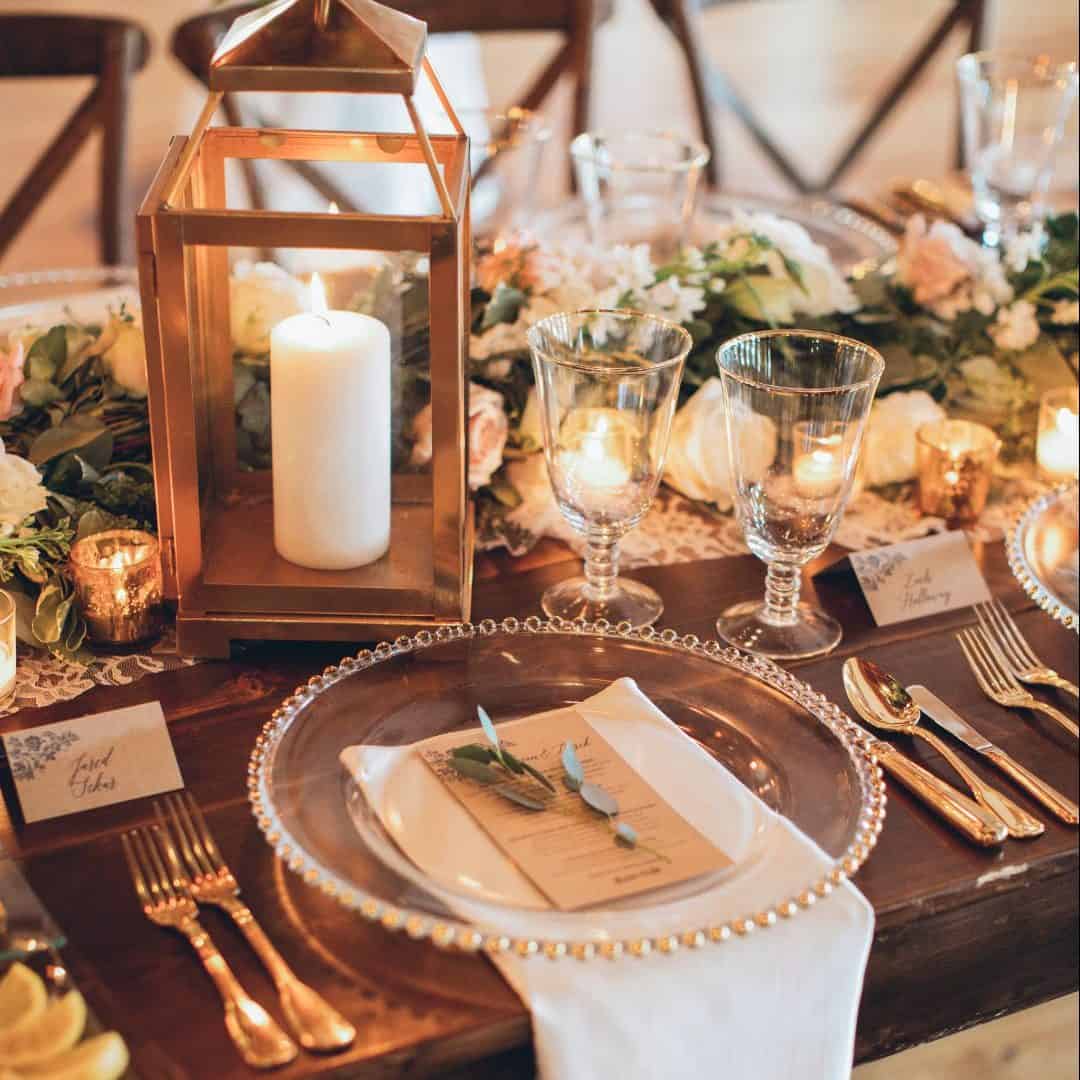 Lanterns give an upscale, farmhouse vibe.
Lanterns are a staple rustic decor item that makes your guests feel like they've traveled back in time. Use them as an accent piece and place fresh flowers inside for some extra charm! You can also use wooden crates, different candle styles, and glass bottles to create a pleasing centerpiece.
And we have different styles of lanterns that are included when you book your wedding at Legacy Farms.
Candles, candles, candles!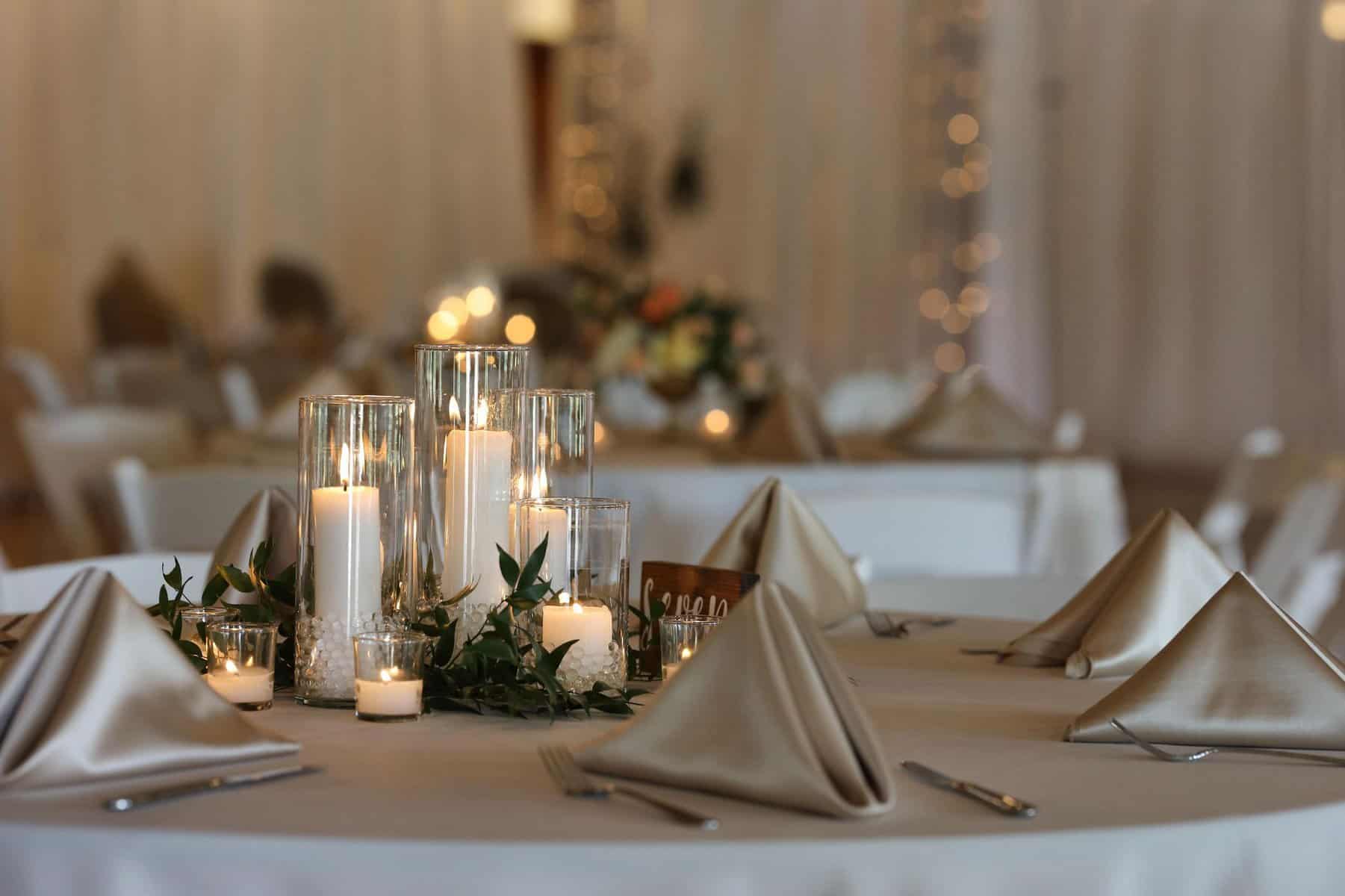 Okay, we absolutely love candles at Legacy Farns. Candles are a great addition to your rustic wedding. We can't get enough of them.
There are many options when it comes to rustic candle holders, but one of the most popular is a galvanized metal holder.
We also love simple, white candles with a glass container.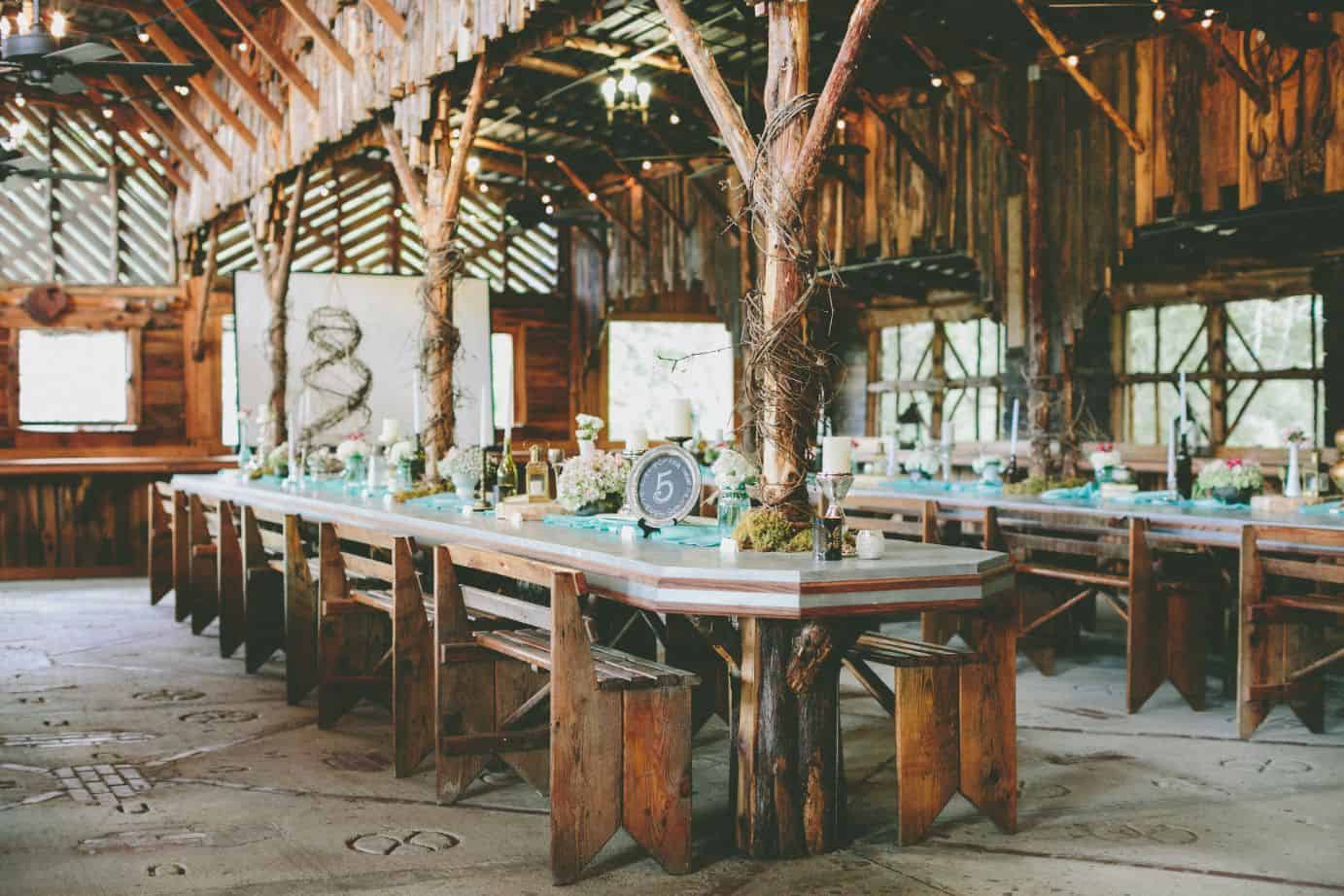 Wooden benches are relaxed and inviting.
Wooden benches are wonderful because they encourage open-air seating in a banquet-like setting. We also have gorgeous wooden chairs if you prefer that style.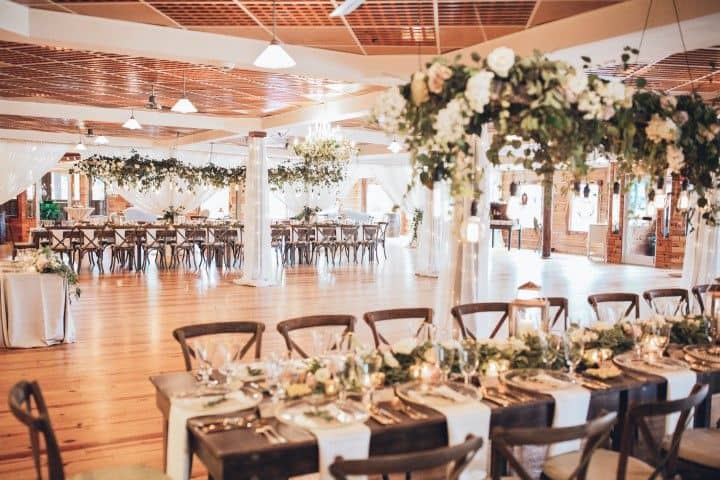 Rope is a great way to dress up your table.
Use rope (or burlap!) to decorate the venue, this adds that farmhouse feel you want for your rustic wedding.
A simple and easy way to dress up any table is by hanging some rope bunting over the top. This also works best if you don't have a lot of excess tablecloth to work with.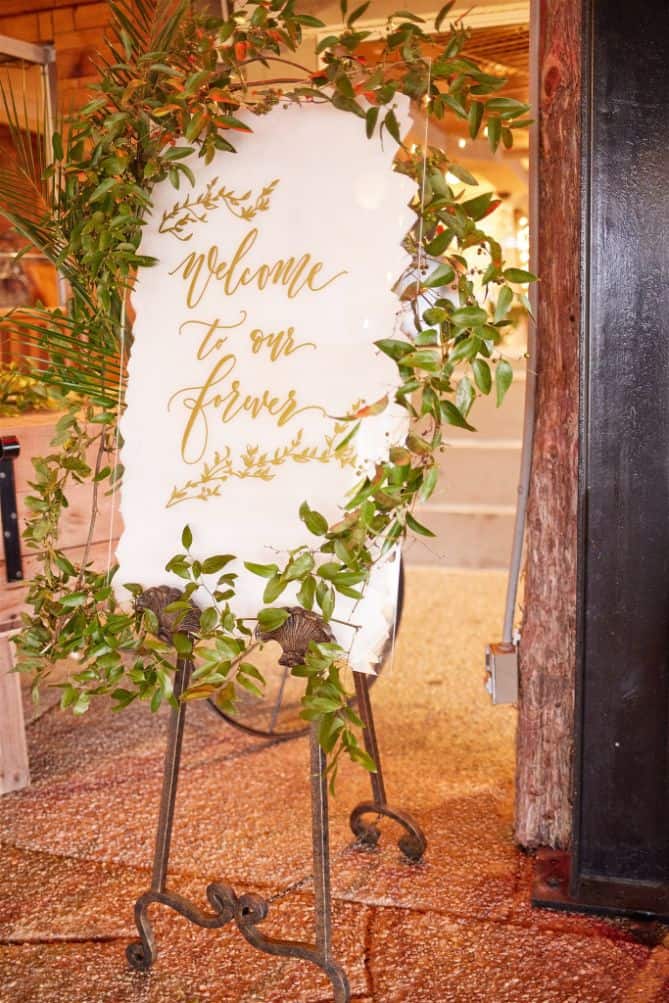 Add a sign (or other displays) for a cozy, inviting feel.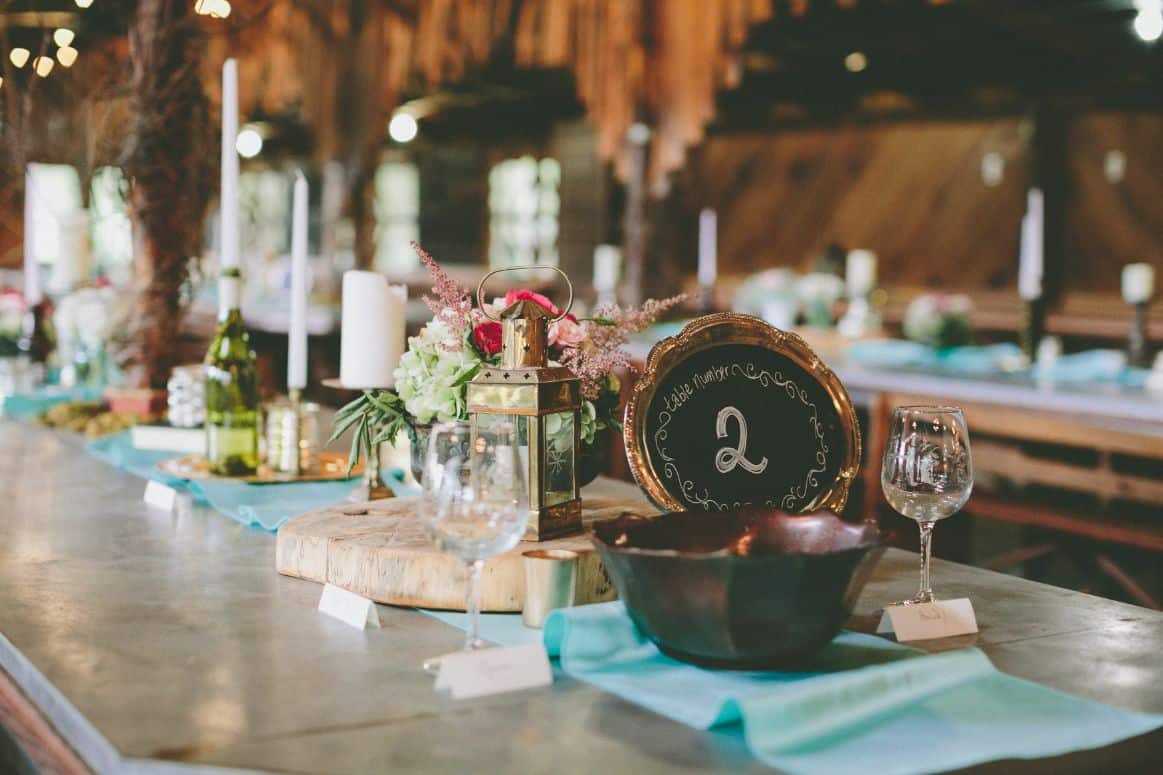 Use wooden signs to tell guests where they need to be for the ceremony or reception. You can also use them as part of your decor with a fun saying on it. Maybe your wedding hashtag? It's your big day; have fun with it! We also love chalkboard signs.
3. Create breathtaking centerpieces at your wedding table and guest's tables.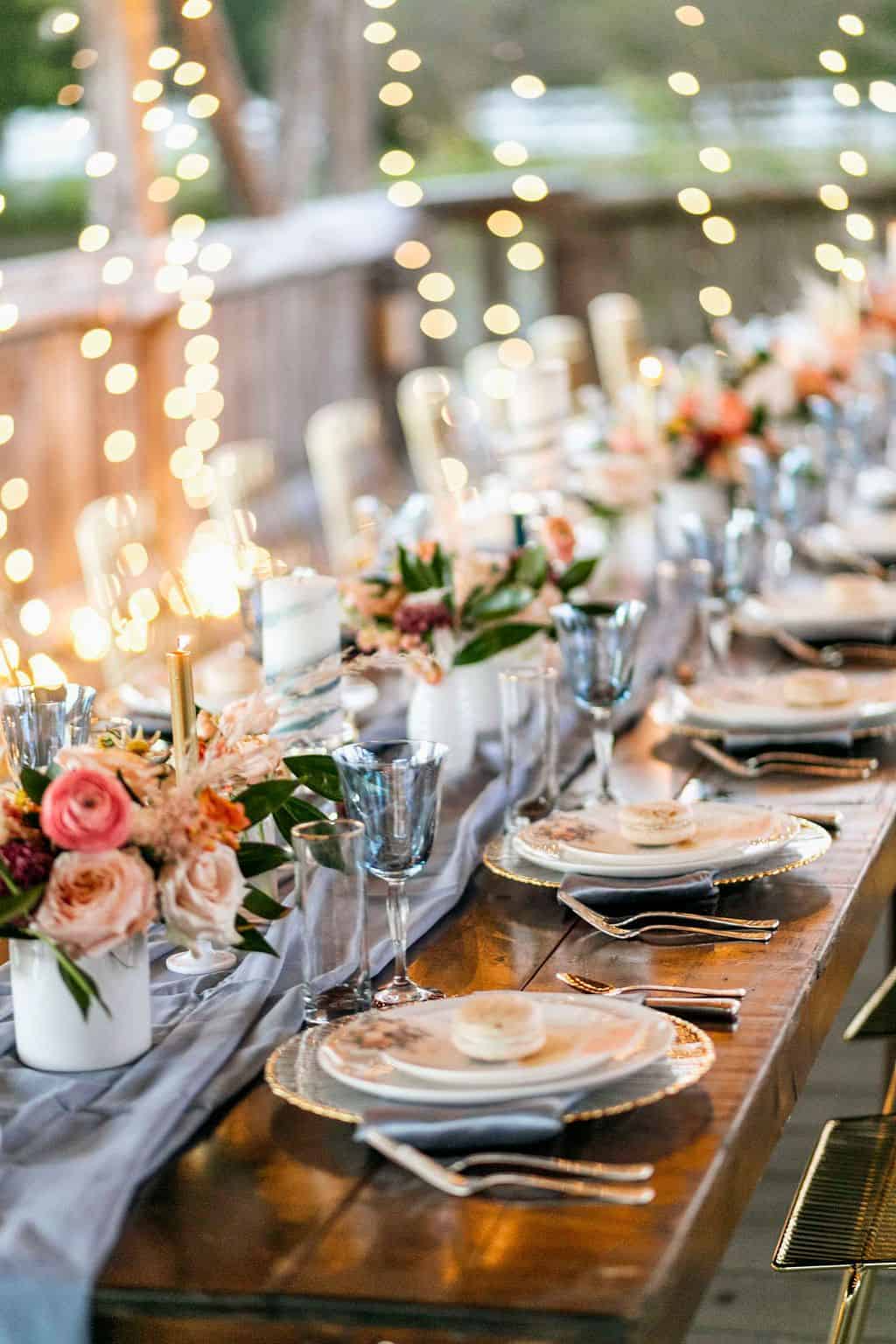 Use florals that are in season.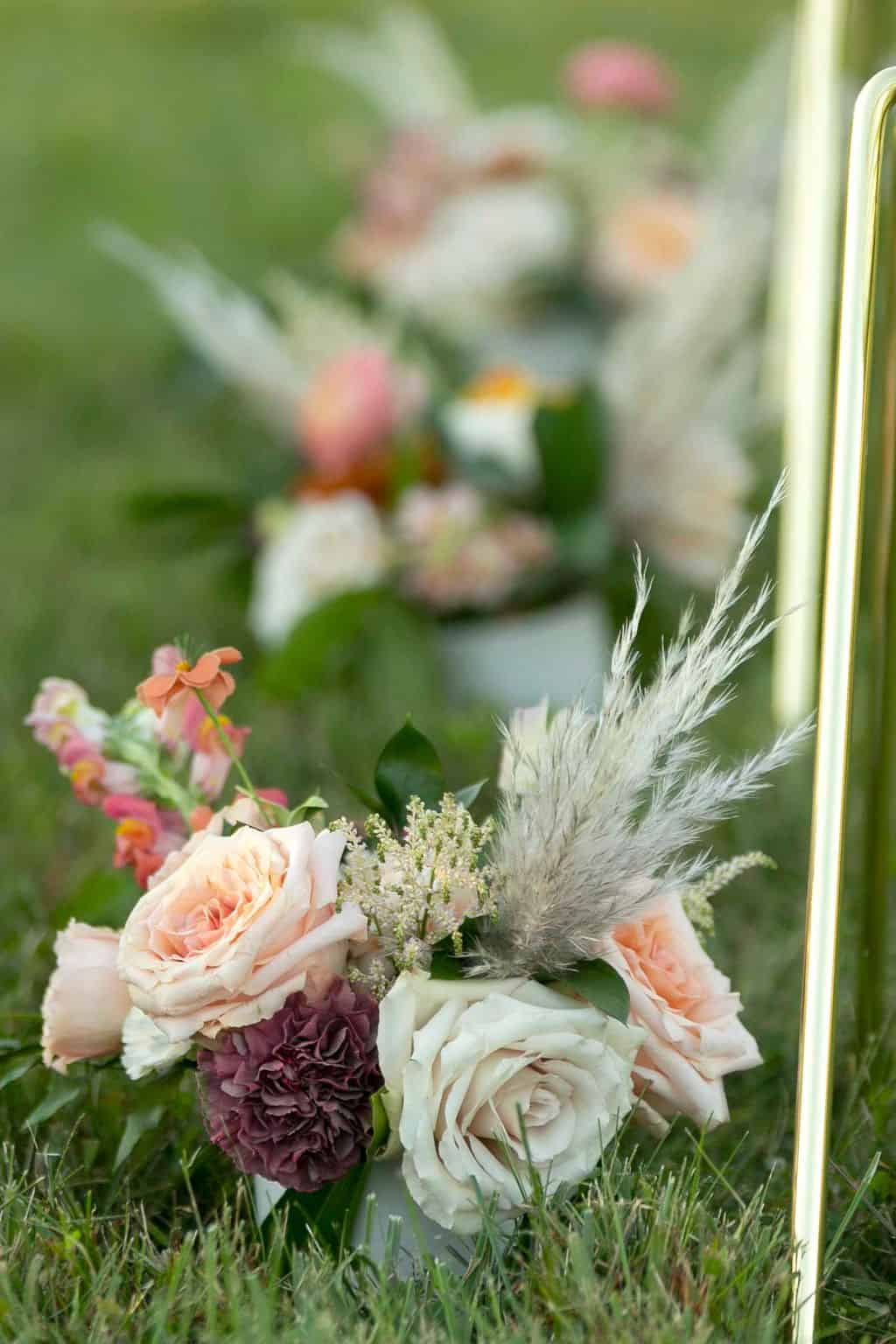 One idea for a rustic wedding centerpiece is to use flowers in colors that match the season. If you want your centerpieces to have an autumn feel, then mix red and orange roses with leaves from trees like maple or oak.
This will create a warm feeling without looking too gaudy. You can also place bulbs on top of flower arrangements for a subtle hint of spring.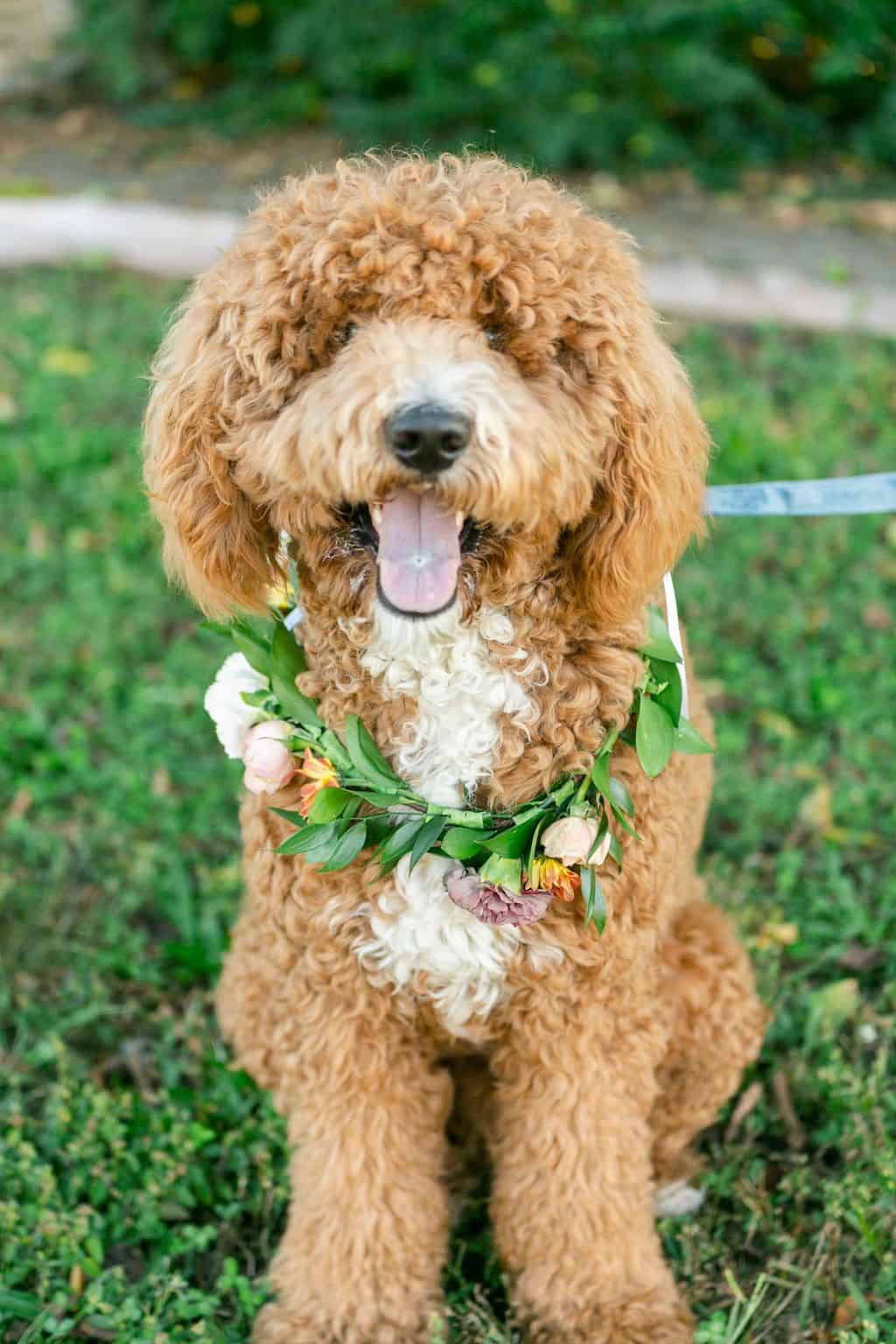 Pillar candles are upscale and a focal point.
If you want to use candles, then try using taper candles in either clear or amber glass jars with lids that have ridges on them.
You can also use large pillar candle holders and arrange the pillars around your centerpiece as well.
Another idea is to combine rustic items like dried flowers made out of twigs or branches with candles.
Mason jars are a must.
If you plan on using jars for your centerpiece, then try to use the type that has a removable lid so you can change out what is stored inside them more easily.
Jars come in many shapes and sizes, which means they will fit nicely into any wedding table without obstructing guests' view.
4. Bring the outdoors inside; go simple, yet stunning with your florals.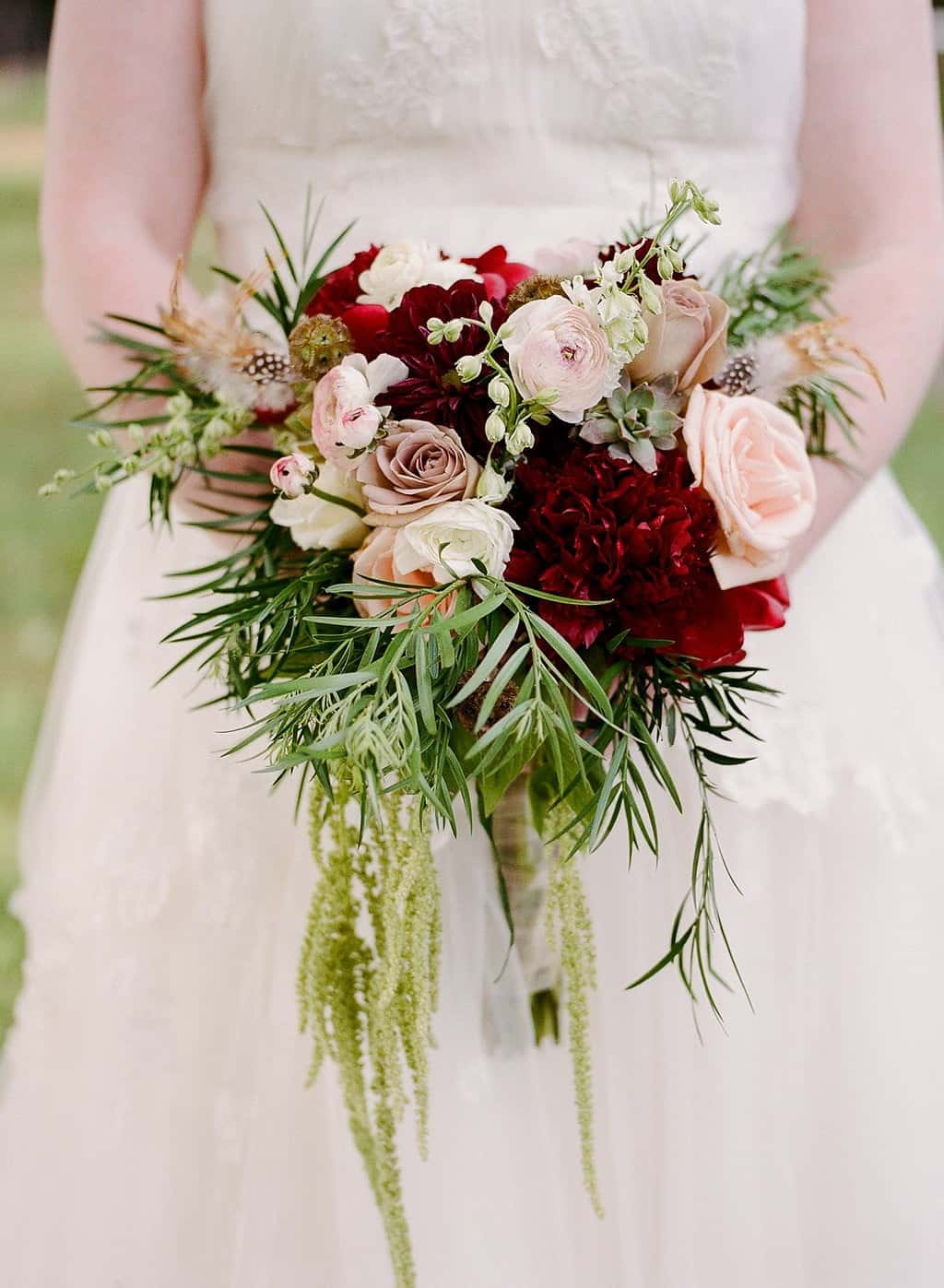 If you want your wedding to have an earthy feel, then having flowers with green leaves and stems will make it come across as more rustic.
In addition, choosing a variety of flower colors such as deep purples or bright oranges can also help achieve this look.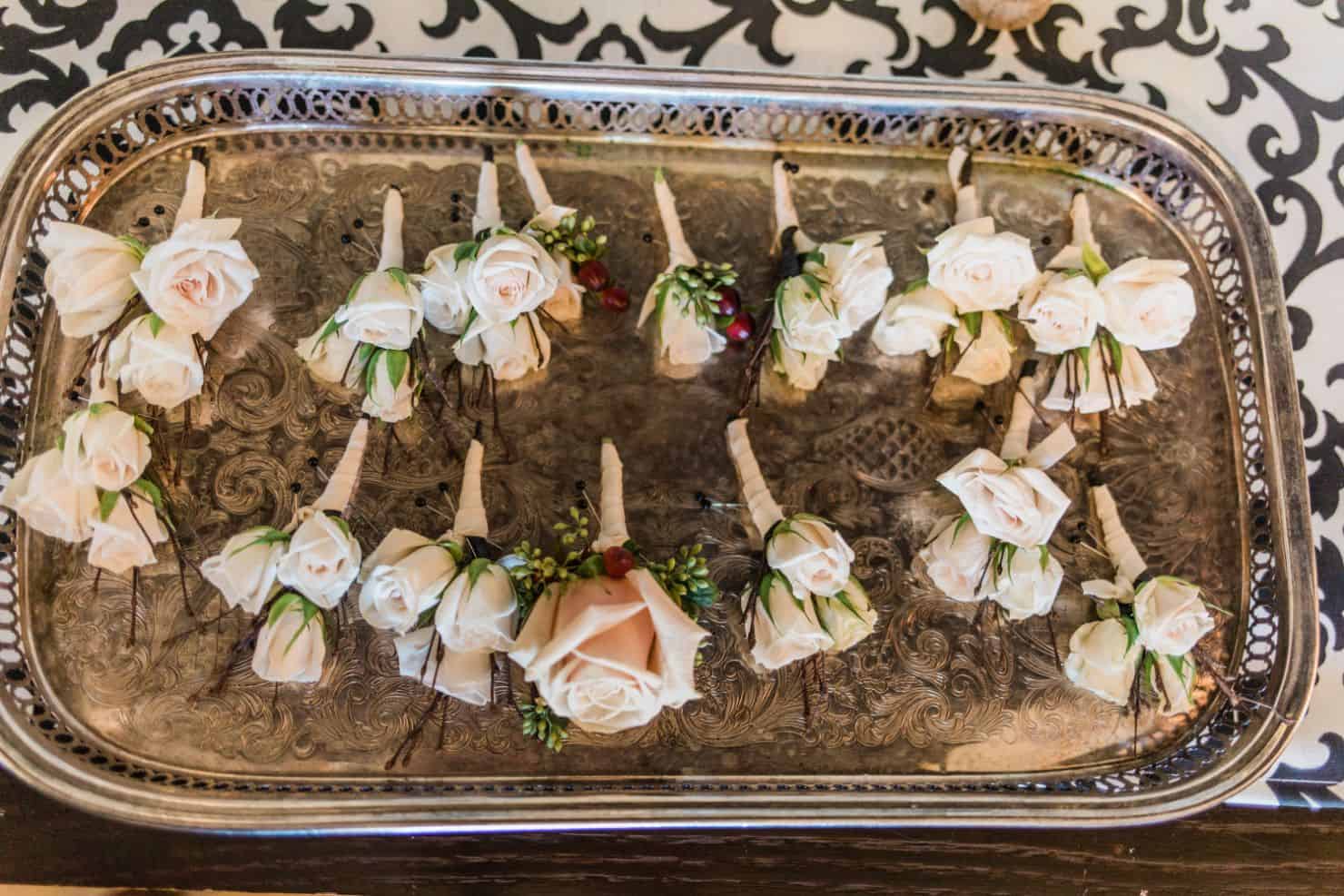 Add a variety of florals.
A lot of people think that adding just one type of plant to your wedding is enough to make it feel more rustic, but I think that adding a variety of different types will do the trick.
For instance, you might choose sage leaves and lavender plants in vases on tables as centerpieces.
Dress up your florals.
The flowers that you choose for your wedding can have a big impact on the rustic feel of it, but so can other aspects such as decor and colors.
For example, ribbons with natural textures like lace or fabrics in earthy tones are great touches to make a more earthlike atmosphere at any event.
One simple way to do this is to tie a ribbon around your bouquet's handle or to wrap it around the outside of vases that will be centerpieces.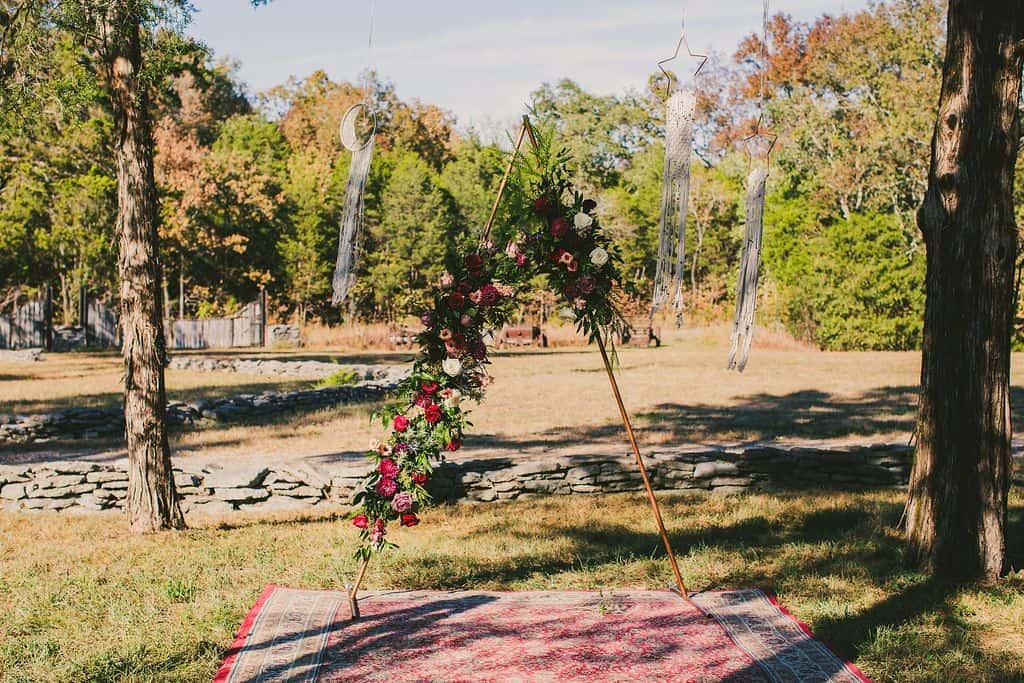 Hang florals or wreaths at your reception to create a magical, farmhouse environment at your rustic wedding.
You can also say I do beneath an arbor of gorgeous floral display and greenery to really emphasize the chic vibe you're going for!
Here are a few other ways to have a floral display to enhance your rustic wedding: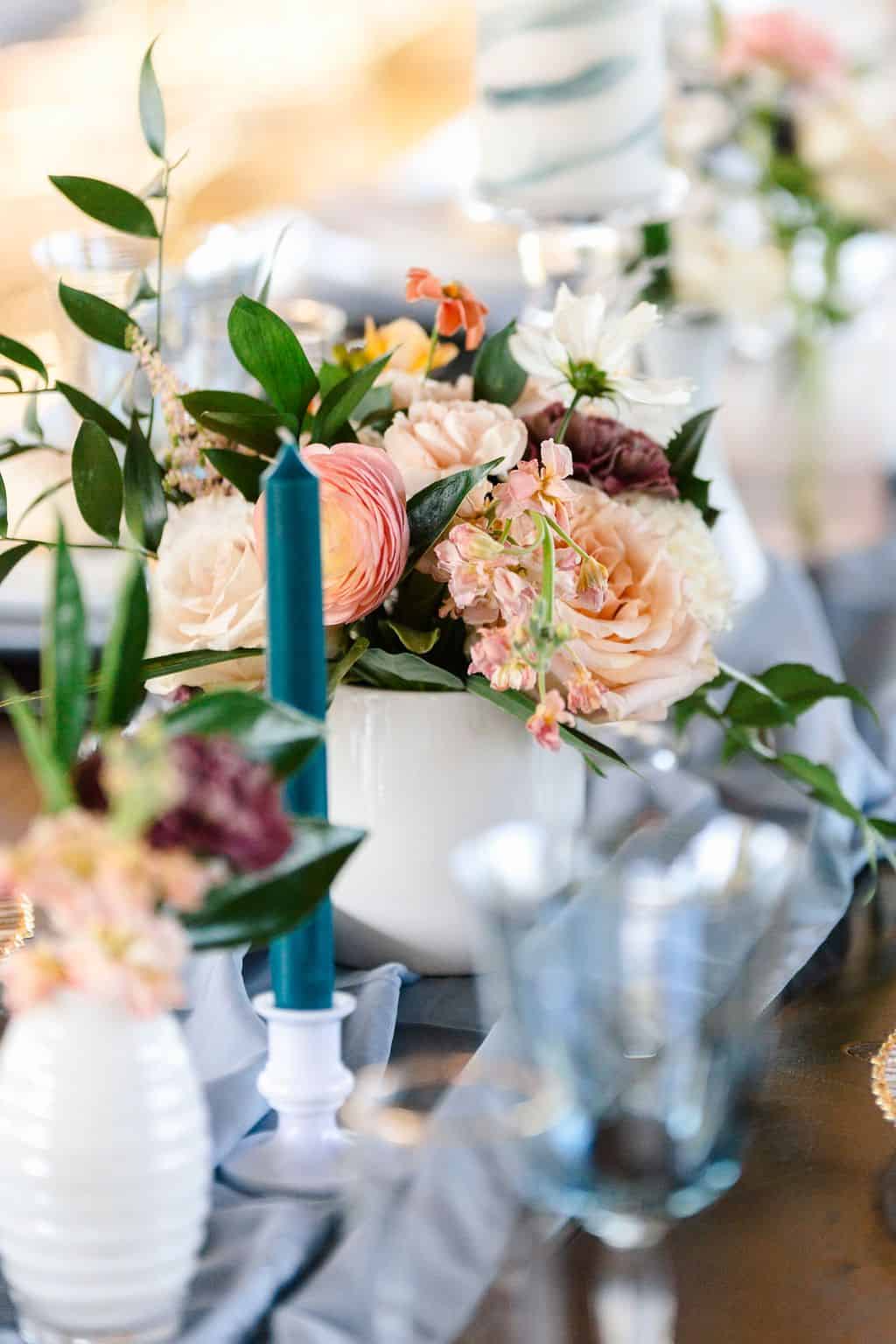 Rustic floral types
If you want to go with a more rustic look, keep your floral display are simple and beautiful. A few examples include wild roses, peonies, native daisies, and asters.
A few more ideas include lavender, sunflowers, and daisies. These flowers denote love and fertility so they are a perfect choice for your rustic wedding day!
Flowers in jars
Another option is to use simple jars with florals inside for your centerpiece. This creates an elegant look while still having that rustic feel you want.
Rose wreath
Use white roses in your wreath for a romantic, timeless feel.
Succulents and eucalyptus
Need we say more? These leaves are also a gorgeous addition to your rustic wedding theme.
If you want an even more rustic look, decorate your reception tables with large logs or branches to complement the theme.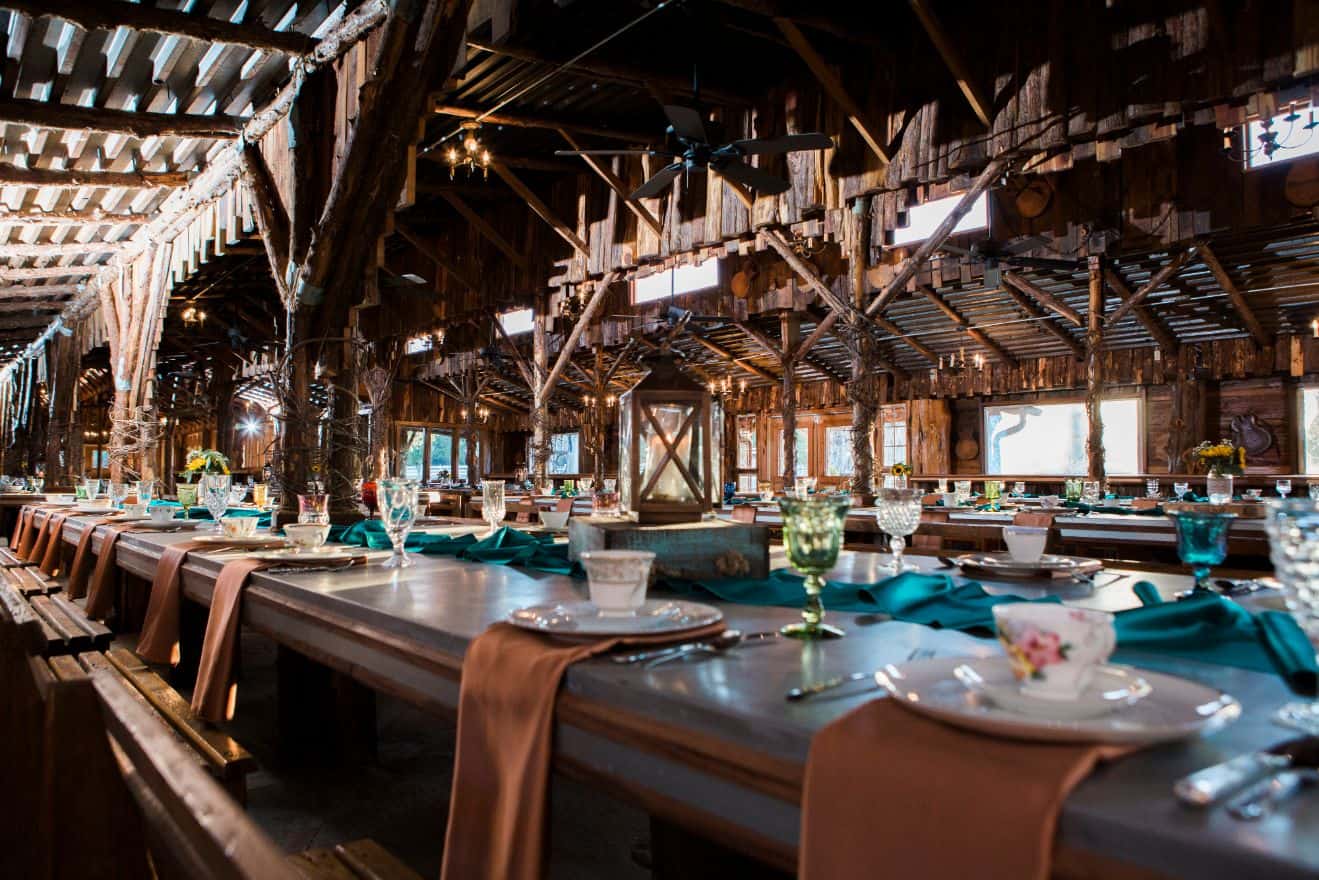 5. Create a cozy, country vibe with wood accents.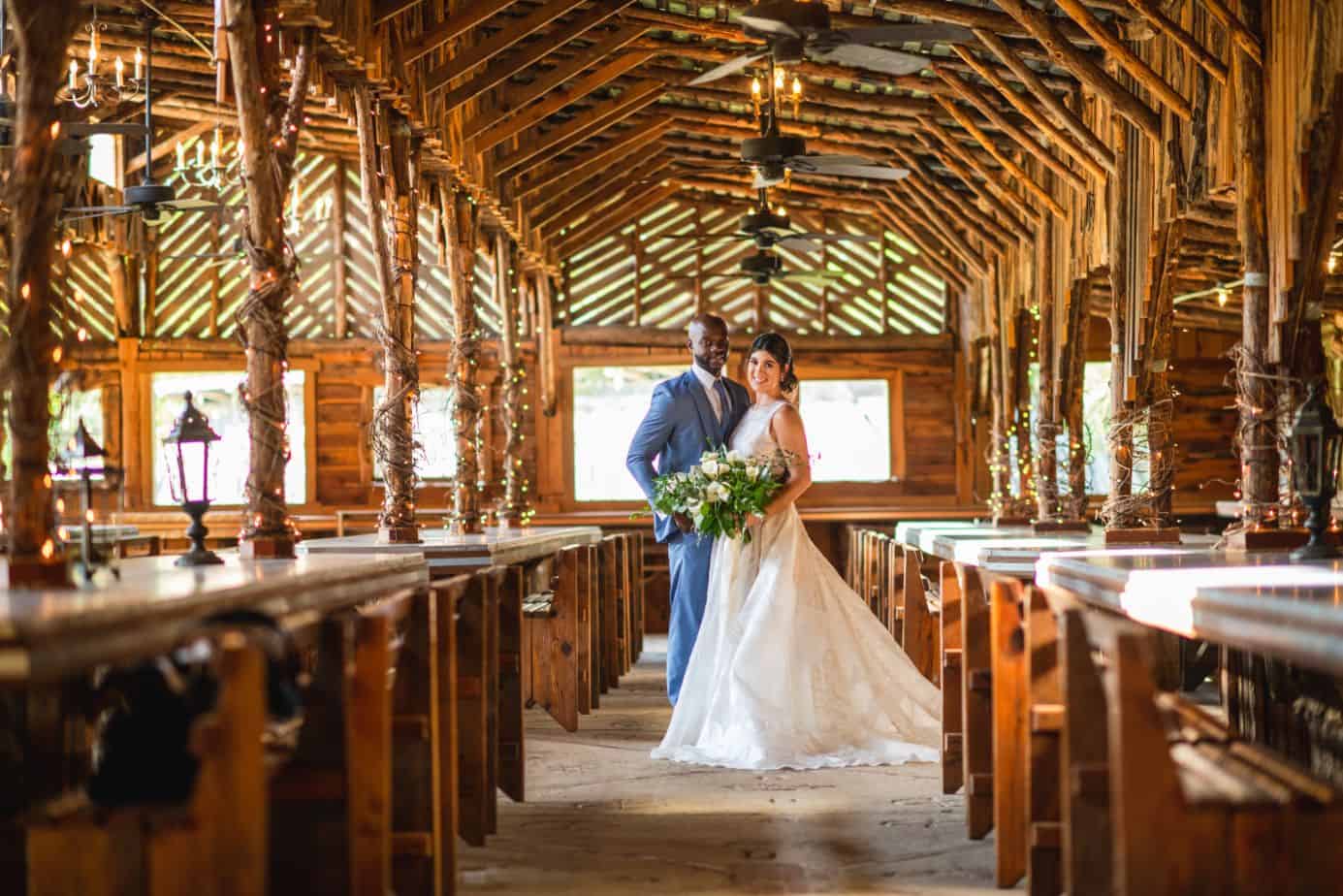 Nothing evokes feelings of the woodsy, rustic feeling as much as wood accents. From centerpieces to candle holders, to table numbers and cake stands, wood accents are incredible yet simple additions greatly enhance the appearance of any rustic design.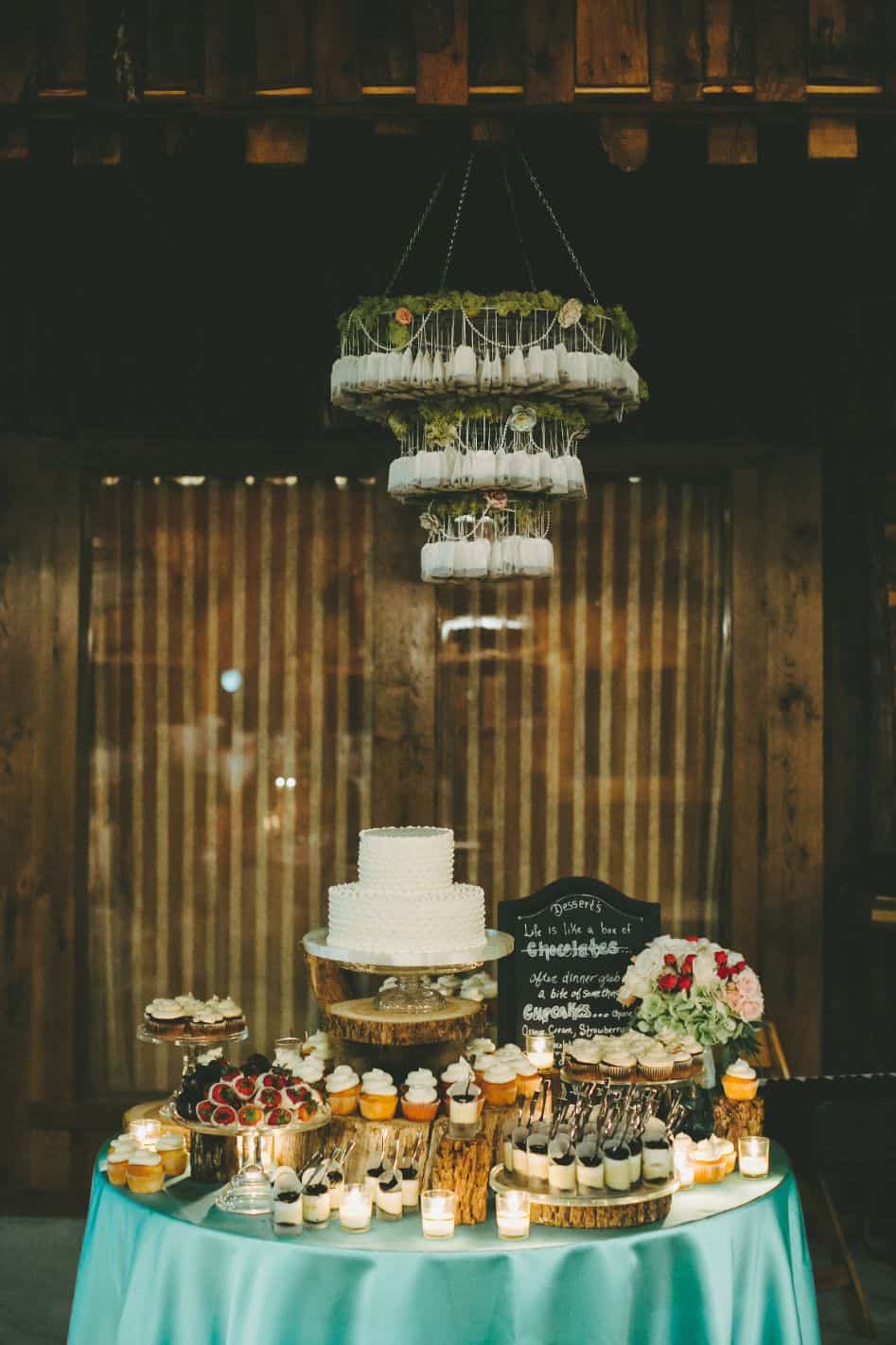 Find the perfect balance of rustic and chic with wood slices. Use them in place of chargers, as a cake stand or base for your decorative arrangements!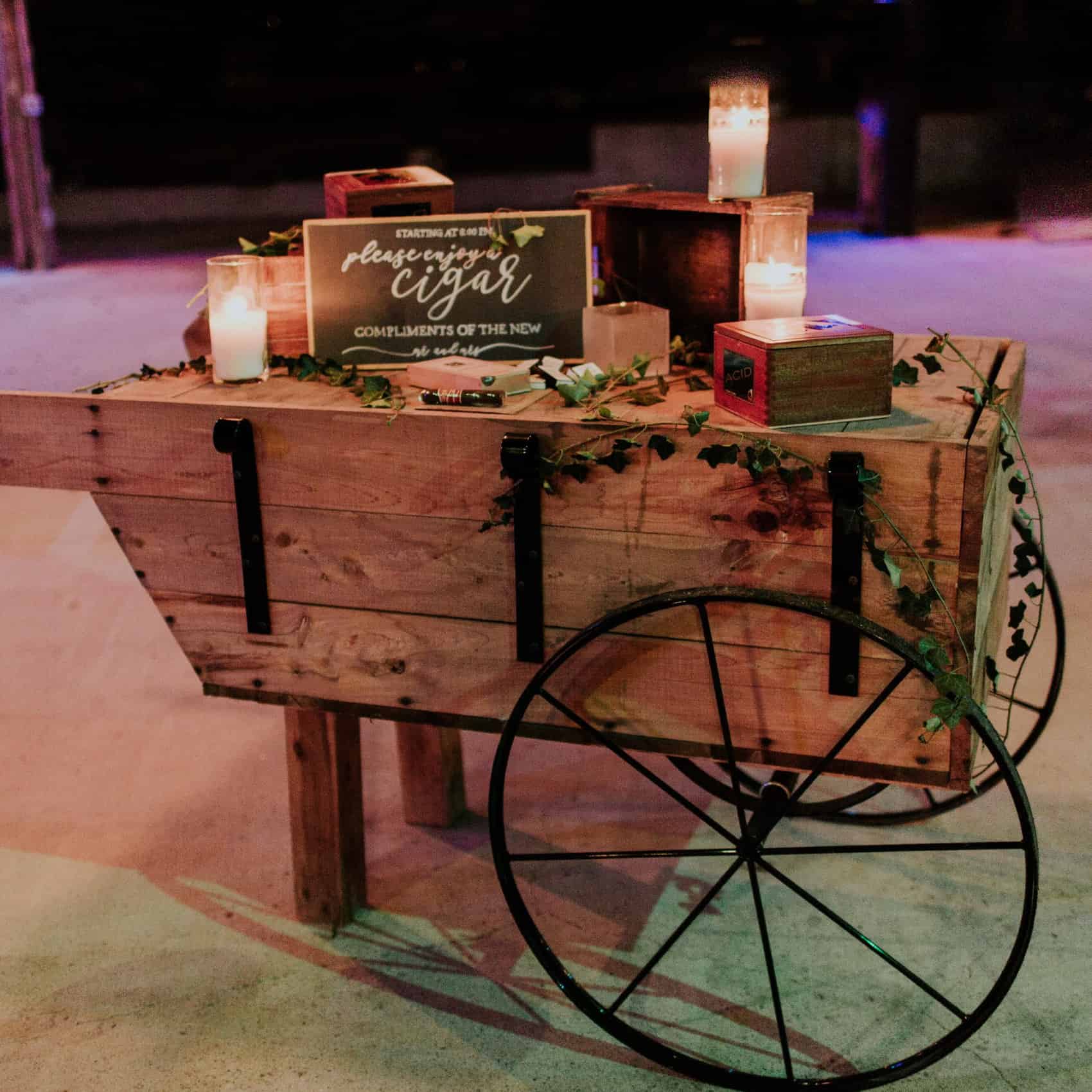 A few other ideas include:
– Rustic wooden box with flowers and ribbon centerpieces
– Wood accent candle holders
– Tree stump rustic metal candle holder
– Wooden table numbers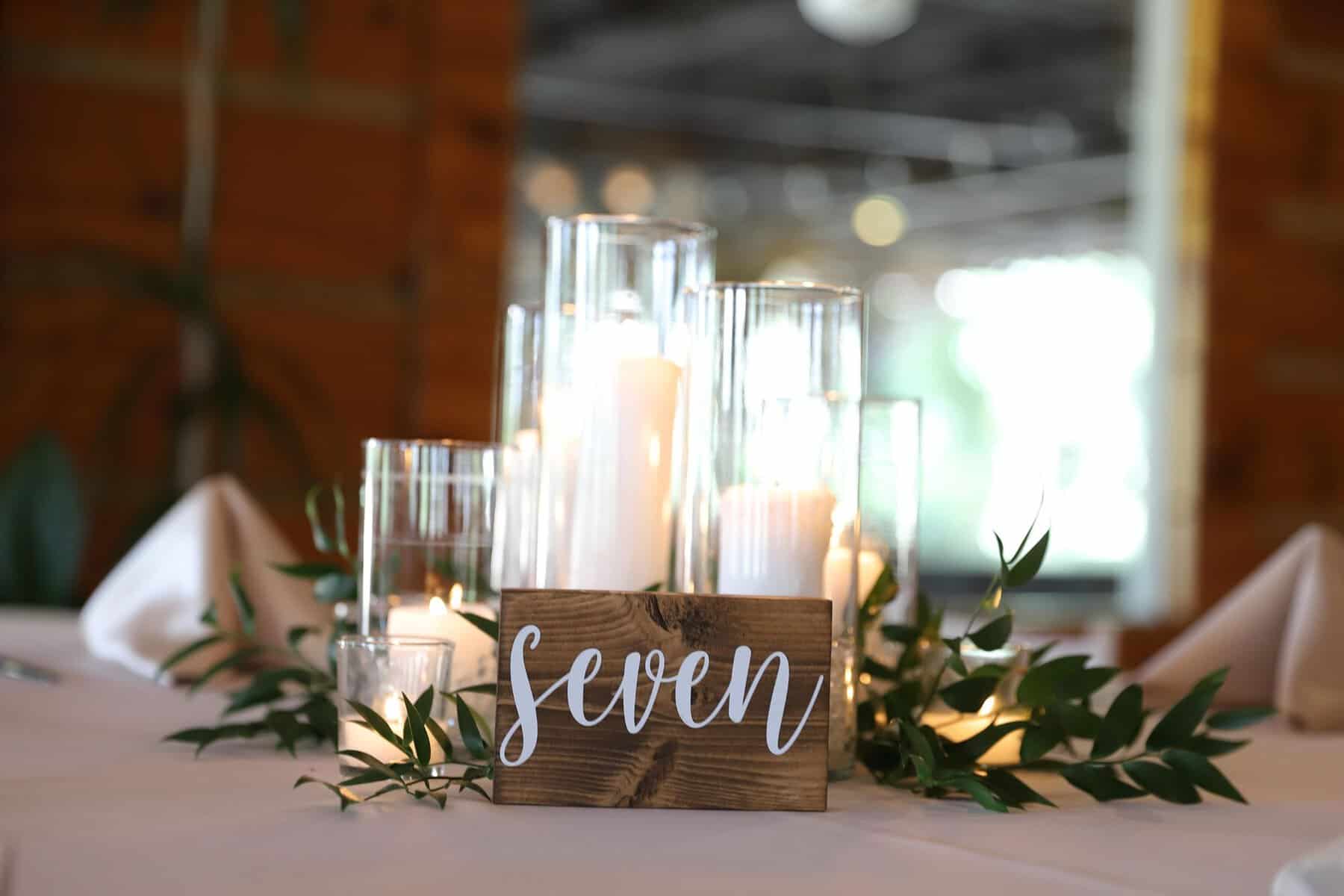 6. Pick a rustic wedding venue; nothing says "rustic wedding" more than our Heritage Hall.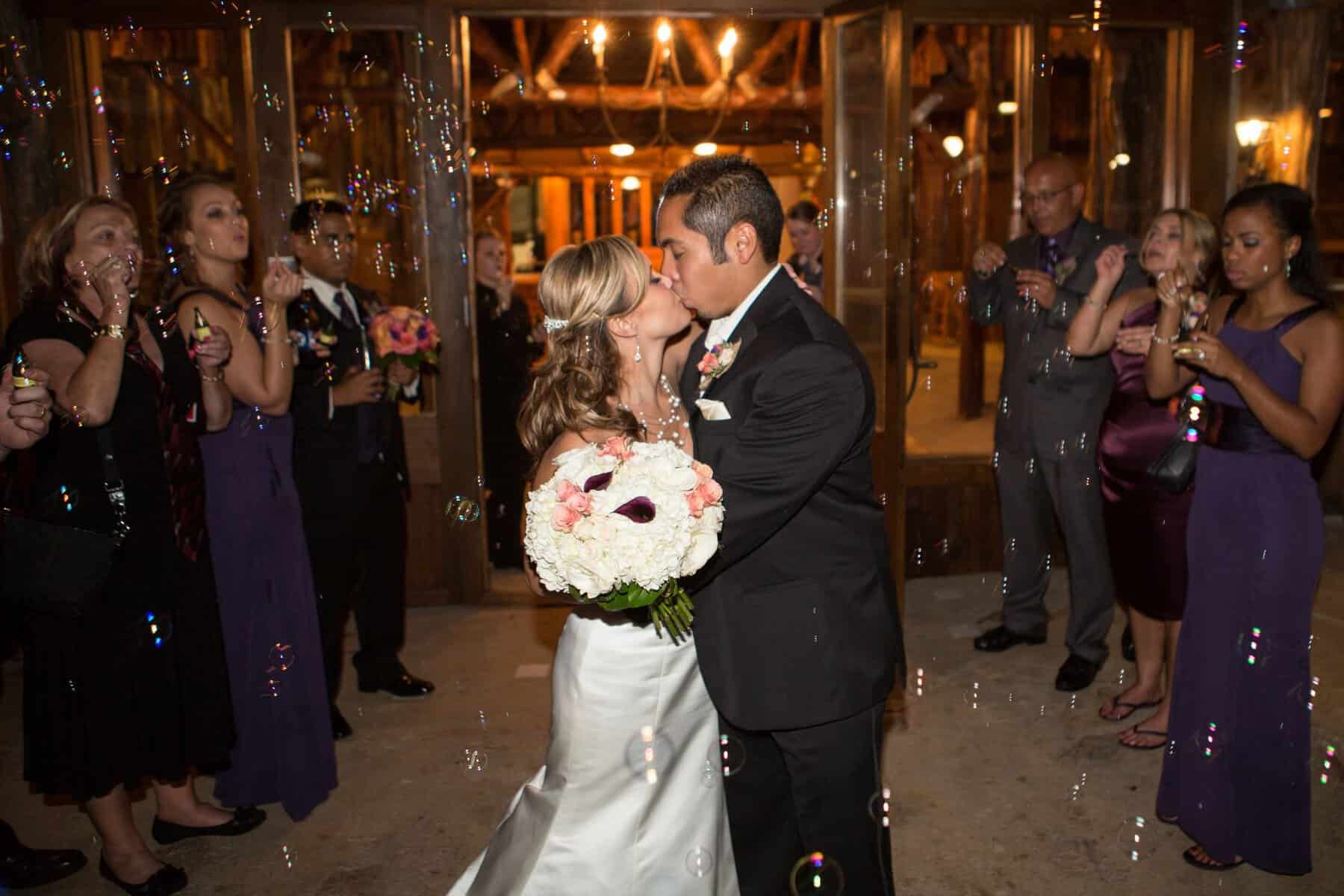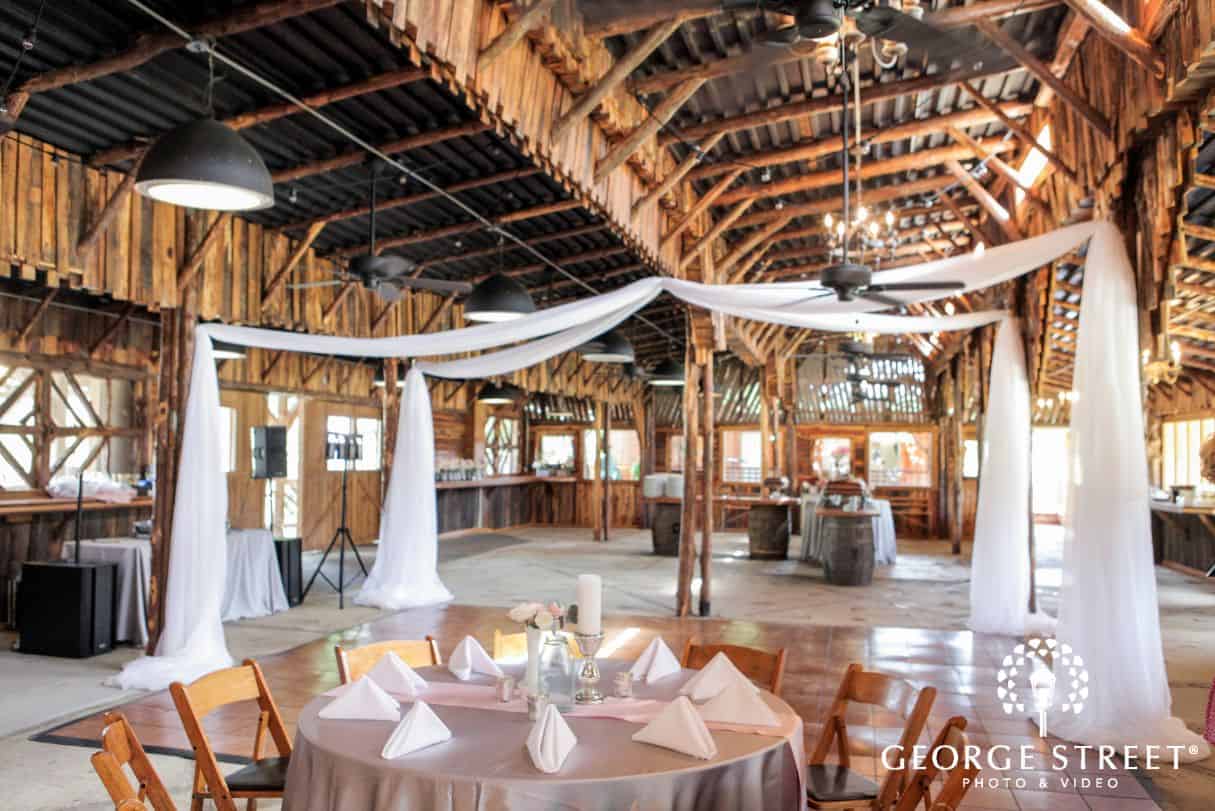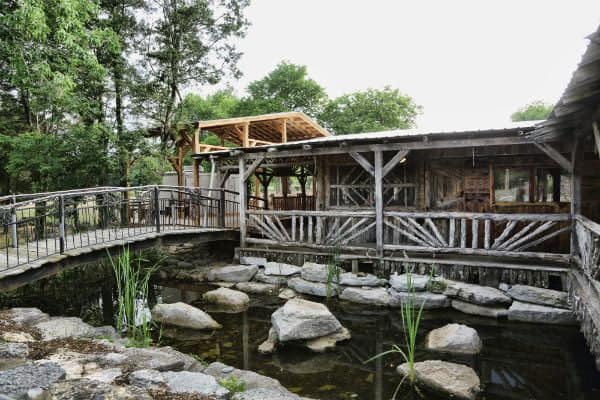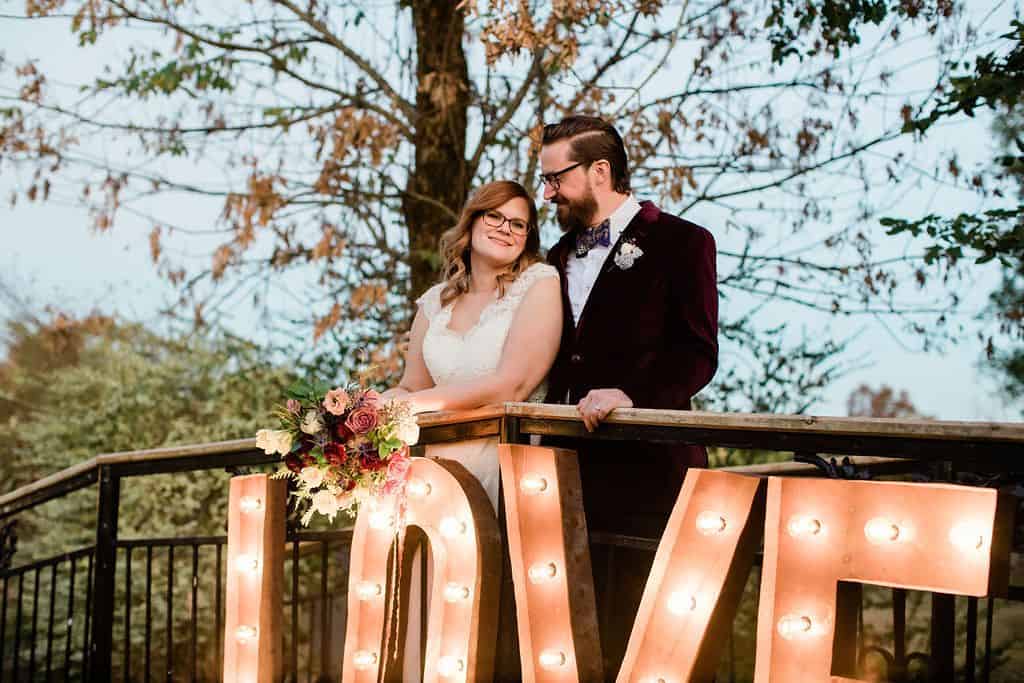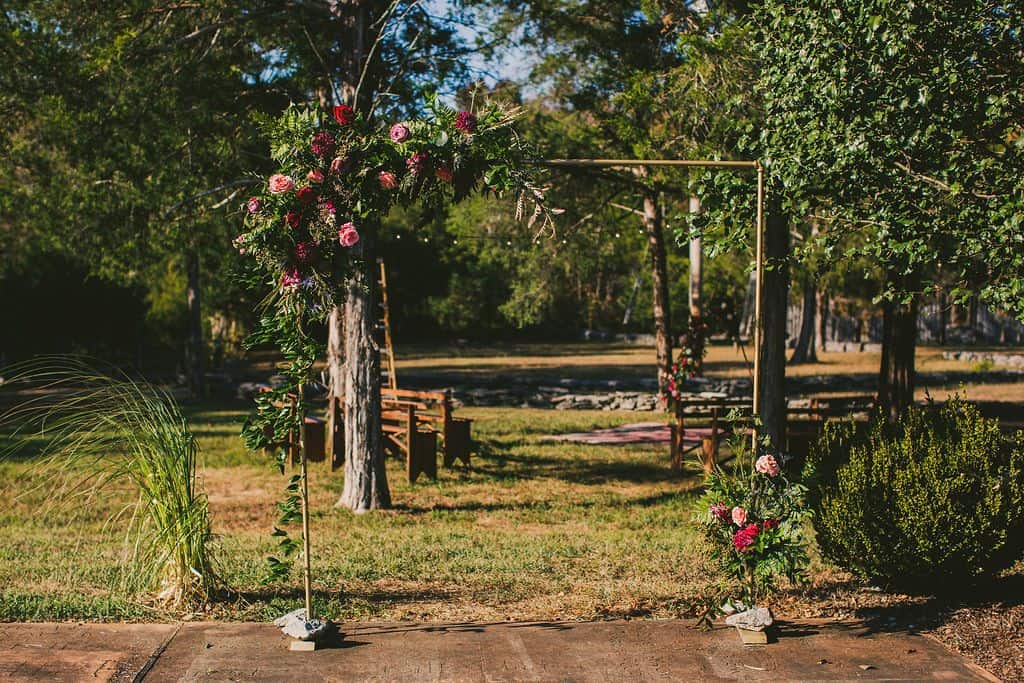 Planning a rustic-themed wedding? Rustic wedding venues have the rustic charm that you're looking for, for you and your wedding guests.
A barn venue is the perfect setting! With less of an investment in rustic and vintage décor, you can be sure to save money and get exactly what you want.
Heritage Hall at Legacy Farms is the best place you could ask for to use these ideas for a rustic wedding.
This barn/stable was transformed into a gorgeous barn venue to create the most gorgeous, perfect place for your rustic, woodsy ceremony or reception. It'll make for unique wedding photography.
You'll feel like you stepped into an enchanted forest adorned with rustic wedding decorations.
From the tree trunks that serve as support beams to the walls made of reclaimed wood, this building offers all the magic and style you need to have the perfect rustic wedding.
Many rustic wedding venues do not offer all-inclusive packages as we do, so be sure to check.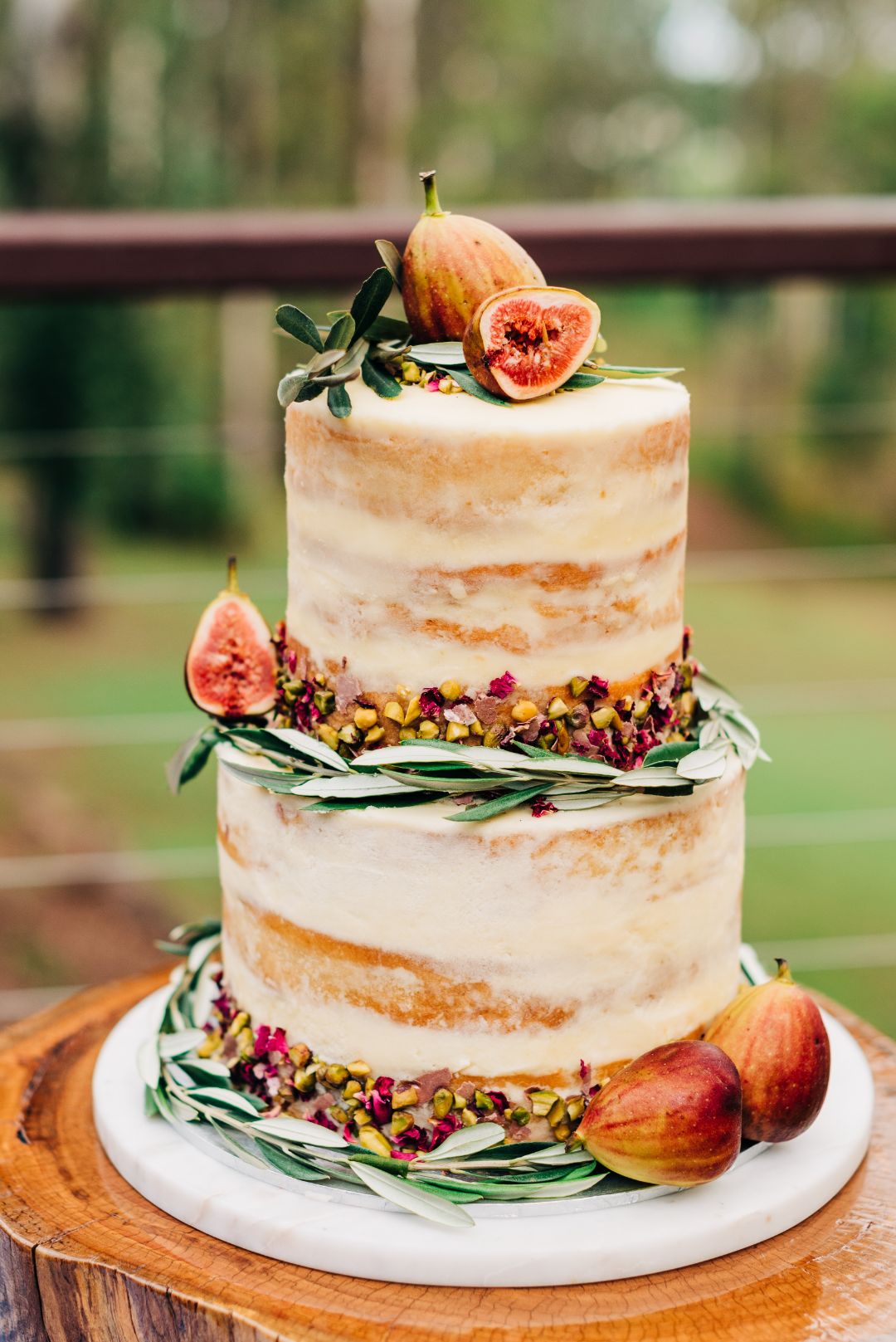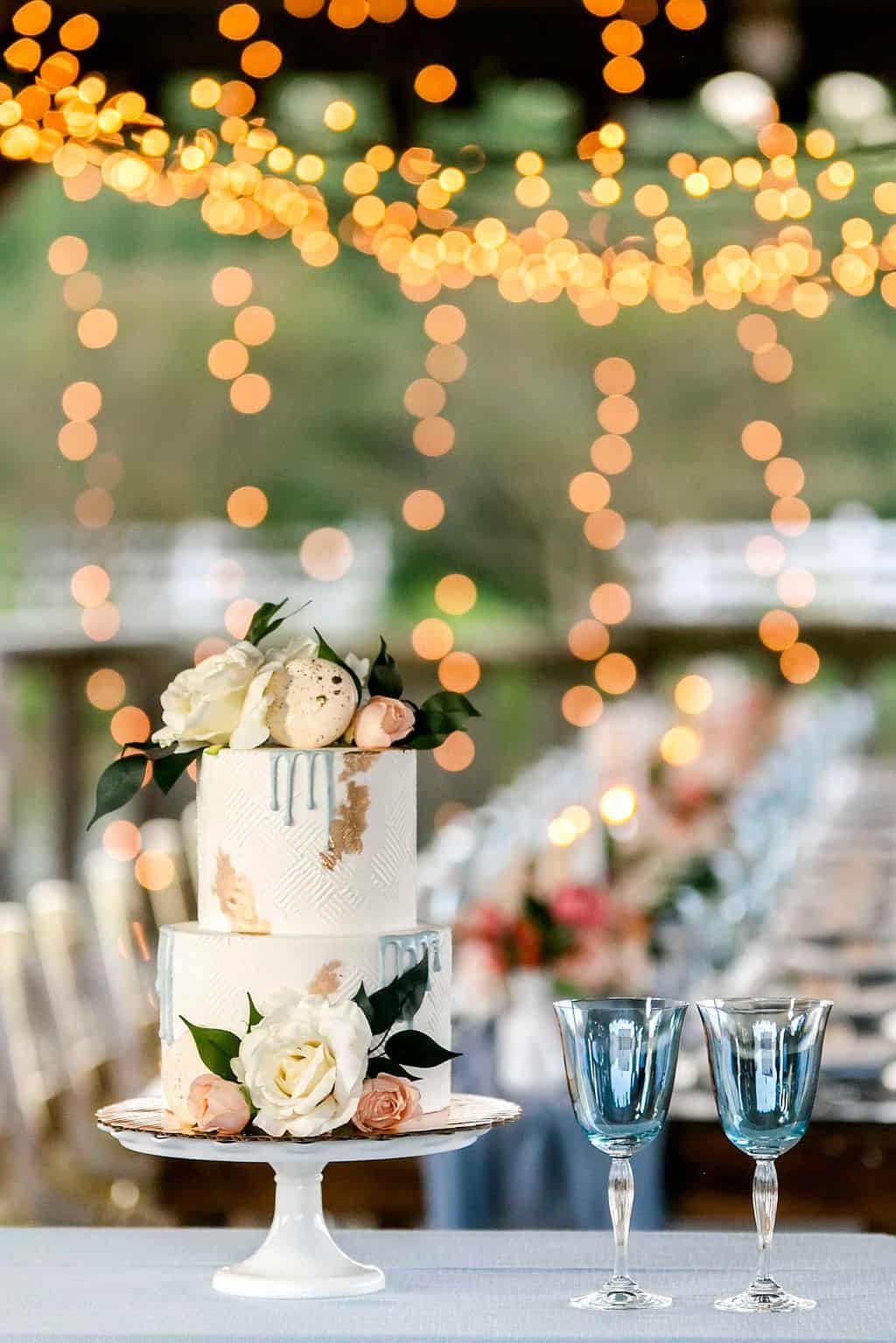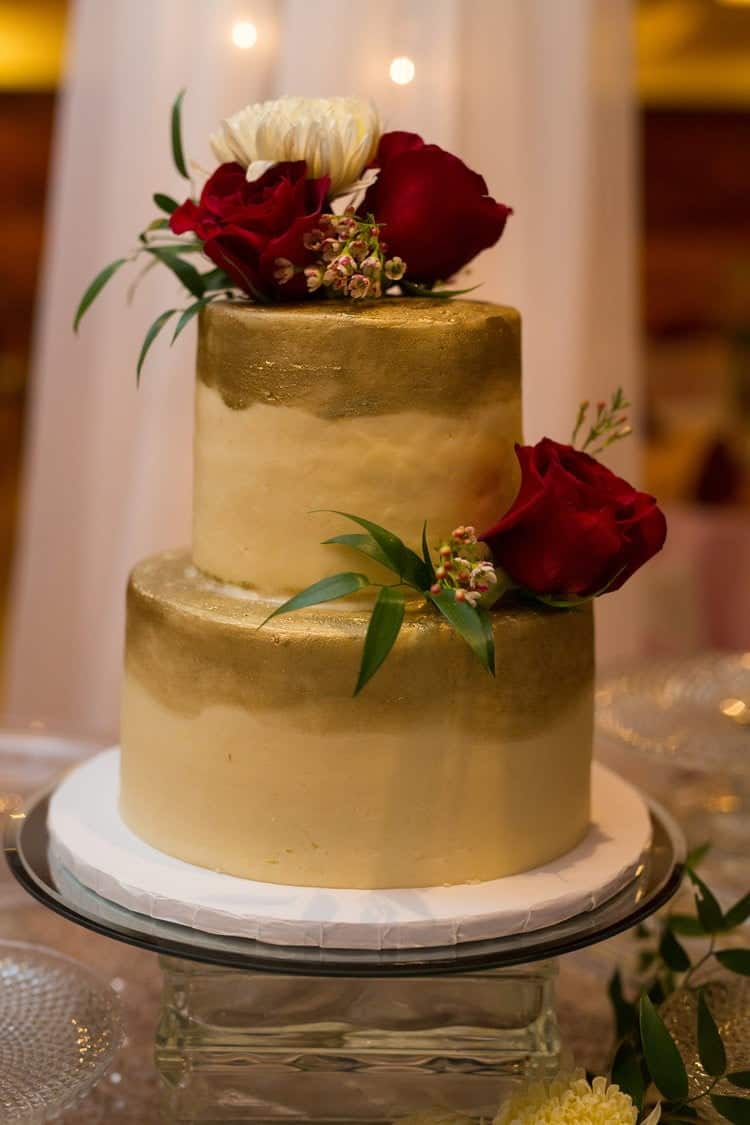 BONUS: Create a delicious, stunning rustic wedding cake.
Here are a few ideas for a rustic wedding cake or a traditional wedding cake:
• chocolate wedding cakes
• fruit and nut cakes
• country apple cider cakes
• an understated 2 tiered cake with buttercream and simple florals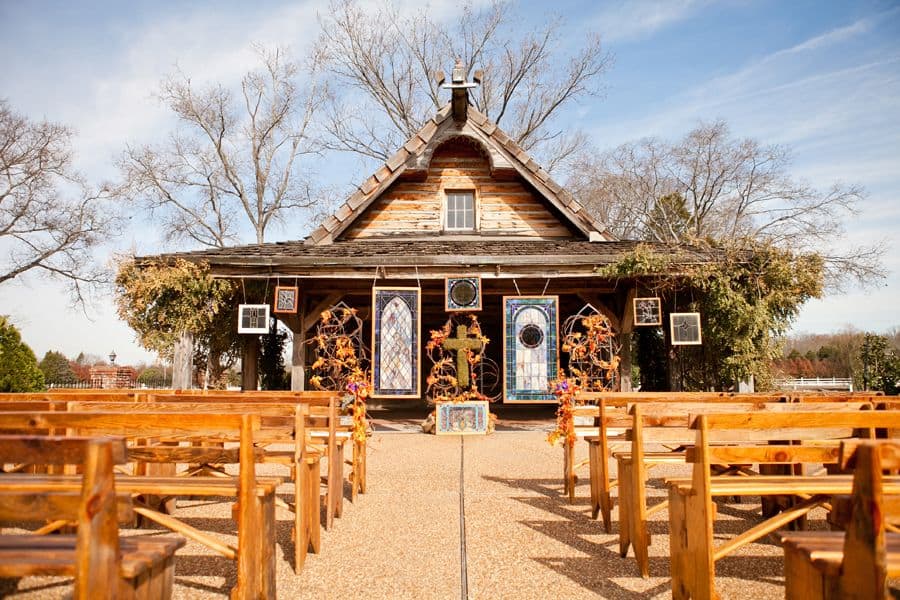 Inspired to have the rustic wedding of your dreams?
We hope so! Head over to our tools page to start planning your rustic wedding day.
Our venue takes care of everything to make your day special; whether you want a traditional wedding, a rustic wedding, or something else to match your style.
From your flower choices, decorations, ceremony seating, lights, wedding decorations at your wedding reception, and beyond, we'll make sure to make sure your big day is personalized.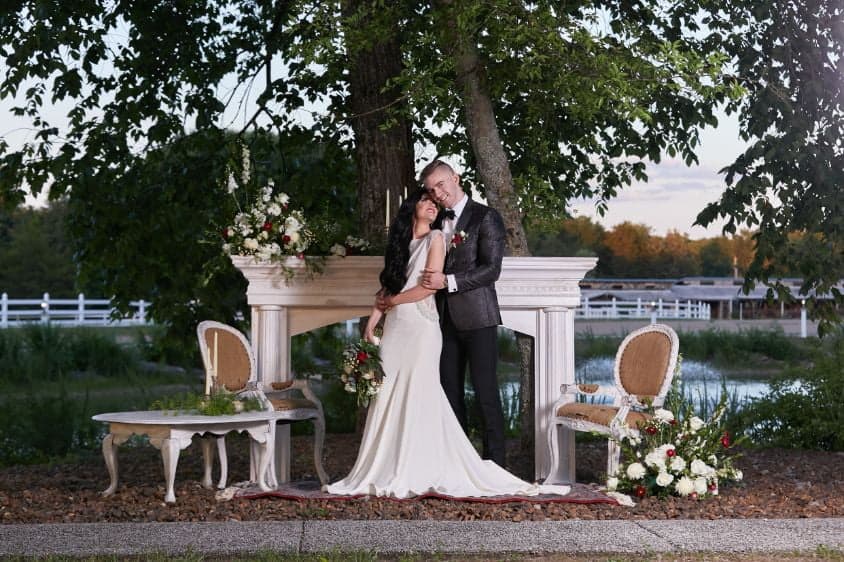 What is a rustic wedding theme?
A rustic wedding is a style for weddings that emphasizes natural and vintage themes.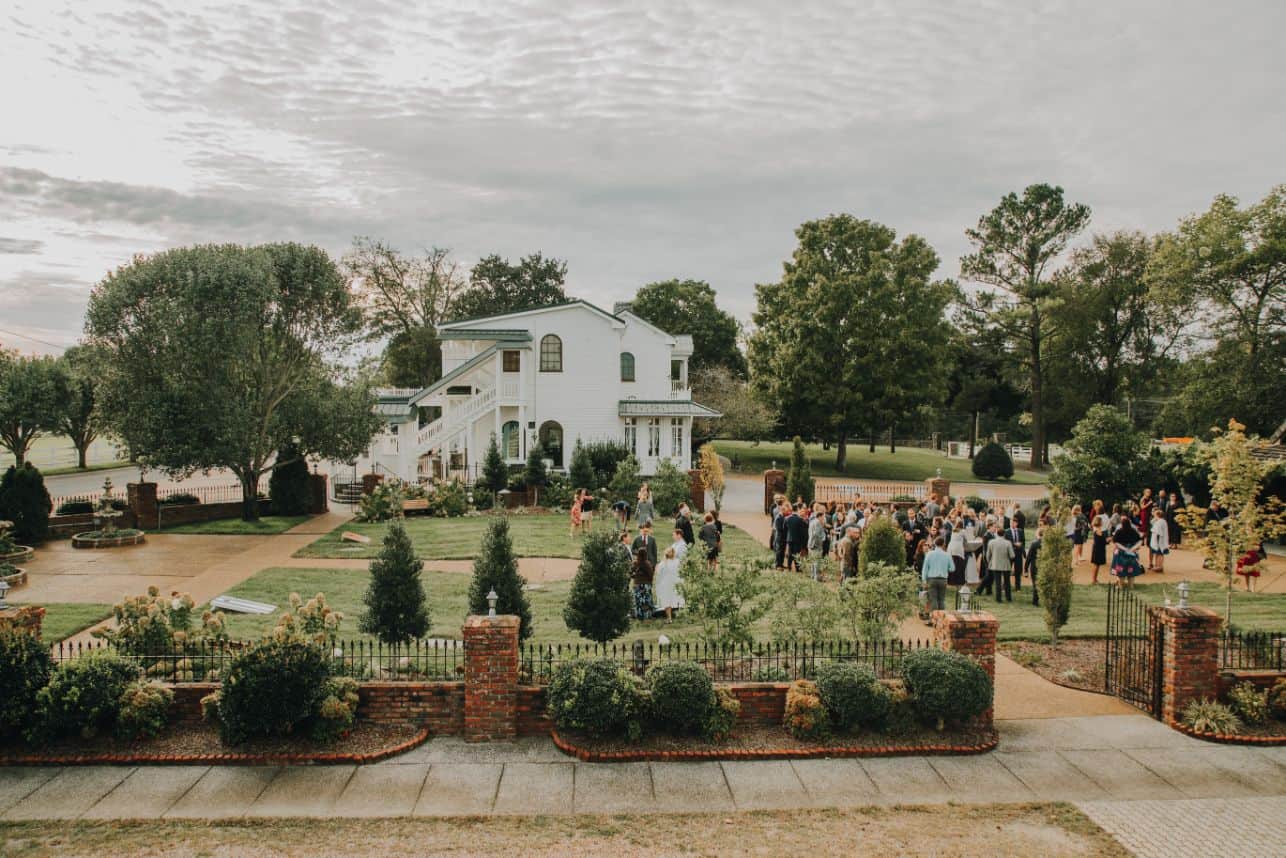 The best rustic wedding ideas are yours!
What it all boils down to is that only you can decide how you define rustic and how you want to present your wedding day.
Our staff has decades of experience bringing gorgeous weddings to life and has thousands of decorations to make your wedding more beautiful…and your planning easier.
A rustic wedding can incorporate elements of the outdoors, such as flowers in wicker baskets or vintage china on rough-hewn tables.
Many rustic brides choose to incorporate a "rustic theme" into their wedding ceremony, reception, and wedding party.
Wood backdrop accents, upcycled aisle decor, natural wedding colors, "family-style table" seating arrangements, wine bottles, mason jar accents, a head table, tree stumps for your wedding cake, a handwritten welcome sign, rose petals, fairy lights, hay bales, natural table cloth elements, hanging lanterns, wooden pallet or benches, string lights, dried lavender and baby's breath, and an outdoor rustic ceremony are just a few of the ways we mentioned to grab that rustic vibe and rustic appeal.
And that's not an exhaustive list!
More details on rustic wedding ideas and decor
The decor often includes wooden benches and bare wood surfaces (chairs, tabletops).
A very popular style of decor is using a burlap table runner with floral arrangements.
Rustic weddings can incorporate both modern and traditional elements, such as stringing lightbulbs on trees or candles in found objects like old milk jugs or mason jars.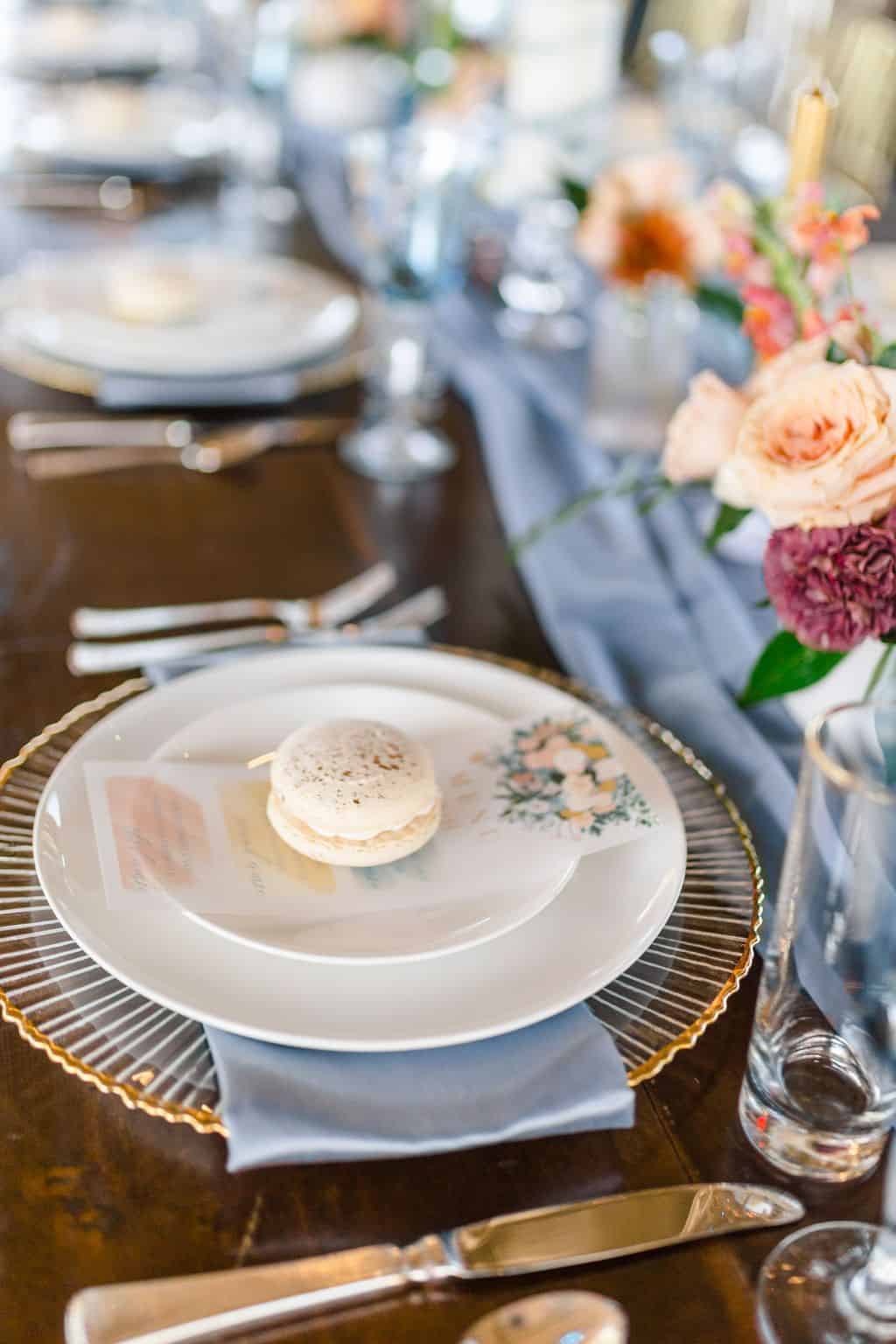 What colors are good for a rustic wedding style?
Colors that work well for rustic weddings are earthy colors like browns, greens, and reds. You can use lighter shades of these colors or darker ones to create different moods at your wedding.
What is a signature item used in rustic weddings?
Rusted metal pieces (buckets, old bookshelves, tin canisters) work well as a signature item in rustic weddings.
Rusted metal pieces also have the benefit of not needing much maintenance and are relatively inexpensive.
It's really up to the bride and groom to decide at their signature item(s) are, as there aren't any rules and it's your wedding day!
A beautiful outdoor ceremony is a perfect place to inject some rustic ideas into your wedding decor.
If you're planning an outdoor rustic wedding, here are some bridal inspirations for your big day.
How to make an outdoor ceremony more rustic
If you're looking for rustic wedding ideas, consider using the country as inspiration. One of the most popular ways to create a more rustic feel is by using bails of hay and straw and decorating with them including:
-Bales of straw or hay
-Hanging lanterns
-Rustic wooden crates filled with flowers
-Farming tools such as rusty pitchforks and rakes
Decorations to use indoors
If you're having your ceremony indoors, there are still many chic and rustic options available to you. To give an air of vintage romance try hanging pictures frames from twine strung between chairs – simply set out a variety of different sized frames around the room and thread a piece of twine from the top of one frame to another.
-Hanging flowers and foliage from picture frames
-Gathering foliage and hanging it from the ceiling or corners of the room
-Rustic wooden crates filled with floral arrangements or candles
-Jars filled with pebbles, candles, pine cones and other natural objects as table decorations
Wedding displays for an outdoor ceremony
If you're having your wedding outside there are some rustic display ideas available to you:
-A tree stump as a table centerpiece – this is also a great idea if you're having your reception outdoors but want a separate ceremony area for your guests to relax in beforehand.
Just a saw to create a flat surface, then lay down some blankets or throws for your guests to sit on.
-A rustic farmhouse bench either side of the ceremony space with vases containing flowers at each end
-Put up lights around trees and in windows to create an enchanting atmosphere – just be sure not to place any electrical wires where guests will walk. You can also use fairy lights as well for this effect!